Driving a commercial truck or bus can be a rewarding career with room for growth. Whether it's long hauling products on the Trans-Canada highway or operating a school bus in your local community, possessing a truck or bus licence can open new doors for you. If you're a confident, capable driver looking for a challenge, getting your truck or bus driver's licence could be a great career change for you.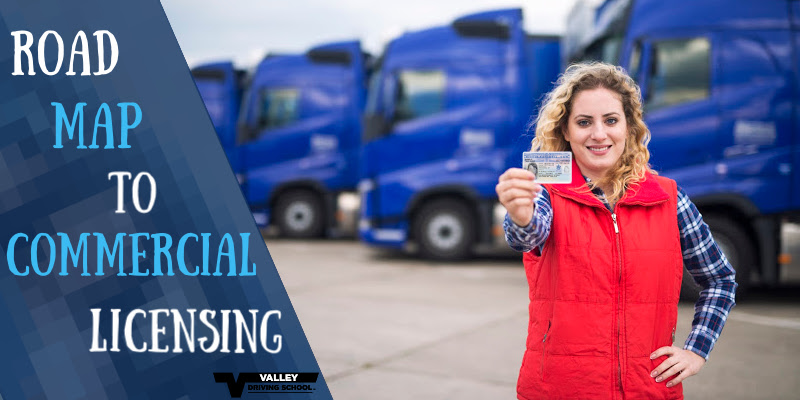 Not sure where to start? Follow our road map to make sure you know all the steps!
Commercial Vehicles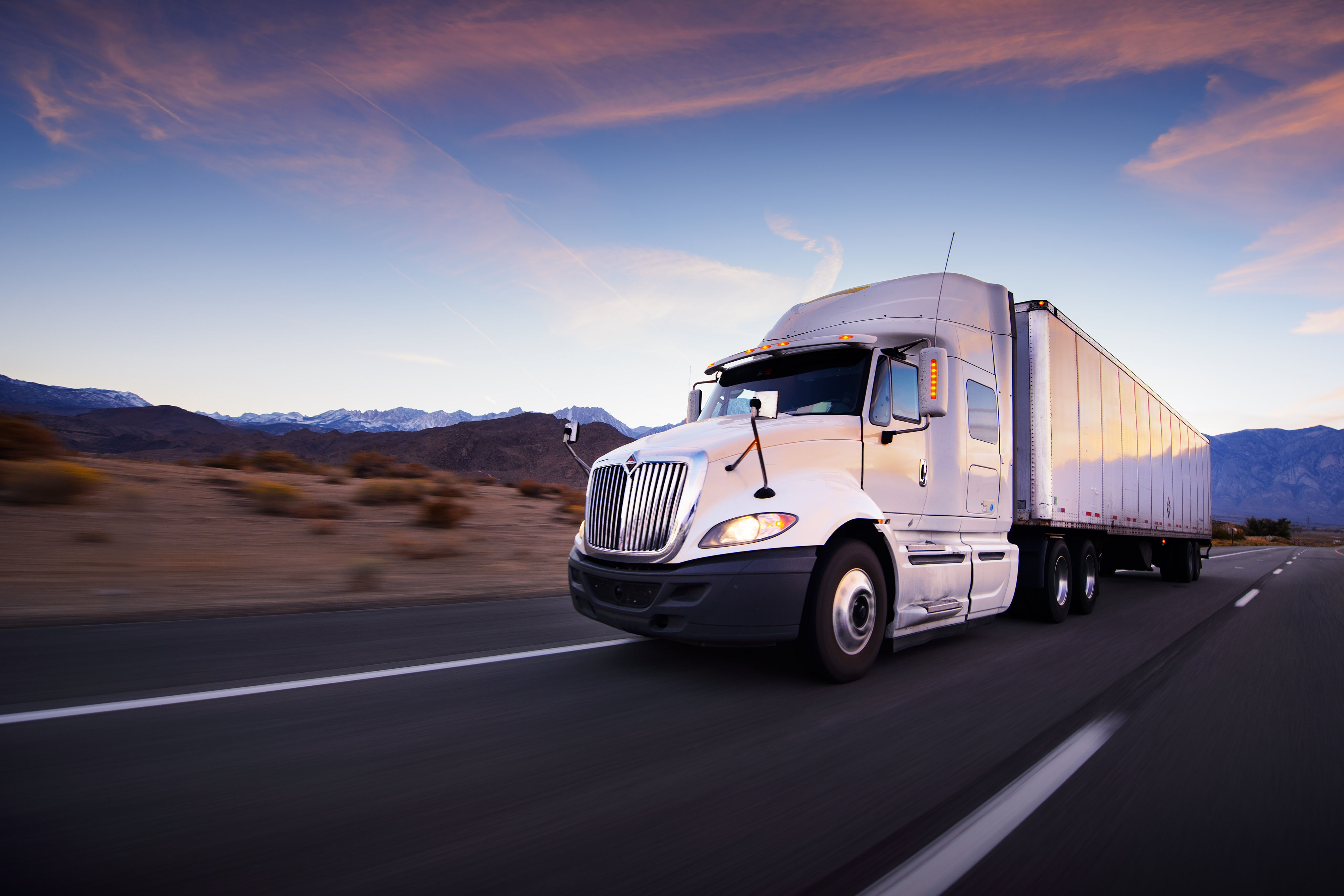 First things first, you'll need to decide what type of commercial licence you want, or in other words, what type of vehicle you'd like to drive! A class 4 restricted licence allows you to drive taxis, limousines, for ride hailing services, ambulances, and special transport vehicles to transport up to 10 people (including the driver). A class 4 unrestricted licence increases your transporting capacity to 25 people (including the driver) and allows you to drive anything listed in the class 4 restricted category too. A class 2 licence can be used to drive buses, including school, special activity, and charter buses, plus all vehicles in classes 4 and 5. A class 3 licence permits you to operate a truck with more than two axles, such as dump trucks, fire trucks, cement trucks, and garbage trucks. Large tow trucks also fall under class 3 and you can drive a tow truck or a mobile truck crane, plus any vehicle classified under class 5. A class 1 licence allows you to operate semi trucks or tractor-trailer units, and all other vehicles listed in classes 2 through 5.

Upgrading Requirements
Before you start planning for your new truck or bus driving career, you must ensure you have a valid class 5 or 6 BC driver's licence - no L or N! If you're coming from out-of-province, you'll just need the class 5 or 6 licence equivalent from back home, and have had it for at least two years. If you already hold a commercial licence, from out of Canada, you will need to qualify on applicable knowledge and road tests, starting over with a learner's licence. You have to present your driving record from the past three years, even if you lived in another province or country, and you must have fewer than four offences that resulted in demerits or penalty points. You must also not have any vehicle-related Criminal Code convictions.
Now that we've got that out of the way, you have to ensure you pay any outstanding ICBC fines, including those pesky parking tickets. If you have any known medical conditions, that won't necessarily disqualify you from being a commercial truck or bus driver, but you must disclose these as part of the licencing process. You will be required to fill out a medical form from ICBC, after you have successfully completed the final road test, within 45 days.
Knowledge Test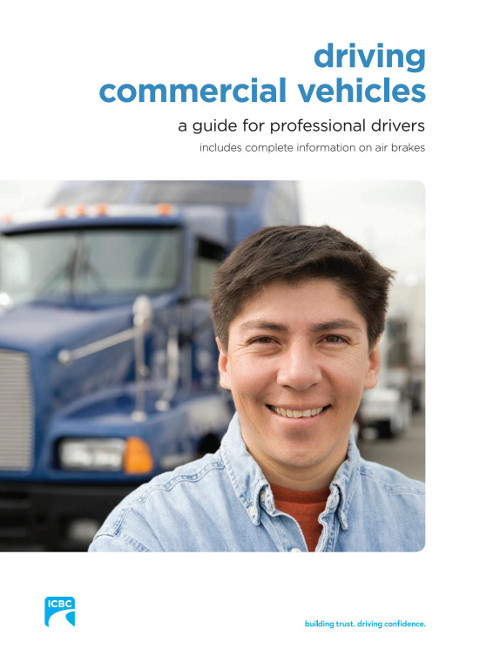 At this point, you're ready to attempt your commercial learner's test! You should spend some time studying the Driving Commercial Vehicle's guide from ICBC, and run through some online practice tests before you attempt the knowledge test. If you plan to operate a vehicle with air brakes, and most class 1, 2, and 3 vehicles will have them, you'll also need to pass an air brake knowledge test. The air brake knowledge test is only a requirement for class 2 and 3, as the class 1 knowledge test includes questions pertaining to air brakes. The air brake knowledge test for class 2 and 3 requires that a classroom course be completed beforehand, and then both the class of licence knowledge test and air brakes knowledge test can be completed in one visit to the ICBC office! The class 2, 3, and 4 knowledge tests each have 35 questions, and the air brake knowledge test has 25 questions. The class 1 combination knowledge test has 60 questions. All of these knowledge tests require you to pass with at least 80% to receive your learners licence.
ICBC has now updated their procedures, and allows knowledge test appointments to be booked online, so you can choose the best time, date,and office location for you. Any commercial learner's licence is valid for one year and if it expires, you'll need to redo the knowledge test in order to renew it.
Practice Makes Perfect!
Within that year of having a valid learner's licence, you should get as much practice as you can to increase your skills and knowledge. Any time you are behind the wheel, you will need a qualified supervisor with you. A qualified supervisor needs to be at least 19 years old and hold the appropriate licence for the vehicle you're practicing on - for example, if you are driving a class 1 vehicle, your supervisor needs to hold a class 1 licence. The qualified supervisor must sit beside you or immediately behind and to the right if there's no seat beside the driver's seat (such as there would be in most class 2 vehicles). While you hold a learner's licence and are practicing in a bus, taxi, ride-hailing vehicle, or ambulance, no passengers - other than a qualified supervisor and other learners being trained - are permitted.
With the introduction of Mandatory Entry Level Training (MELT) in the province of British Columbia, class 1 drivers are now required to go through a certified MELT course at an approved school before they are eligible to attempt a road test. As per the Government of BC, MELT programs require a minimum of 140 total hours, with in-cab, yard, and theoretical training.
There are currently no minimum practicing requirements for class 2 and 3 drivers to take, and the right amount will vary depending on what your past driving experience looks like, whether you already have a job lined up, and if you have someone outside of a professional driving school to practice with! Scheduling some professional driver training will set you up for success and increase your chances of employability once you're ready to hit the road.

ICBC Commercial Road Test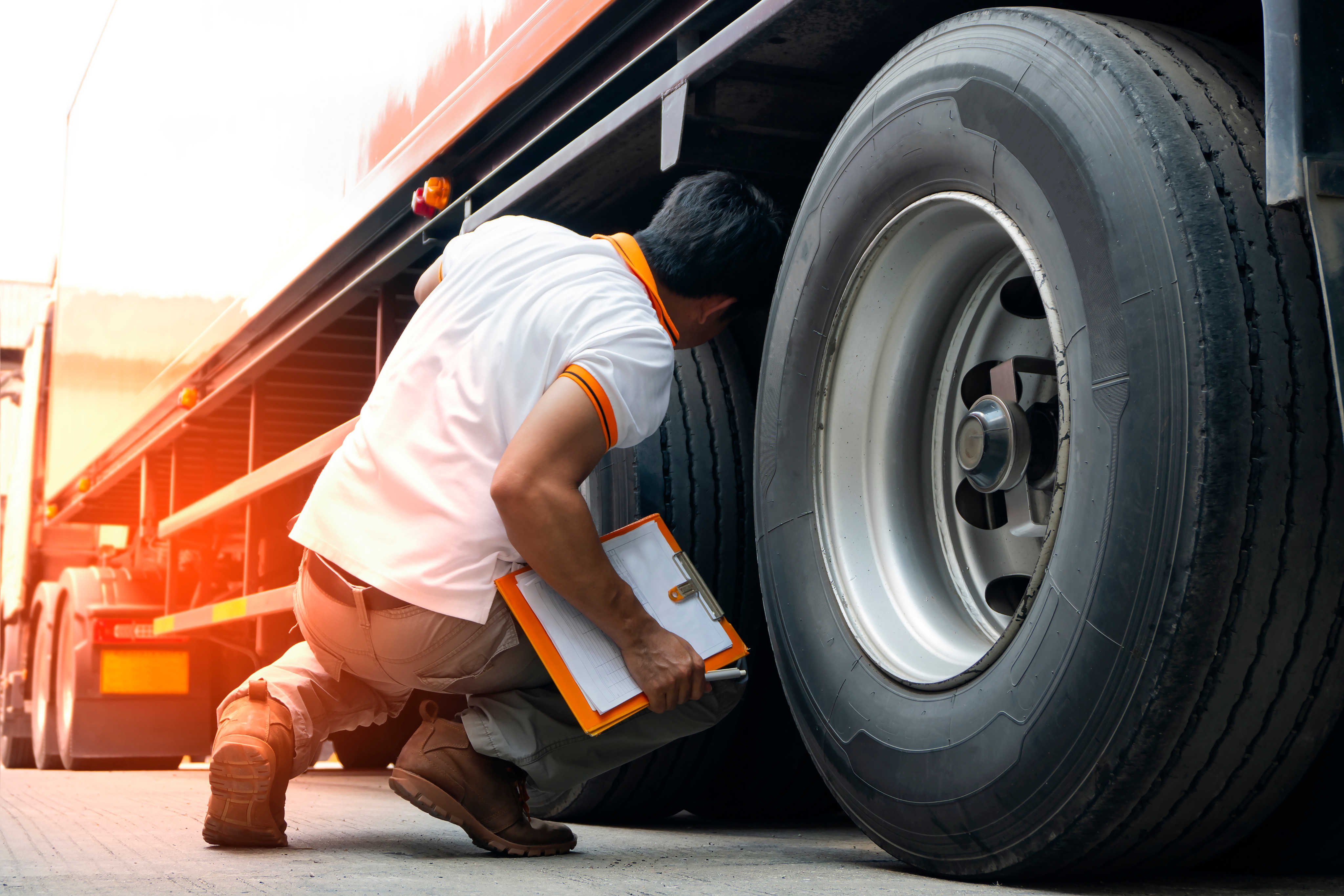 Once you have completed the necessary practice and are feeling confident for the ICBC road test, it's time to test your skills! The road test for any class of commercial licence will include a pre-trip inspection test and an on-road drive with an ICBC Examiner, in a vehicle that matches the class of licence you are testing for. Class 1 typically uses a semi-truck and trailer, class 2 typically uses a school, transit, or coach bus, class 3 can use a dump truck or a semi-truck without the trailer attached, and class 4 can be completed in a smaller passenger vehicle. A vehicle being used for a class 4 restricted vehicle can be a regular car, but for a class 4 unrestricted the vehicle must have a seating capacity of more than 10 but less than 25 (including the driver).
On the day of your test, the ICBC Examiner will ask you to perform a pre-trip inspection. It's important to be prepared, as you will be expected to explain what you're inspecting and why, and it's crucial that you don't miss anything. ICBC Examiners are there to ensure you know what you're looking for, and won't offer guidance, and won't allow you to follow a written list during the test. If you're testing on a vehicle that is equipped with air brakes, testing the air brake system will take place during the pre-trip inspection. Once you have completed the pre-trip and air brake inspection, it will be time to head out on the road. You will be required to demonstrate a wide range of driving skills, such as starting and stopping, shifting, turning, steering, backing up, parking, merging, and driving in traffic and on highways. In general, you'll need to demonstrate a safe manner of operating and confidence behind the wheel. If you're applying for your class 1 licence, you'll also need to couple and uncouple the tractor unit from the trailer.
If you are successful with the on-road portion of the exam, but don't make it through the pre-trip inspection portion, you will be able to repeat just the pre-inspection portion after a 7-day wait. If you are unsuccessful with the on-road portion of the exam, you can try again in 14 days, and will need to redo both the on-road and pre-trip inspection. If you are unsuccessful two or more times, you must wait 30 days before retesting. In the case of any unsuccessful road test attempt, it's recommended that you revisit your driver training to brush up on the areas you had difficulty demonstrating the skills required to be safe and successful.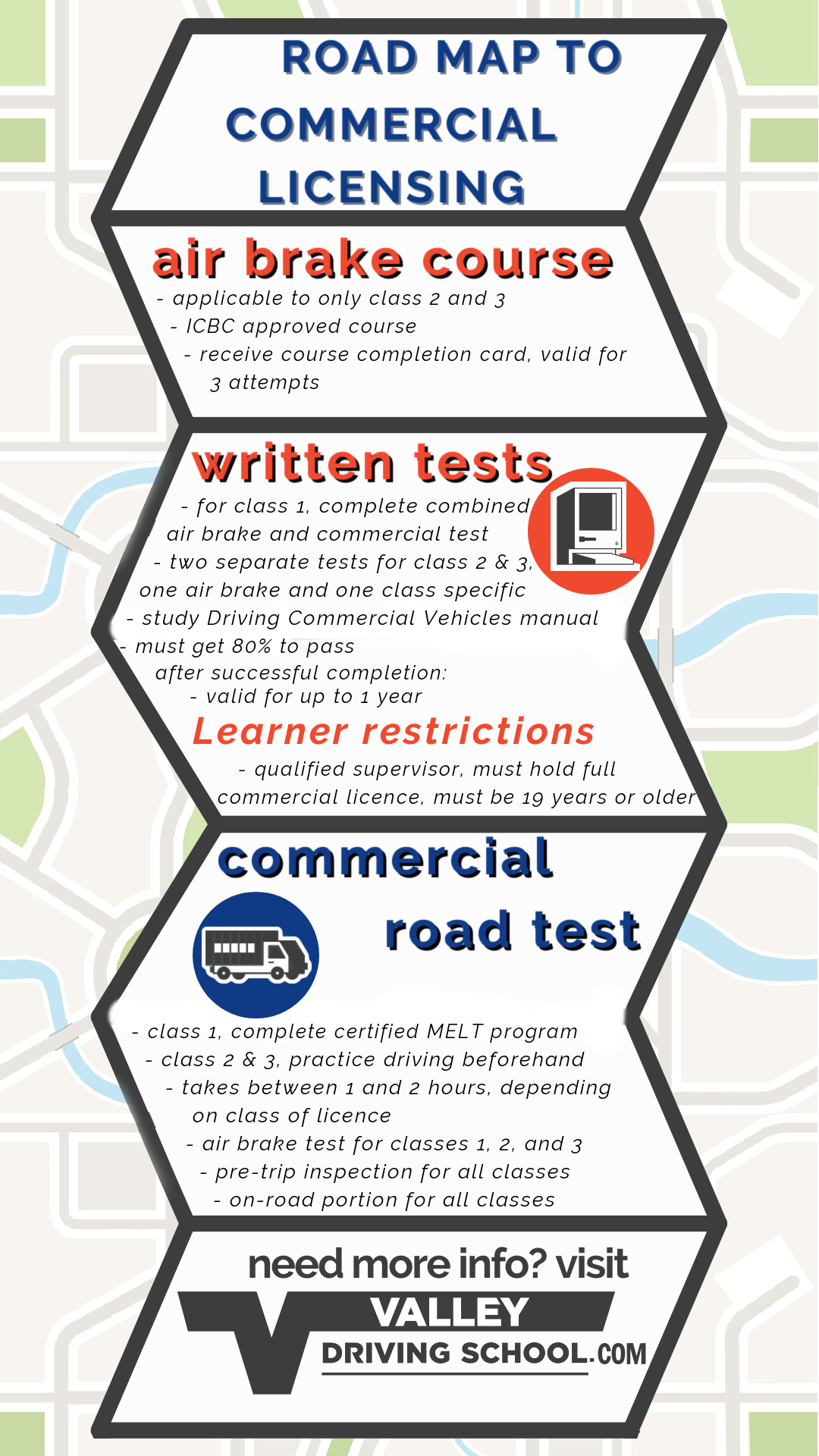 --
Once you've made it through your commercial road test - Congratulations! - now you're ready to apply for commercial driving jobs. If you've done your training with us, all of our commercial training students have access to an exclusive job board where companies are looking for Valley graduates. Whether you're on track to drive semi-trucks across the country, or chauffeur tourists around town, having an upgraded commercial licence opens ample opportunities!