---
🏍️ The 2023 motorcycle season has ended 🏍️
Contact us early 2024 for course dates & schedules.
Weather dependant, motorcycle training typically starts in February or March.
---
motorcycle training
skills program
Ride with improved skills and knowledge after taking our Motorcycle Skills Program. Valley Driving School's exclusive closed-circuit training course is geared specifically to build, challenge and refine rider capabilities at every skill level. Our relationship with ICBC enables our Instructors to conduct the Motorcycle Skills Assessment (MSA) on-site so there's no need to book and test through ICBC.
10 hours - Skill development
8 hours - In-person theory discussion, activities and lecture
Motorcycle skills assessment (MSA)***
Skills Program - $599
We cover topics that are relevant to motorcycle riding to ensure our students acquire the skills and knowledge beyond the required ICBC motorcycle skills test (MST) requirements. Students will become safe and confident riders while being introduced to the freedom and fun of riding a motorcycle.
On-road and in-class, students will learn:
Current laws and regulations
Effective and respectful communication techniques
Essential and advanced skill development

Clutch, brake, and throttle control
Slow speed maneuvers
Counter steering
Sudden braking
Preparing for traffic
Our Motorcycle Skills program is an ideal blend of in-person theory instruction and closed-circuit training resulting from years of innovation and our dedication to keeping motorcycle riding safe and enjoyable. Valley is well known as a developer of dependable and knowledgeable Instructors who have over 100 years combined experience. With practical training sessions of 4 students or less, our Instructors ensure every student receives personal attention, which allows riders to progress at their own pace while experiencing the thrill of riding a motorcycle.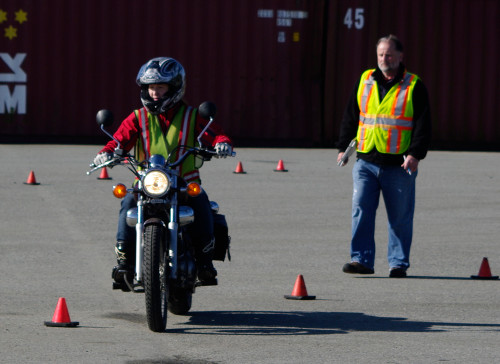 *Motorcycle provided for all training. Due to Covid-19 health & safety precautions, students are asked to supply their own helmet and riding gear.
**GST and ICBC fees are not included in our Motorcycle Training pricing
***Motorcycle Skills Assessments (MSA) are conducted at our locations with our Instructors who are Certified Assessment Officers. MSA does not guarantee that ICBC will issue a license: ICBC may require a Certified Trainee to be retested by a Driver Examiner; and ICBC will have access to the Trainee's training and assessment records.