As the leaves change colours and we pull out sweaters and coats, it means that it's about that time again… maintenance time! If you've been following our maintenance articles, you know that each season comes with its own checklist.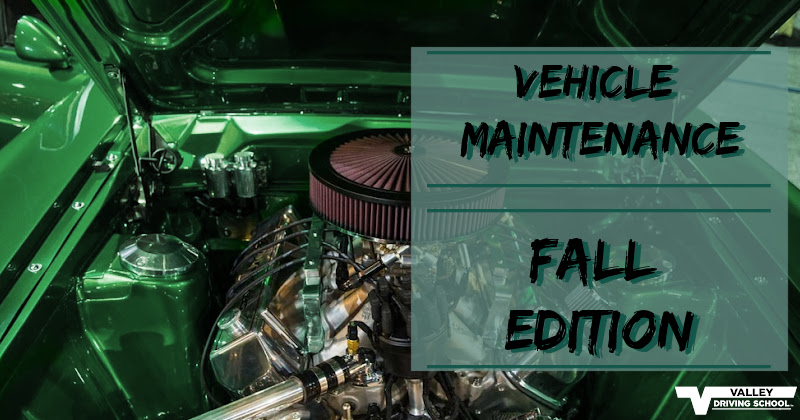 In this article we'll discuss what's most important to have a look at for the autumn season when it comes to maintaining your ride.
Heating System
After a summer of not being in use, it's wise to check your heating and defrosting systems as soon as temperatures start to dip rather than in the middle of winter. If you notice your vehicle isn't heating quickly enough or your windows are taking longer than usual to defrost, take it in to be checked and repaired if needed. You'll thank yourself for catching it once it gets even colder.
Tires
Take a look at how the tread on your tires compares to when you checked during your summer maintenance (which you definitely did, right?). If you've invested in a tread gauge, make sure that they have more than 5/32" of tread left. If you don't have a tread gauge, use the toonie test instead! Clean out any debris and if you notice anything abnormal that may require a repair or replacing soon, call your tire shop and book an appointment sooner rather than later. It's also a good idea to have a look at your winter tires, as most manufacturer's advise that winter tires are swapped in once temperatures reach 7°C. If it's still warmer than that you've got some time to budget for a new set, or purchase a new set now and have them installed while there are no lineups.
Brakes
Take your vehicle out when it's raining and safely test out the stopping power of your brakes before the roads become too slick. Make sure you're on a secluded road and are driving at a slow speed when you do this. If you find your brakes are responding irregularly or making squealing or grinding sounds, take your vehicle in to be checked before that rain turns to ice.
Battery
Our batteries require more power to start in cold temperatures, so making sure that yours is in peak condition now will save you a lot of headache and frustration later. You can check for corrosion around the ports yourself, but unless you have the computer system to do so, your battery's amp power can only be checked by a professional. They will then be able to advise you on whether a new battery is needed or not.
Fluids
We know, we know, we always tell you to check these, but fluids are a pretty important factor to ensuring your vehicle runs smoothly. For this season specifically, take a look at your coolant and radiator antifreeze levels to make sure you're prepared for colder temperatures. You'll also want to make sure that you have the right fluid in there - check out your owner's manual for your vehicle's specifics.
Wipers
We know you feel like you just checked these too, but summer heat does a number on our wiper blades! The reason? Summer heat tends to harden and crack the rubber of wiper blades making them less effective once heavier rain and snow begins falling again. Take a look at what condition they're in and replace as needed while you can still feel your fingers without wearing gloves.
Lights
This one is easy. Doing the good ol' walk-around to ensure all your lights are in working condition is essential as daylight hours get shorter and shorter. Have a look at your headlights, fog lights, high beams, brake lights, tail lights, signal lights, and interior lights. It's even easier if you can enlist a friend to help!
Oil
As you likely know, oil changes should be done every 5-10,000km. If you haven't kept track of this, or have difficulty doing so and your vehicle doesn't have an oil change sensor, then making a habit of changing the oil whenever you change your tires is a good life hack. The last thing you want is for your engine to fail on you during a cold streak.
Emergency Roadside Kit

If you do find yourself in a sticky spot with a failed engine or snowstorm stopping you from getting home, you should have your emergency roadside kit at the ready! And on that note – how's your emergency roadside kit doing? Now's the perfect time to get it winter ready by adding the following to what you should already have:
heavy jacket
warm clothing
blankets
snow/ice scraper
candles & a lighter
sand or kitty litter
a folding shovel
gloves
hand/foot warmers
As you're going through the seasonal checklist, remember that if you feel unsure about doing something or if you notice something out of the ordinary, take your vehicle to a certified mechanic for advice or any repairs!
--
Now you're ready to roll through the fall! If you need a break before winter comes roaring through, take a road trip! Our 5 Road Trips for a Beautiful BC Autumn will make the most of this season, and then you can prepare for winter with another maintenance check!