If you're living in British Columbia, you know how magnificent the landscape and scenery is here! As the weather improves and the days are longer, a great way to experience what BC has to offer is to go for a relaxing Sunday drive (or Wednesday, or Friday…).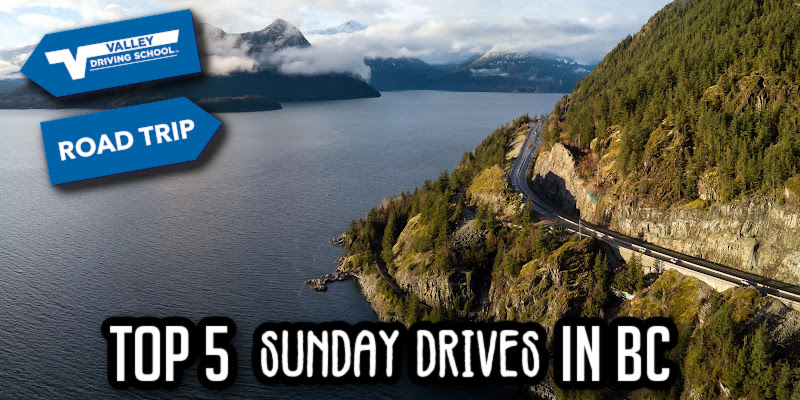 We've compiled our top five drives, focusing on roundtrip outings that could be done within one day if you're starting in the Lower Mainland or Fraser Valley.

Sea-to-Sky Highway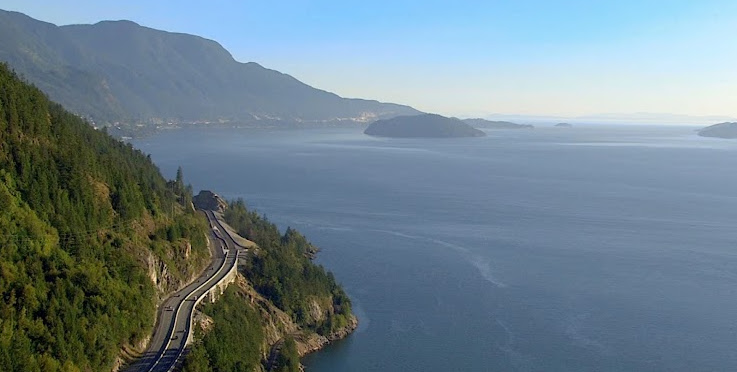 As you make your way from the Fraser Valley towards Pemberton, along the Sea to Sky Highway, you'll cross the Lion's Gate Bridge in Vancouver and start along the 120 kilometres of smooth, winding asphalt. This drive has everything you could want: dazzling ocean views, soaring mountain peaks, and enough curves to put your driving skills to good use! Along the way, you can pull into viewpoints for breathtaking views of the Howe Sound, take a ride up the Sea-to-Sky Gondola, and grab a bite to eat amongst the mountains before heading back. Keep an eye out for Indigenous influences along the route with a Cultural Journey from interpretive kiosks, road signs with Indigenous names and spelling, art tours, and the Squamish Lil'wat Cultural Centre. Less than six hours roundtrip from Aldergrove there's enough time to fit this drive in within one day, even with a few stops included throughout, but even if all you do is drive without stopping this journey is unlike any other!

The Sunshine Coast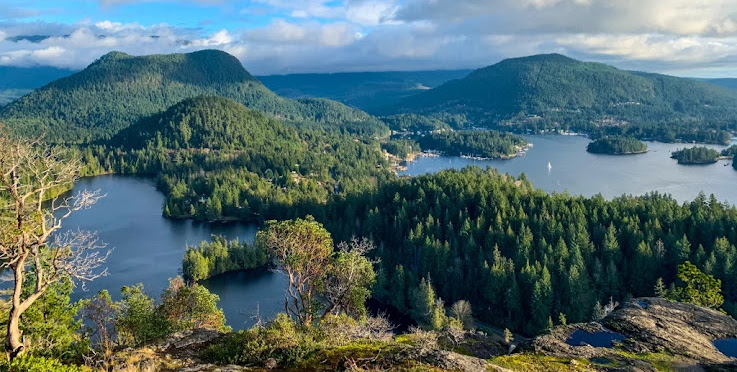 The Sunshine Coastal drive is a stunner and if you time your ferry rides just right, you can make it a one-day roundtrip, albeit a longer day! Aldergrove to Earls Cove is just under four hours and covers half of the Sunshine Coast. If you want to take it a bit further and longer, you can travel all the way to Lund, which would include an additional ferry ride and a five and a half hour one-way trip. Whether you go halfway or the entire road, the Sunshine Coast is an epic winding road, with natural wonder after natural wonder. You'll enjoy stunning views of the Salish Sea, along with some of the islands that are scattered along the coast like Texada and Lasqueti, and of course Vancouver Island. With quaint coastal towns along the way, there are fantastic places to stop and eat while enjoying the views. There is also no shortage of things to do, many of which are centralized around art and culture, with many inhabitants of the Sunshine Coast being artisans.

Harrison Hot Springs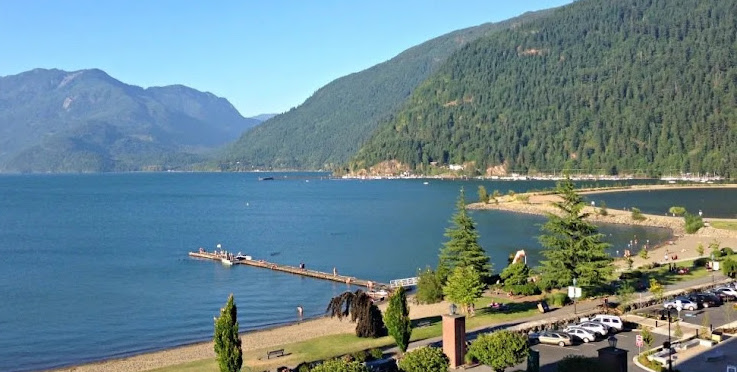 Dazzling ocean views may not be quite what you're looking for but, don't worry, BC has some fantastic drives that go inland too! Driving from Aldergrove to Harrison Hot Springs is a shorter drive, taking just over two hours roundtrip, but will take you to the largest lake in the southern Coast Mountains of Canada, Harrison Lake. Harrison Lake starts at the small town of Port Douglas, which is as far North as Hell's Gate, and ends at Harrison Hot Springs. We suggest taking this journey along Highway 7 instead of Highway 1, which will take you through rolling foothills and winding rivers, catching glimpses of the Fraser River periodically throughout your drive until you cross over it right before you hit Agassiz. Once you arrive in Harrison, you'll have your pick of activities to do and sights to see including sandy lakeside beaches, kayaking and hiking abound, and of course the warm waters of the springs themselves!

The Fraser Canyon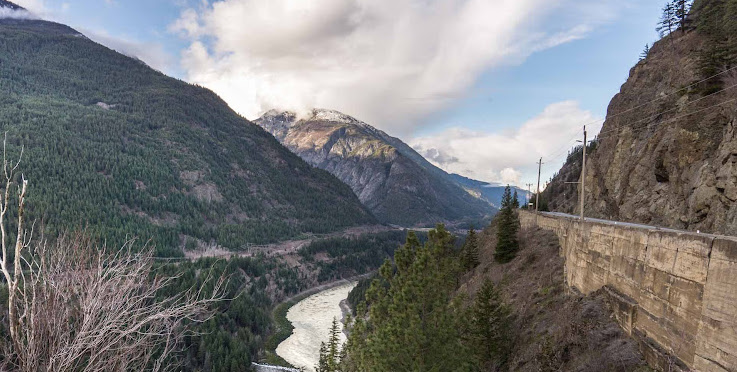 If you're looking for a mountain adventure, the trip to Lillooet on Highway 1 presents Sunday drivers with some dramatic scenery! Surround yourself with towering mountain peaks, raging river waters, and sheer walls of granite. The Coquihalla replaced this route as the fastest way into the interior, clearing the way for cruisers with no destination in mind. The Hell's Gate gondola in Boston Bar makes for a fantastic mid-trip stop before you reach Lillooet, where you can ride over the untamed Fraser River and learn about gold panning and fishing. Once you get to Lillooet, you can enjoy the historical aspects the community has to offer, as well as continue the outdoors adventure. There are local provincial parks and lakes where there is no end to the hiking and water activity opportunities!

The Okanagan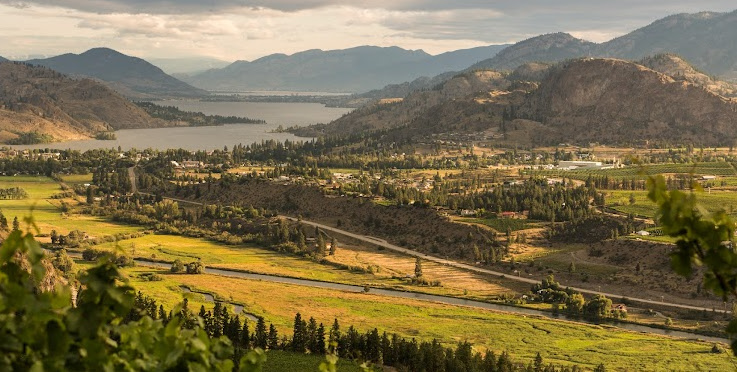 Another longer day trip is an adventure into the world-famous British Columbia wine district. The Okanagan is an expansive region with much to do and much to see! Rolling through lake country offers some of the best views in the whole province, where you'll get to experience dense temperate rainforests, lakeside breezes, and sizzling desert! A day trip to the heart of the Okanagan Valley, Kelowna, and back again is the definition of "roundtrip". This breathtaking drive will take you in a circle through the Okanagan, first heading Northeast towards the Othello Tunnels and Merritt, and then along the Okanagan Connector to Kelowna. To come back home, head South along Okanagan Lake and pass through Peachland and Penticton. Then you'll turn towards the West, most likely stopping at a fruit stand in Keremeos before continuing on to Princeton and Manning Park. This gorgeous roundtrip circuit from Aldergrove is definitely a full-day commitment of almost nine hours, but well worth it!
–
British Columbia is an amazing place to explore, with no end to the road trip opportunities within a short distance. If you're looking for something that will take longer than just one day or if you want to explore beyond one province, check out our road trip blogs for every season!