Victoria, the capital of beautiful British Columbia, is a favourite for getaways for both tourists and locals. Teeming with history and scenery sights, it is no wonder that it is one of the world's top destination locations. There is only one thing standing between you and your holiday - BC Ferries. In today's blog post, you will learn what to expect when you arrive at the terminal.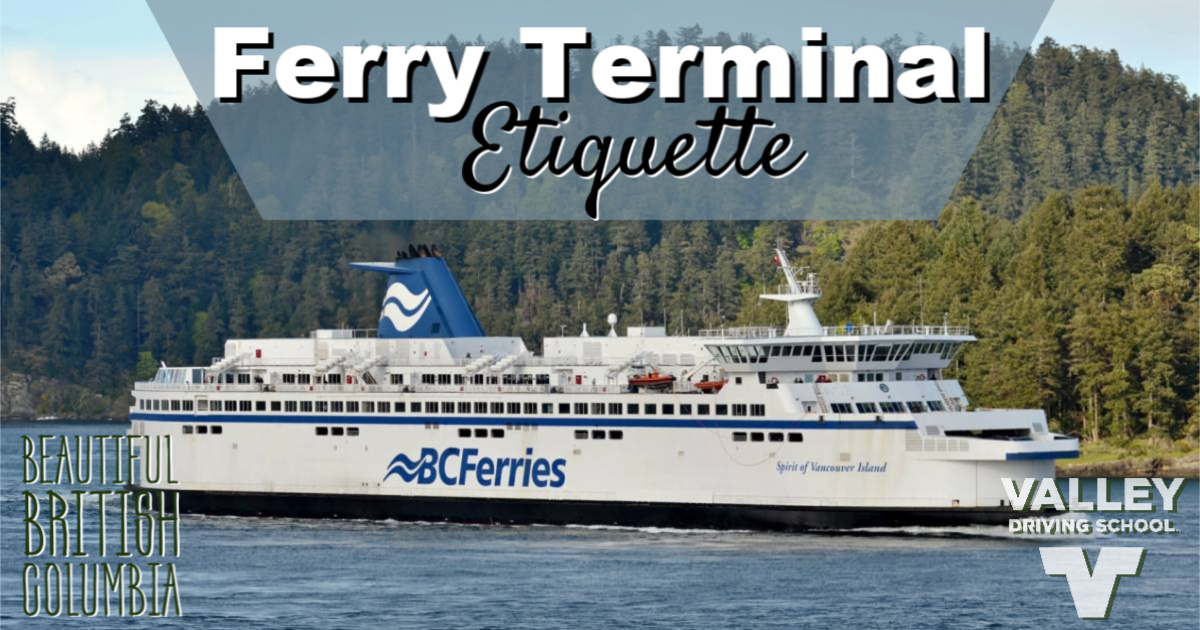 Planning Your Trip
You will want to make sure your vehicle is in proper running order. The last thing you want on your grand vacation is to be turned away because your vehicle is deemed unsafe, overweight or oversized. You can check on the BC Ferries website for specifications that may restrict your travel.
To guarantee your spot on your preferred sailing time you can reserve months in advance, up to 2.5 hours before the sailing. If something comes up and you need to reschedule, you are able to change a reservation up to 1 hour prior to the sailing time for a small fee.
Before the passengers in your vehicle decide to partake in drinking or doing drugs, it is important to remember that BC Ferries can refuse a passenger under the influence of alcohol or drugs boarding of the ferry. This is to protect the crew members and other patrons of the long trek across the water.
Just like travelling by air, you will want to pack and check all of your own luggage. BC Ferries is able to inspect any vehicles, goods, or luggage that are being transported. In addition, children under the age of 12 are required to have a parent or guardian accompany them. It is also important to keep in mind that, as of January 2018, all ferries and terminals are smoke (and vape) free zones.
Arriving at The Terminal
Whether walking, driving, or riding onto the ferry, it is recommended to arrive at least half an hour prior to your preferred sailing time. You may want to leave extra time if you do not have a reservation as sailings fill up quickly during peak seasons.
There may be long periods of waiting in the vehicle lineup prior to the arrival of your ship so when your vehicle is not in motion, turn off the ignition. Not only does this help to protect the planet and save fuel, but it is also a requirement at the terminal.
After purchasing your ticket, you will be directed to a specific lane for boarding once the ship arrives. Remain in this lane unless directed otherwise by the traffic controllers. Ensure that you are close to the vehicle in front of you and that you are not blocking any crosswalks, emergency vehicle lanes, or handicap areas before you park.
Many of the ferry terminals offer shoreside marketplaces with gifts, food, and sites to see before embarking. Shoulder check when exiting your vehicle as traffic is constantly flowing at the terminal and the lane beside you may be moving. When walking throughout the terminal, make sure to use crosswalks and watch for moving vehicles.
Whether remaining in your vehicle or exploring the terminal, keep your ears open for announcements. BC Ferries will provide updates relating to ship arrival and departures, as well as safety messages. If you have not returned to your vehicle when your lane starts to move, you may lose your spot or even miss the sailing altogether!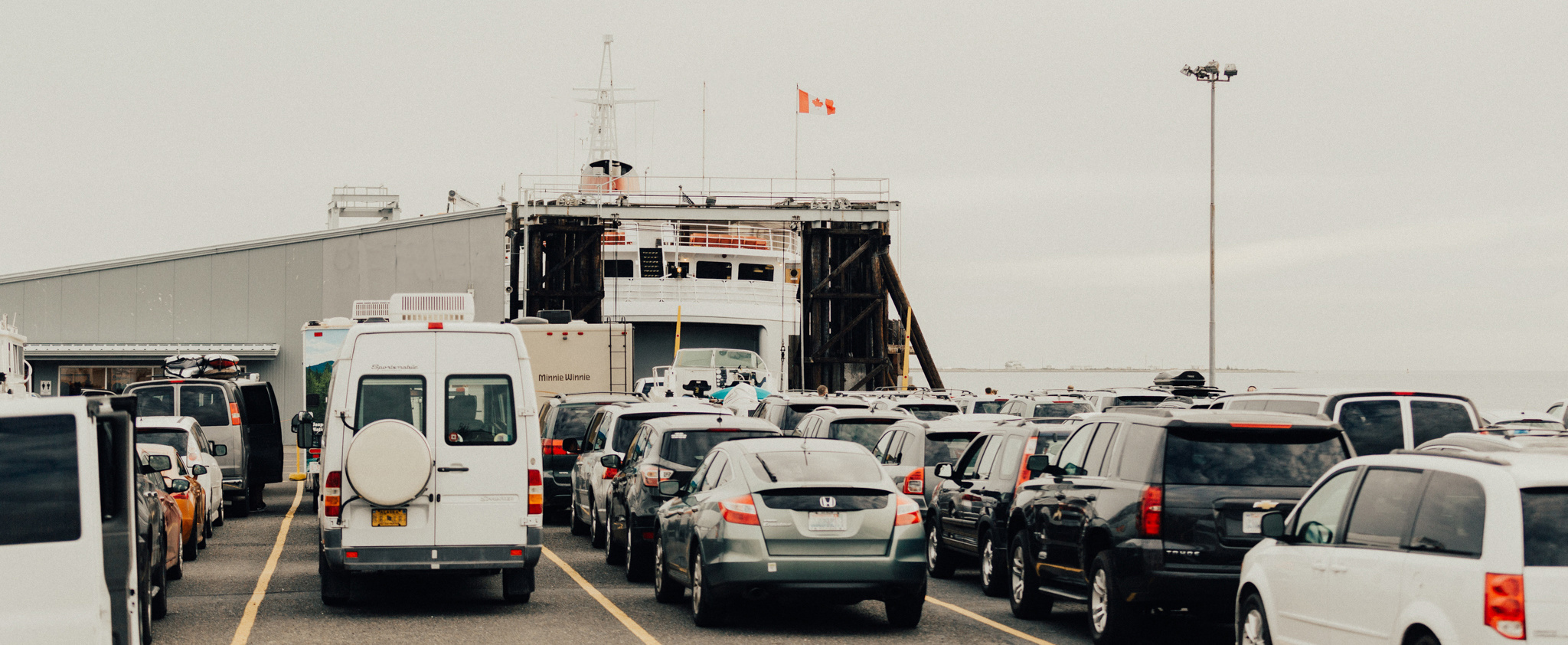 Boarding the Ferry
Traffic controllers will direct you and your vehicle onto the ferry once it is time to board. As you board, continue to remain in your lane and the flow of traffic unless directed by the traffic controller. They know where your vehicle will fit best to fill the space to its capacity and they will also help to guide your space margins to the vehicle in front of you when you park. There is no required distance to leave between your vehicle and the next, as long as there is enough space for passengers to walk through and any directions by traffic controllers are followed. Much like construction workers, traffic controllers have unique hazards for their roles. Learn how you can help keep traffic controllers safe at work with these tips on sharing the road with construction workers.
Engage your emergency brake and turn the ignition off to settle in for the ferry ride. If you are on the lower decks you will need to exit your vehicle and move to the upper decks. You will be allowed to return near the end of the sailing. Make sure to lock your vehicle to avoid losing any valuables but make sure to turn off any alarms. The motion of the travelling ferry can, and often does, set these off.
If you are travelling with your pet, they are allowed to stay in the vehicle in the upper or lower decks. There is also designated pet areas on the upper vehicle deck. BC Ferries recommends bringing a jacket when accompanying your furry family, as it is an open deck with fresh air. BC Ferries does not have a pet-friendly bathroom aboard the ship. It is recommended to walk them before boarding, but accidents do happen. When accidents do occur, please clean up after your pet.
Your Journey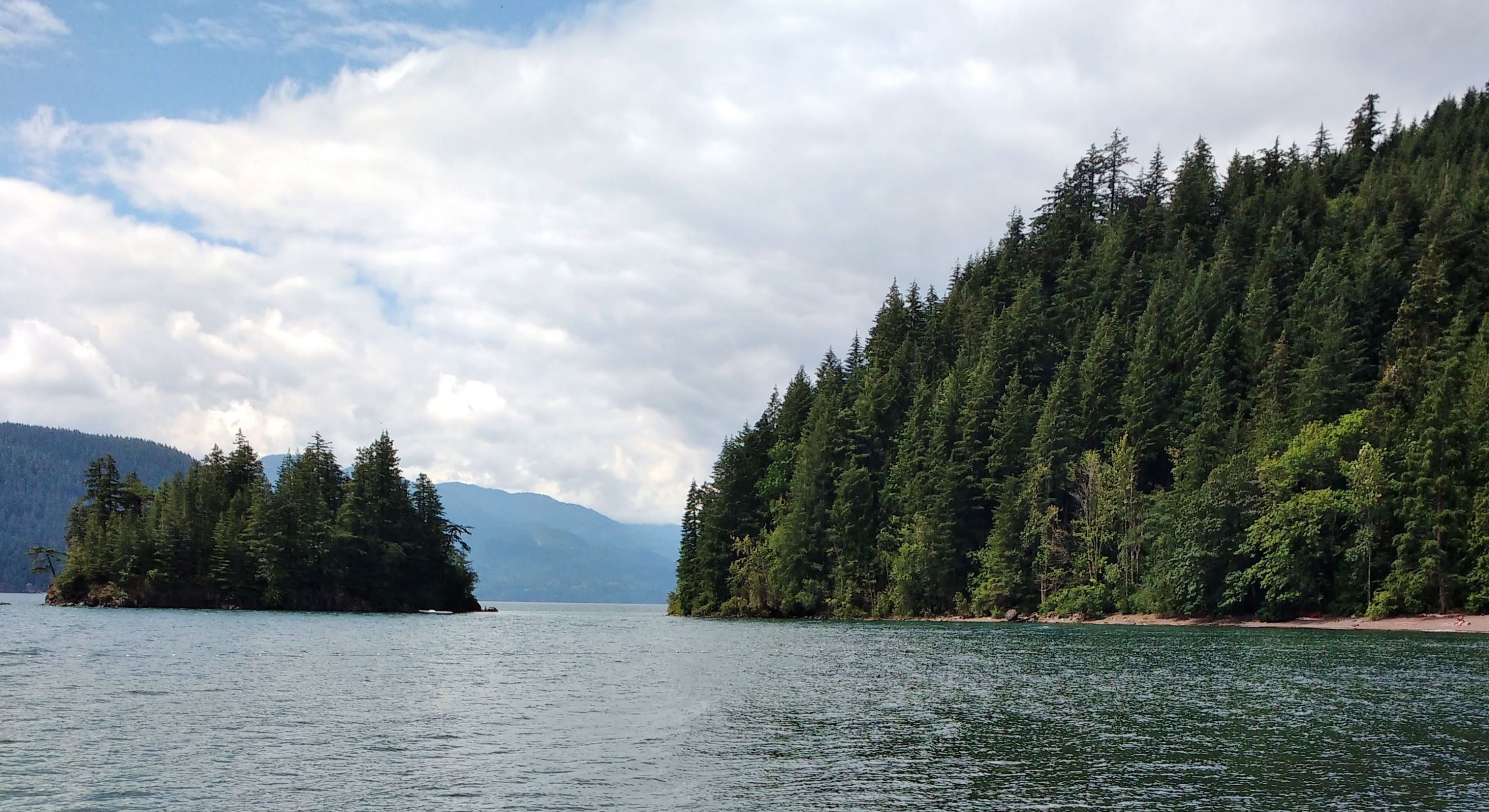 Sailings can take anywhere from 30 minutes up to 2 hours depending on where you are travelling to and from. During this time, you can stay in your vehicle if you are on an upper deck or you can explore the ferry amenities (including everyone's favourite, the White Spot Kids' Pirate Pack) and enjoy the beautiful BC scenery during the trip.
Whether in your vehicle or on a passenger deck, continue to listen for announcements made by BC Ferries staff. These can include important safety messages as well as information for when it is time to load back into your vehicles and disembark.
Departing the Ferry
Much the same as embarking on your journey, you will want to obey the traffic controllers when disembarking. Even when other lanes start to disembark, your vehicles should not be started until your lane starts to move. As with entering the ferry, you should only change lanes when directed by a traffic control person. They will see you safely off the ship, and you can continue your trip!
----
Enjoy your vacation on the beauty that is Vancouver Island. Keep our tips in mind to have a safe and smooth sailing when you are ready to come home.