December is officially upon us, which means there are only three weekends left to complete the shopping for the holiday season! We've discussed gift ideas for the safety conscious and the tech savvy people on our lists with our Top 5 Dash Cams and Top 5 Tech Toys, but what about the neatnik on your list? Well, we have you covered with our picks for the Top 5 Car Wash and Detailing Kits for this gift giving season!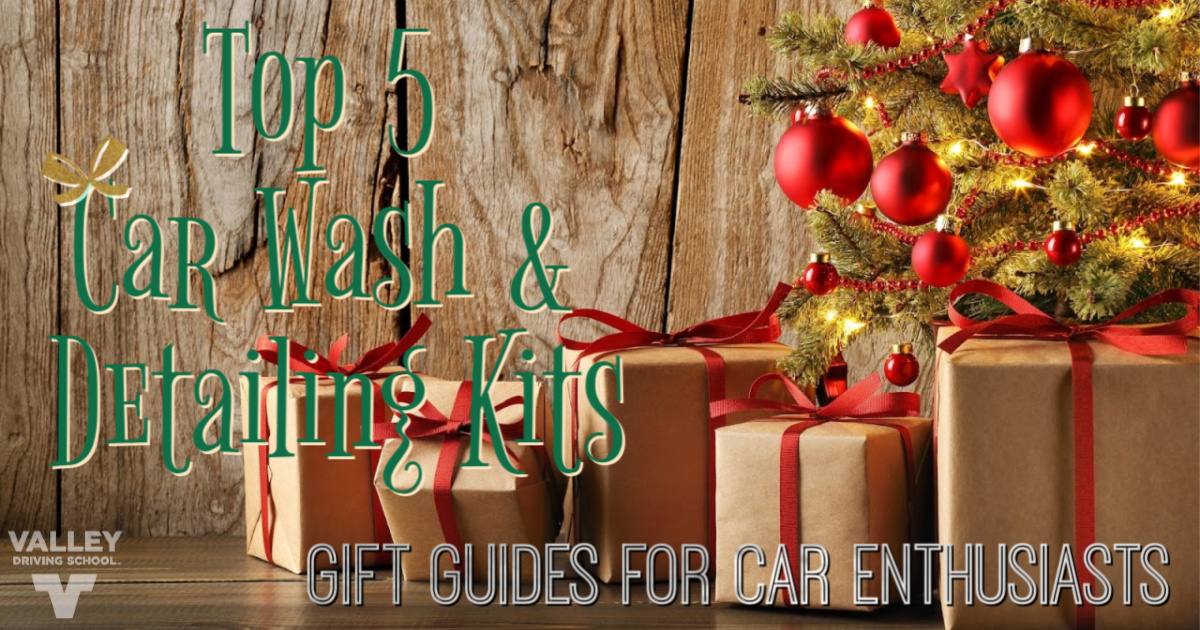 When looking at what detailing kit is best for the clean and tidy person in your life, consider what is most important to them - is it interior cleaning or exterior cleaning? Are shining tires high on their priority list? What about smudge-free windows and mirrors? We've picked an array of options for your special someone!

#5. Meguiar's Gold Class Complete Car Kit
The Meguiar Brand has been around since 1901 and was started with just a bottle of furniture polish. Frank Meguiar, Jr. started out making one bottle at a time with an egg beater, producing products at night to sell the next day to pay for the family's groceries. This statement from their website speaks volumes of the pride they take in their product; "The difference for the Meguiar's Brand has been the inborn passion for what we do; it fuels the driving force that moves us forward and exhilarates us every day."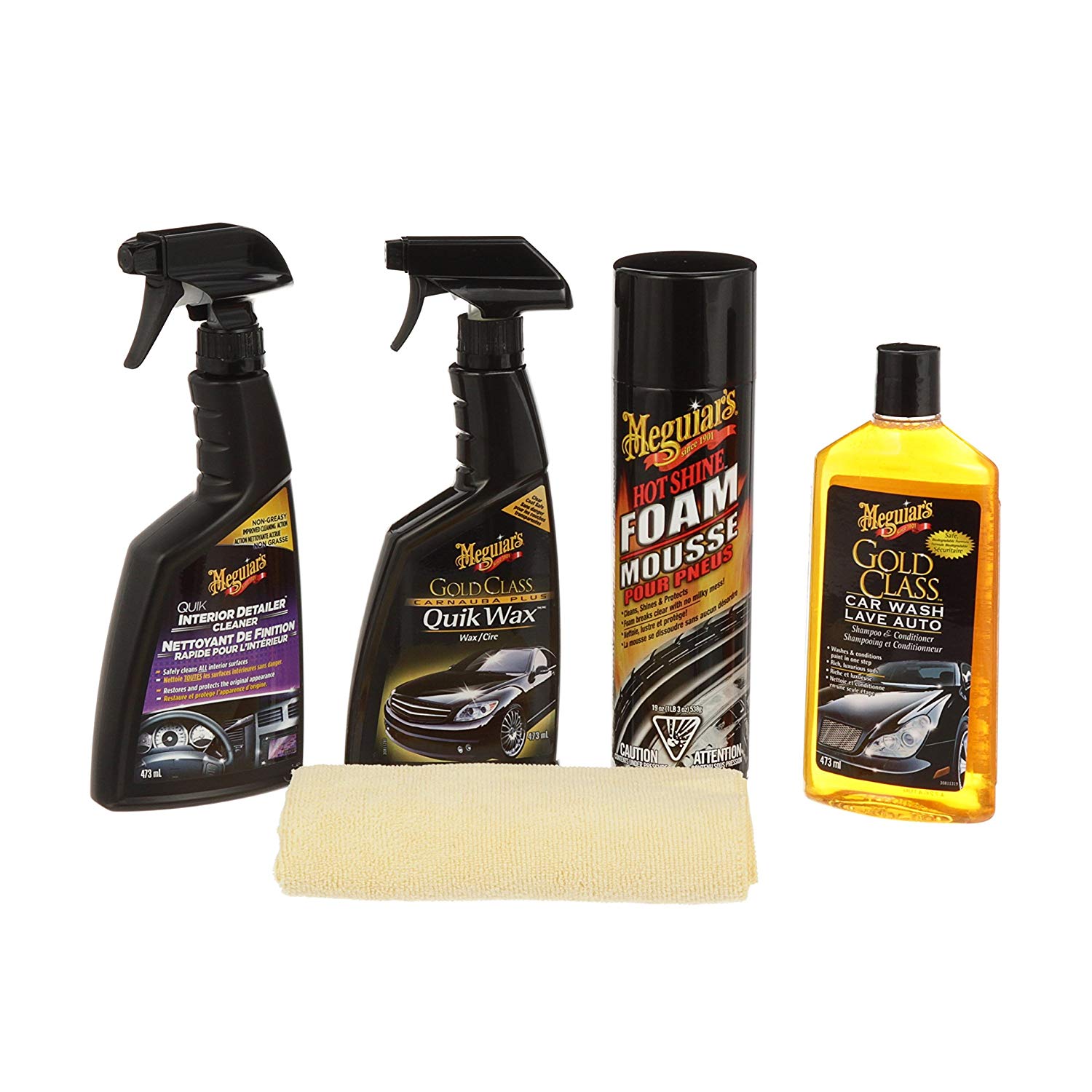 The Gold Class Complete Car Kit is a great starter pack that includes the Gold Class Car Wash Shampoo and Conditioner, Gold Class Quik Wax Spray, Quik Detailer Interior Spray, Hot Shine Tire Foam and a bonus Supreme Shine microfiber towel. The only thing that this starter kit is missing for the basics of detailing is a glass cleaner, but overall it is a solid starting point with quality products for a low price – less than $40!

#4. Armour All Complete Car Care 5-piece Kit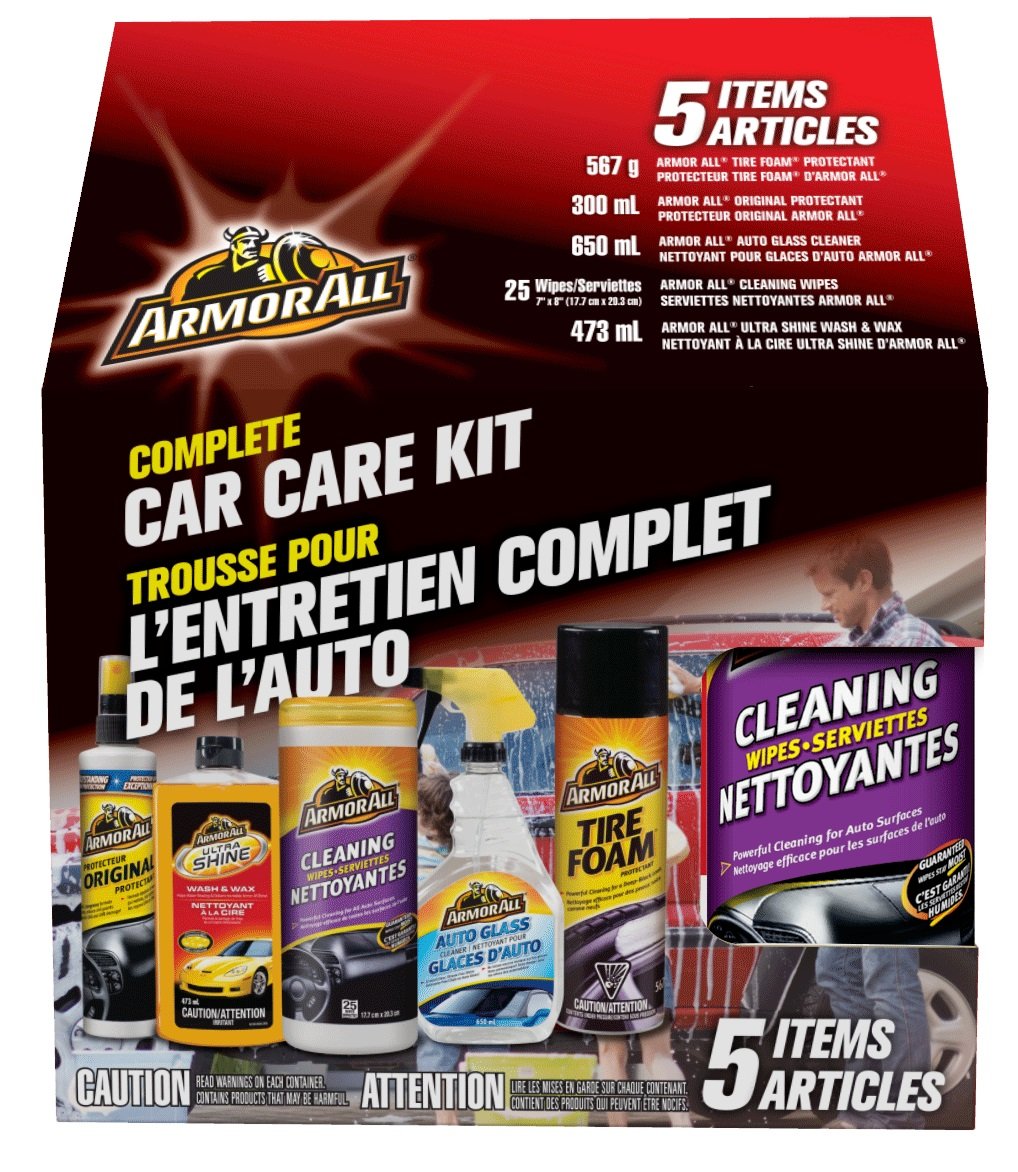 Armour All has been around for generations, making it one of the more recognizable and reliable products available and the undisputed leader in protection, defending your vehicle from harmful elements such as UV and oxidation. The Armour-All Complete Car Care Kit is one of the smaller kits on the market, however, it includes an exterior wash and wax, tire foam, glass cleaner, interior cleaning clothes and an interior protectant spray at an affordable price of less than $40! Unlike some of the other kits this one does not include a wash bucket or microfiber cloths but what it lacks in quantity it makes up for in quality. Armour All offers an array of additional products that can be added on as well. Some of the key product choices may include a leather restorer or gel, a carpet and upholstery cleaner, or a vent and duct cleaner.

#3. Turtle Wax Ultimate Car Care Kit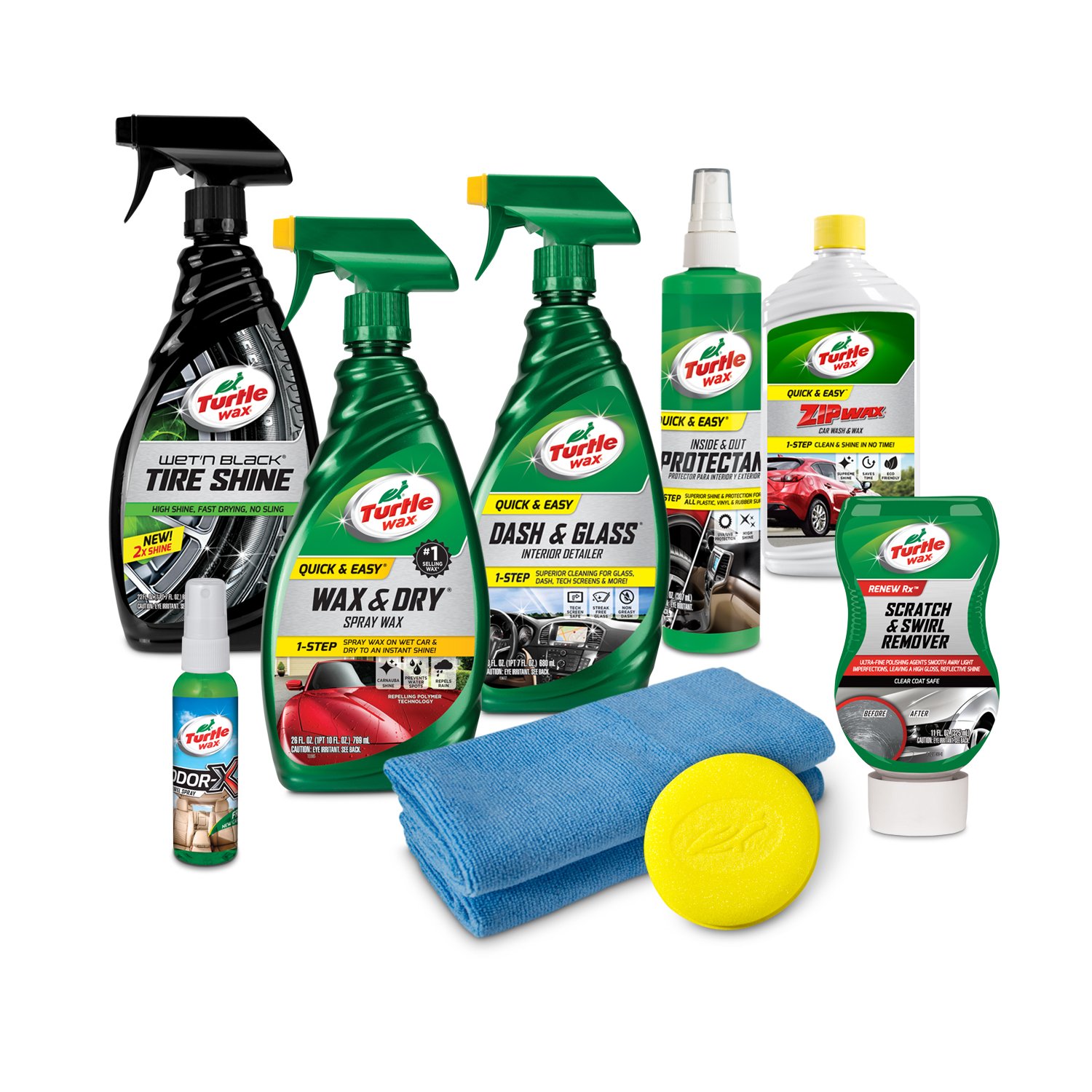 Celebrating their 75th Anniversary in 2019, Turtle Wax has the Ultimate Car Care Kit, which features ten pieces, including everything you need to clean and detail your car inside and out. With a foam applicator and two microfiber cloths, the Quick & Easy Zip Wax washes and waxes simultaneously with a foaming car wash, the Quick & Easy Wax & Dry allows you to wax before drying, and the Scratch & Swirl safely eliminates imperfections and blemishes on the paint. It also includes the Wet'N Black Ultra Wet Tire Shine, the Quick & Easy Inside and Out Protectant, Quick & Easy Dash & Glass and Odor-X Odor Eliminator and Refresher. At a bit of a higher price point of $100+ this kit is the perfect gift for the ultimate car-cleaner on your list, but don't forget to check out some of their other products that would make great stocking stuffers for those that like to detail their motorcycle or boat!

#2. Chemical Brother Arsenal Builder Wash Kit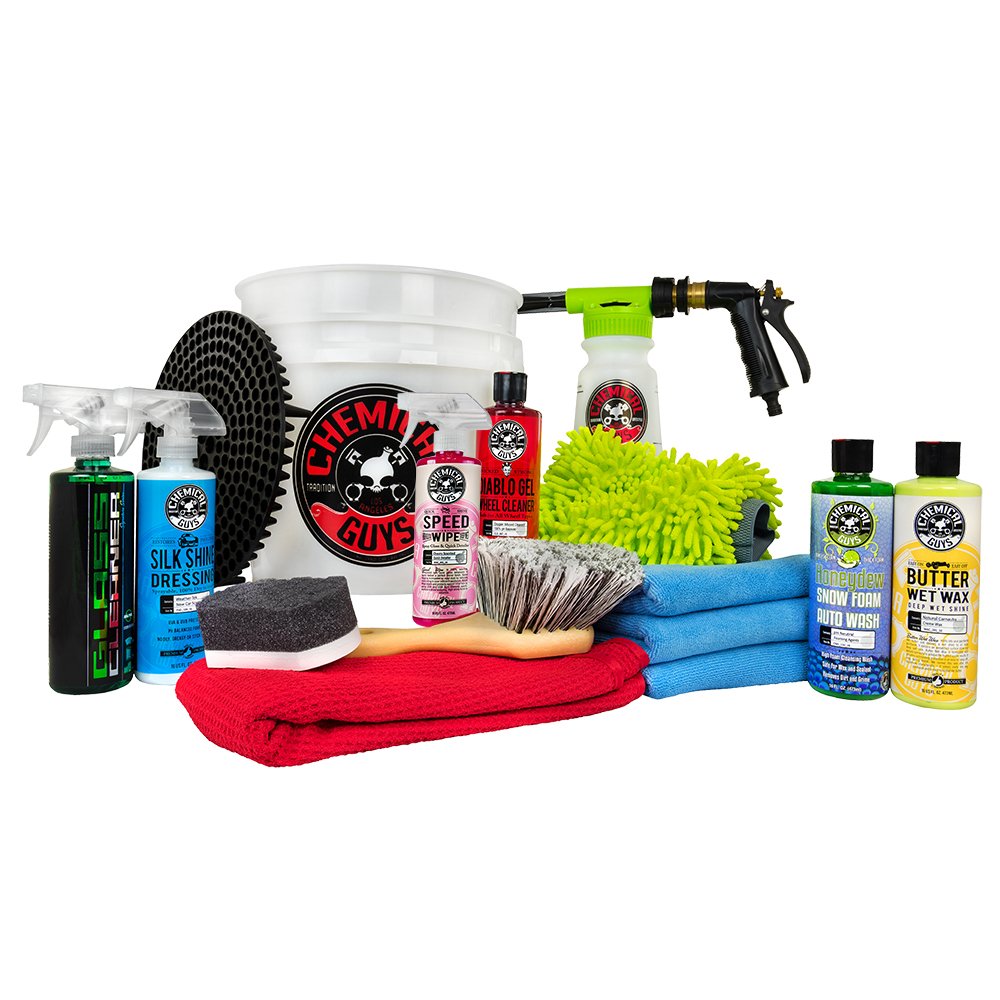 This is the gift that keeps on giving and contains everything anyone would need to clean and maintain any car or truck! The Chemical Brothers Arsenal Builder Wash Kit includes a wash bucket with a dirt trap insert which sits in the bottom of the bucket allowing the dirt to sit in the bottom of the bucket and not be picked back up when rinsing your cleaning supplies, to prevent dirt particles from scratching your vehicle while you clean. There are also multiple microfiber towels and a wash mitt, a wheel brush and tire shine applicator, and the most exciting accessory is the foam gun! The cleaning products included are a washing soap, detail spray, glass cleaner, cream wax, wheel cleaner and tire shine dressing. With so many tools and cleaning supplies, you can fill anyone's arsenal for less than $150!

#1. Meguiar's Complete Car Care
Making the list twice, the Meguiar's brand definitely tops our list as quality gift with a large variety of products and accessories. An upgrade from the Gold Class Kit, this Complete Car Care Kit has ten pieces including everything needed to clean, maintain and protect the many surfaces of your vehicle. A microfiber wash mitt, re-useable soft foam applicator pads, and Supreme Shine microfiber towels are the perfect cleaning tools. Also included is the Gold Class Car Wash Shampoo and Conditioner, Gold Class Liquid Wax, Quik Detailer, Quik Interior Detailer, Clay Bars, Scratch 2.0 and PastX Clear Plastic Cleaner & Polish.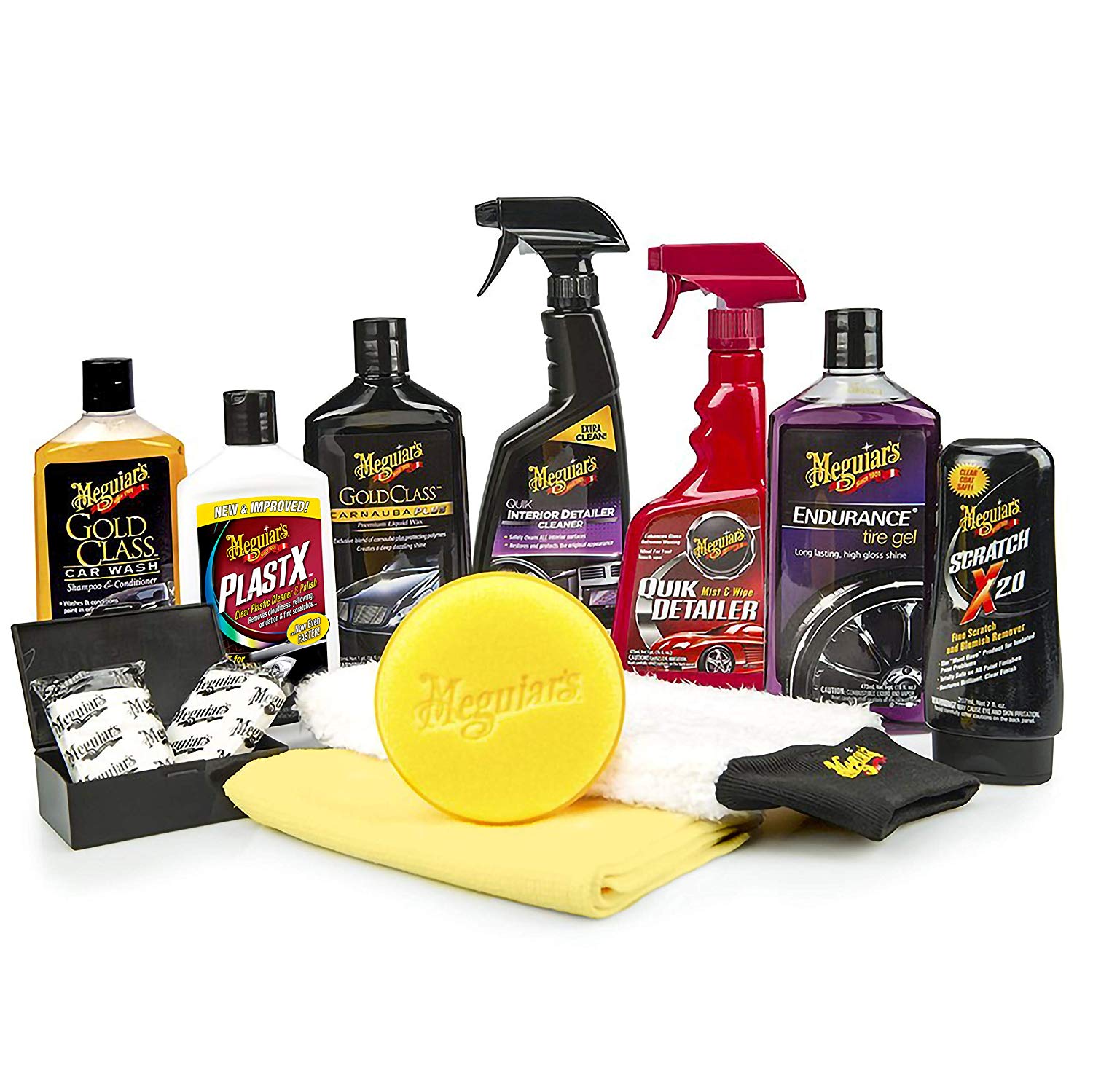 This is the first kit to introduce claying, which is a detailing process that lifts surface contaminants that are bonded on the paint. Using the Clay Bars in conjunction with the Quik Detailer will remove these contaminants quickly and gently. The PlasX Clear Plastic Cleaner & Polish is the first in the aforementioned kits that is a product made for clear plastic surfaces such as headlights, taillights, and instrument clusters and when used it safely removes light defects to improve the optical clarity. This is our most expensive kit on the list, at over $140, but it's not difficult to see the quality and quantity of cleaning tools and supplies that are included.
That rounds out our list for the top products for cleaning and maintaining but if that is not detailed enough, don't forget about add-on tools like the Chemical Guys TORQX Detailing Machine or the AutoRight Multi-Purpose Steam Cleaner! Now you are all set to give the neatnik gearhead on your list quality gifts to keep their vehicle looking and smelling fresh! Let us know if there are any products that you currently use that are a must have or must give and set your GPS to stop by next week for more gift ideas!