We're making our list and checking it twice! With the holiday and gift giving season just around the corner we are sharing gift ideas for the car enthusiasts and gear heads on our list. Join us each week from now until Christmas, as we dive into some of the newest, coolest and must have car technologies and accessories! both for gift giving and receiving!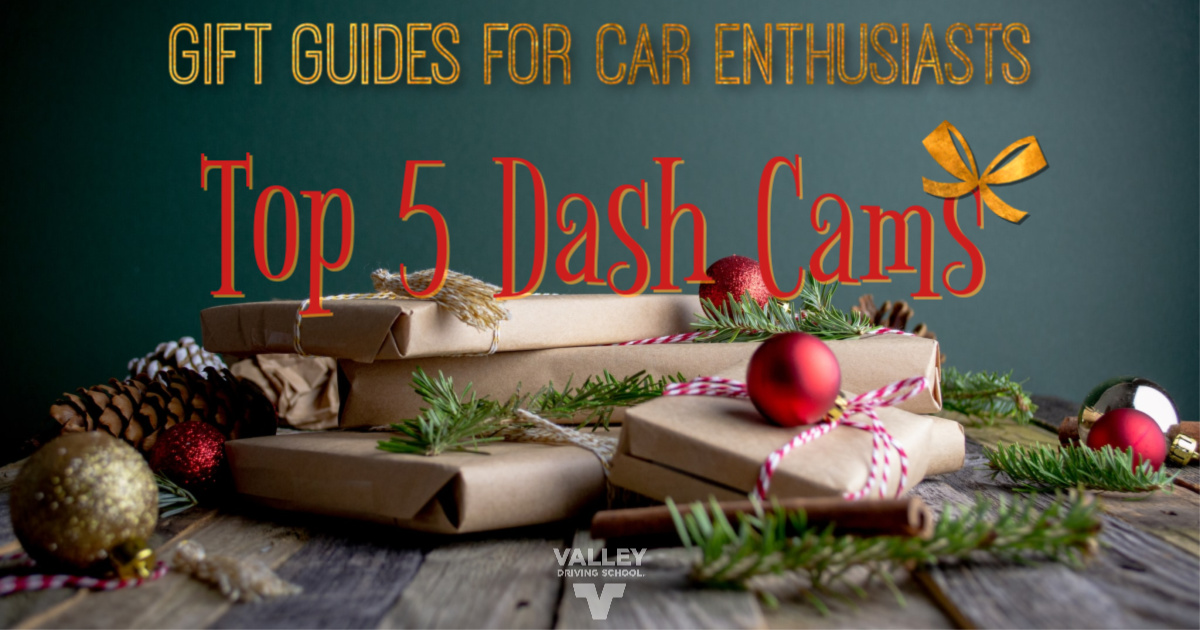 Dash cams aka dashboard cameras have become increasingly popular as traffic increases and insurances rates climb. Dash cams can provide an added form of protection when we face challenges on the road as they allow drivers to provide police and insurance companies with real time proof during an incident. There are a lot of things to consider when you are investing in a dash cam. Do you want front-facing only or front- and rear-facing? Do you need it to save footage until there is no space, record on a loop or upload recordings to the cloud? Are any additional features like GPS, wifi, parking surveillance mode, speed limit warning, front collision warning or lane departure warning important to you? Are you brand loyal to some of the top brands like Garmin, Thinkware and BlackVue? With Black Friday deals just a week away, this week we are sharing what our picks for the Top 5 Dash Cams are for Christmas gift giving!

#5. PAPAGO! GoSafe S810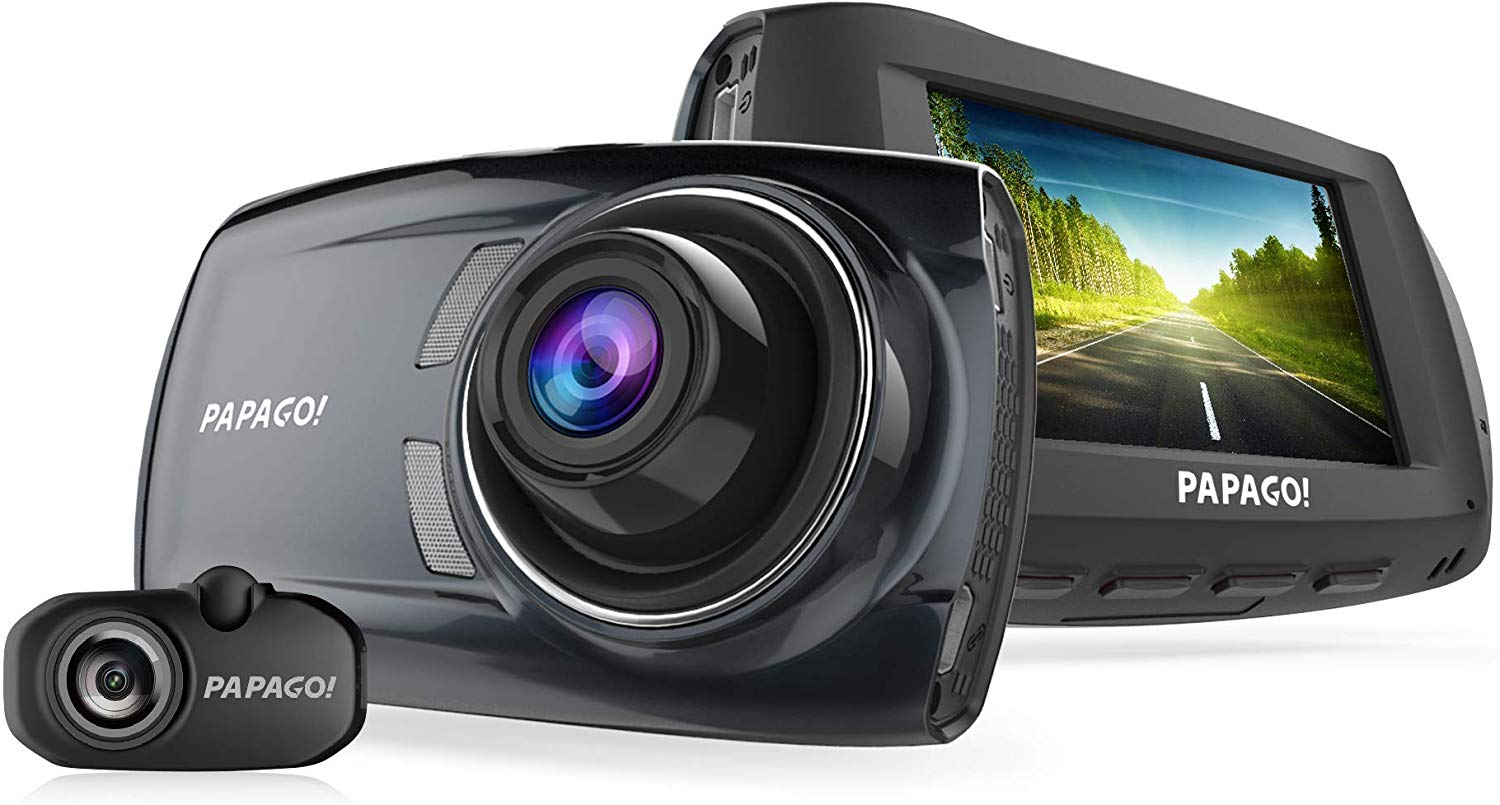 The Papago! GoSafe S810 features a dual camera system includes a front-facing camera with a 2.7" LCD display and records in full 1080p HD. The second camera comes with a short and long cable for recording to allow use as a rear-view camera or if you are planning on driving for a ride hailing company, use it as an interior monitoring camera as it covers a 120-degree wide angle view.
The dash cam offers three recording modes: loop recording (which will begin as soon as you start your vehicle to ensure you never forget to start recording), g-sensor or motion activated recording (which will automatically trigger recording if a sharp turn or impact is detected) and monitor mode (which will save space on your memory card by taking one photo every second). There is no internal memory in this device but it can take a microSD card.
Although this unit does not include some of the more sought after features like speed limit warning or lane departure warning, it does include other driver assist features such as stop sign recognition and an alarm for driver fatigue. Reasonably priced at under $200, the Papago! GoSafe is an inexpensive option for those looking at trying out a dash cam for the first time.

#4. Thinkware Q800PRO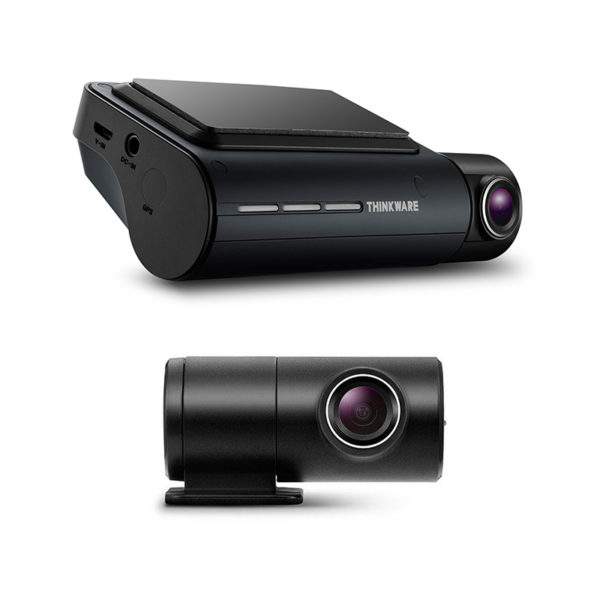 The Thinkware Q800PRO is a front-facing dash cam that has the option of adding on a rear-facing camera as well. It features a 5.14MP camera with a 140-degree wide angle and records in 1440p at 30 frames per second. It has Super Night Vision 2.0 which reduces image noise for a better, clearer video in low light settings. An Advanced Driver Assistance System (ADAS) with lane departure warning, front vehicle departure warning, and potential forward collision warning can help prevent on-road incidents. Also included is a safety camera alert, which will alert you to upcoming red light cameras and upcoming speed cameras.
While the Q800PRO does not have built-in memory, but a supplied microSD card allows for 132 minutes of 1440p recording before looping over. If you add-on the rear camera, 66 minutes of 1080p video can be recorded before looping over. Should more recording time be needed, you can swap out the microSD card for one with more memory.
Featuring cloud functionality with the Thinkware Cloud app you can to view and export videos to your iOS or Android device and adjust the dash cam settings. Notifications if an impact occurs and built-in GPS allow you to track your speed, route history, and your vehicle's current whereabouts. Priced around $400, the Thinkware Q800PRO is a good quality choice with useful extras at a reasonable price.

#3. Garmin Dash Cam 55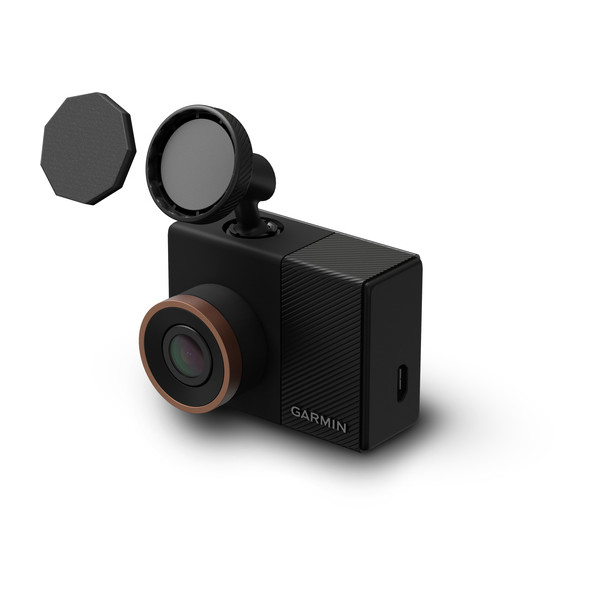 One of the more compact and discreet units on the market, the Garmin Dash Cam 55 features a 2.0" display with a 3.7MP camera that records in 1440p at 60 FPS. A GPS enabled cam, featuring G-sensor, automatically saves video when an impact is detected and embeds the video with when and where the incident took place.
With Voice Control you can start, stop and save the video as well as record audio. Like a lot of other brands, Garmin features their own app, Garmin VIRB, to download and view videos. You can also subscribe to the Cyclops database, which is updated daily with fixed locations of red light cameras and speed cameras that will push through an alert when you are approaching a red light camera or speed camera. This model features most of the sought after driver awareness warnings. It includes forward collision warnings, lane departure warnings and when you are at a full stop it has a "Go" alert that notifies you when the traffic in front of you starts moving again.
Being one of the smallest models, like many others there is no internal memory in the device and it only supports up to a 64GB microSD card. But unlike most devices it does feature a built-in ion-lithium battery that offers a 30 minute battery life when your vehicle is not running. Priced around $200, the Garmin Dash Cam 55 is a compact camera at a compact price.

#2. BlackVue DR900S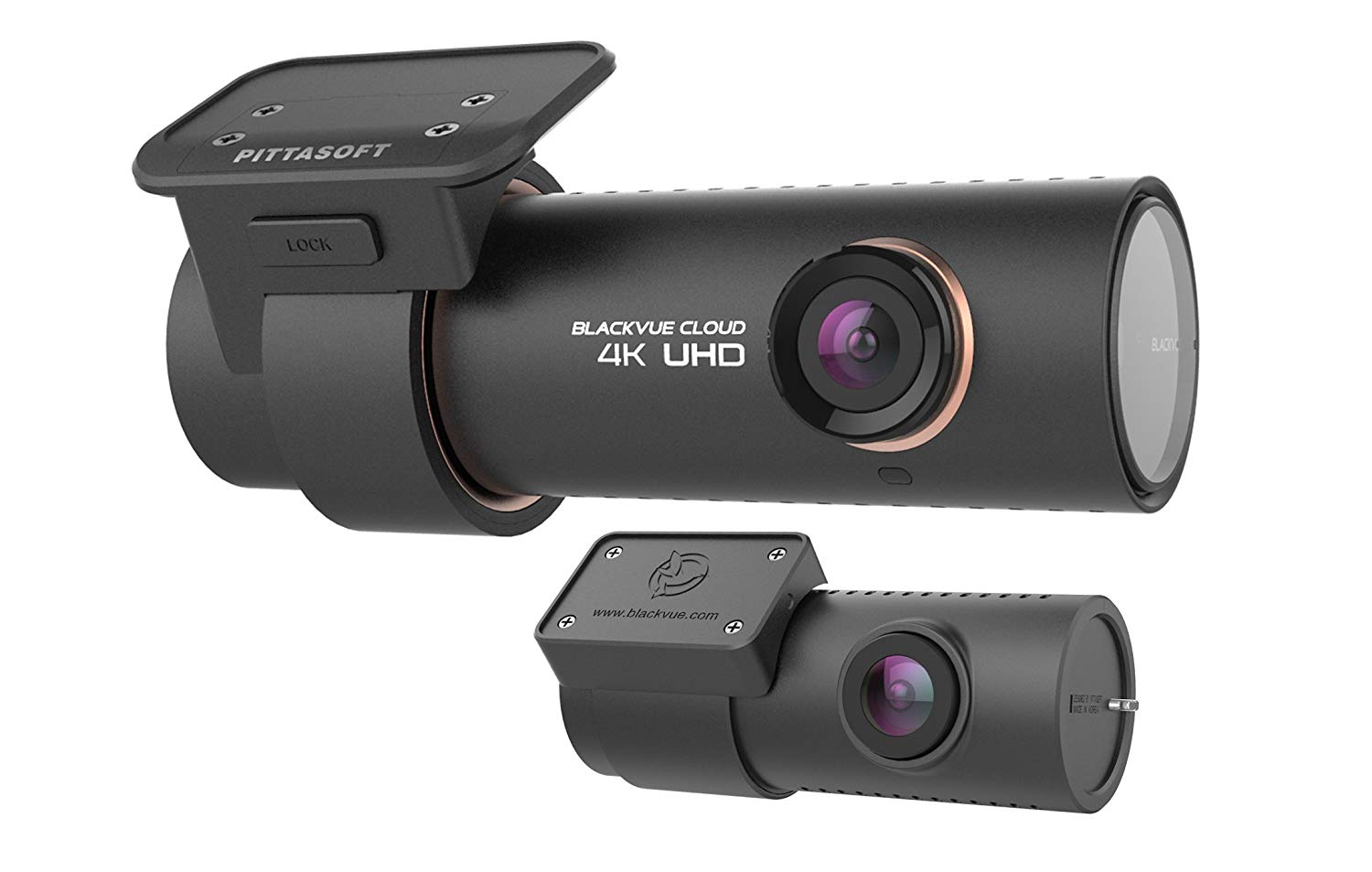 Available in a 1-channel (1CH) or 2-channel (2CH) option (extra port for rear- or infrared-camera), the BlackVue DR900S features an 8MP front-camera with an ultra-wide 162-degree angle that records in 4K UHD! This camera will capture 4 times as many pixels as an HD camera, recording at 30-60 FPS. This faster shutter speed allows details, like licence plates, to be frozen in place and to be read from a further away distance. Even though the recording is now at a higher resolution with this camera you don't need to worry about using up memory faster as it features High Efficiency Video Coding software to keep your video files small without sacrificing your video quality. You'll need to make sure to pick-up a microSD memory card, as the DR900S has no internal memory.
If you splurge on the 2CH model, you can pick which camera you would like to add. If you are looking for additional coverage when you are driving or parked, the rear camera features a 139-degree angle view. If you're planning on driving for a ride hailing company, consider opting for the discrete interior infrared camera, which features an integrated infrared LED light that activates automatically based on the ambient light. This camera works in all lighting, even when it is pitch-black.
There are BlackVue specific apps that allow you to download, backup and view videos from your phone or computer. BlackVue Over the Cloud is an add-on service that unlocks the full potential of your dash cam by allowing you to push notifications to your phone when an event occurs or remotely monitor your vehicle from anywhere, at anytime! The dual-band built-in wifi allows videos to be downloaded directly to an iOS or Android device or GPS receiver with embedded speed and location recordings. Priced between $500 - $700, the BlackVue DR900S is a high-priced high-resolution option with all the bells and whistles!

#1. Nextbase 522GW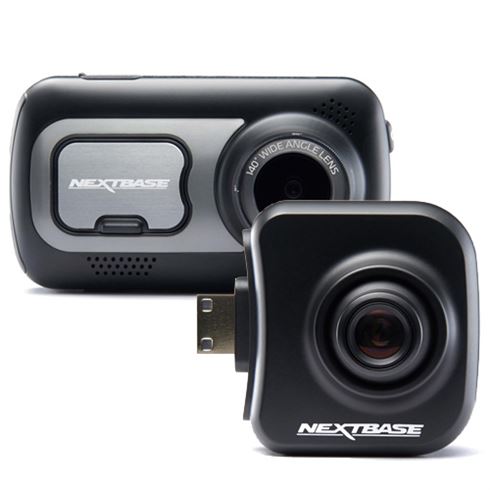 The Nextbase 522GW dash cam is the next level in the revolution of dash cams featuring ground-breaking technology which will redefine the dash cam game! This unit includes features such as Alexa built-in, Bluetooth 4.2 and Emergency SOS.
The camera features a 3" IPS touch screen with a 140-degree wide angle view that records in 1440p HD at 30 FPS. While a rear-camera is not provided stock, you are able to add one on. If you add on a rear camera you can change your recording resolution to 1080p for both the front and rear camera or 1440p for the front and 720p for the rear. The unit also has an HDMI port and a USB cable that allows for easy transfer of files to a PC or laptop. Although there is no internal memory the unit does support a microSD memory card.
A subscription to the MyNextbase Connect app will open up features like Emergency SOS. In an incident which renders the driver incapable of contacting emergency services themselves, the Emergency SOS feature will turn on a "beacon" in the phone associated with the account. If the phone remains unanswered or still an emergency alert is sent to emergency services and will include details like GPS coordinates and personal history like blood type, allergies and medical history.
With built-in Alexa you will be able to ask for directions, request music to be played, make a phone call, control your smart home devices and much more! Features are continuing to be developed for this camera, with voice command features coming soon. Priced around $300, the Nextbase 522GW provides exceptional video quality and tons of cool features at an extremely reasonable price, making it our #1 choice in dash cams.

Battery Life
One thing to keep in mind with most dash cams is that they do not have a rechargeable battery built-in and require to be connected to your vehicle through a 12/24V energy port. This does not allow you to activate the Parking Surveillance mode that is featured in most devices. To activate this feature you can purchase a hardwire kit (that should be installed by a professional) that will connect your dash cam to your cars fuse box. In addition to the hardwire kit it is recommended to purchase a Battery Discharge Prevention (BDP) device that monitors your cars battery voltage and when the voltage drops between a preset level it cuts off the power to the dash cam to prevent it from draining your battery. The most popular device on the market is the BlackVue Power Magic Pro or, if you don't want to hardwire your dash cam to your vehicle, you can install an external battery pack that will provide 12-25 hours of battery life. The Cellink Neo and the BlackVue B-124 are the most popular external batteries on the market.
—
This brings our Top 5 Dash Cams to an end, do you have one that you currently use that you would recommend? Stay revved up for next week's car enthusiast and gear head Christmas gift suggestions!