At Valley Driving School, our top priority is safety and education. But that doesn't mean we don't appreciate a little fun and incredible skill behind the wheel – we enjoy watching driving videos of all kinds, from professional drifting to F1 racing, and a little of everything in between. Driving for sport can evoke a level of exhilaration and bliss that is rarely replicated. As Instructors, we work to hone our skills to ensure our driving is top notch and that we follow the law to the letter. But that doesn't mean we don't appreciate the wilder side of driving!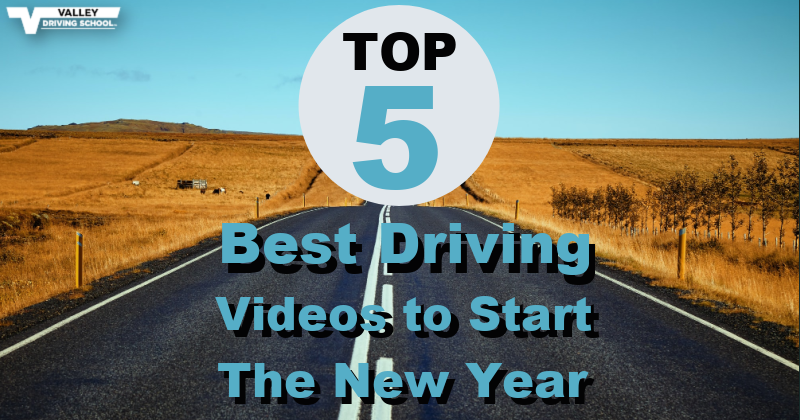 Let's start 2021 off right with our top five driving videos that the internet has to offer.
Drifting Lessons
Ken Block needs no introduction if you're a fan of rally driving, where he has been racing and winning since 2005. You may also recall his appearance on Top Gear, that we featured back in 2017. In today's top video, the real introduction goes out to his 14-year-old daughter, Lia, who is in the hot seat while she tries her hand at drifting. While most teens this age are studying up for their learner's permit, Lia already looks like a natural behind the wheel. Watch her drift a Fox Body Ford Mustang, with the help and guidance of professional drifter, Vaughn Gittin Jr., at the Utah Motorsports Campus.

Need for Speed
The new Porsche Panamera is fast. REALLY fast. That's why it just set the new record for the fastest executive car ever to complete a lap on the famed Nürburgring. Lars Kern, who has won a podium twelve times since 2010 and placed 1st in the Porsche Super Sports Cup Germany 2010 race, completed a full lap of the legendary Nürburgring Nordschleife over a distance of 20.832 kilometres in 7:29.81 minutes.
"The enhancements made to the chassis and the powertrain of the new Panamera were always noticeable during this lap on what is recognised as the most demanding race track in the world," said Kern in Porsche's official media release.

World's Most Dangerous Road
One of the world's most dangerous roads is said to be the D-915 in Turkey, and Red Bull stepped up to the challenge of racing on it! They brought out their KAMAZ truck and their Ford Fiesta R5 and put them to the test along this steep and rugged road, full of hairpin turns and hidden obstacles. Not only did they have to plan for the race, but also for the mechanic and filming crew to get up the road as well. Check out this overview video below, and then click here for the whole race!

Inspirational Racing
Billy Monger is a 21-year-old professional race driver who competed in F4 racing in 2016 and 2017 before being involved in a catastrophic collision at Donington Park that resulted in the loss of both of his legs. His right leg was amputated below the knee, leaving him with enough dexterity and control to drive modified cars. Miraculously, he regained his racing licence and was back behind the wheel during a Fun Cup race only four months post-crash. Check out his inspiring story.

Safety First
In a timely release, Volvo's latest commercial brings us back to the introduction of the safety belt, more commonly referred to as a seatbelt, in 1959. People reacted with skepticism, resistance, doubt, and anger. In 2020, the seatbelt has saved more than one million lives.
Volvo is taking new measures to continue to make their cars safer, including speed limits on all new cars. Up next for them? Camera systems that are purported to prevent drunk and distracted driving violations.
--
Most of our top videos are not the stuff you'll see in your in-classroom or theory sessions while learning to drive, but it's a great escape from reality for a few minutes at a time. While none of these maneuvers should be attempted and are being performed by trained professionals on closed course circuits, enjoying them from the comfort of your home is allowed and encouraged!