Truxpo 2018 is back at the Tradex in Abbotsford on May 11th and May 12th and is bringing new and expanded opportunities for the commercial trucking industry. Exhibitors and educators will be there to show new innovations and provide a premiere networking opportunity for the trucking community.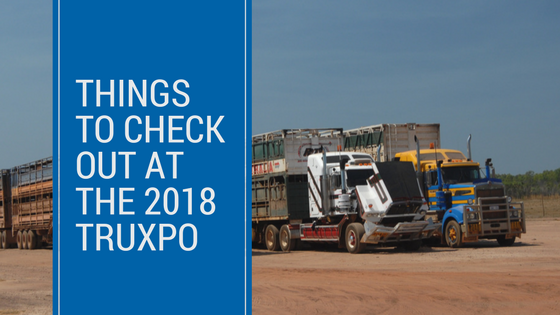 Presented in partnership with the BC Trucking Association, Truxpo is the world's largest trucking event and focuses on education, special features, and exhibits. Taking place every other year as a trade show for the Canadian trucking and transportation industry, Truxpo is a vital resource for many of BC's most lucrative and cherished industries, including forestry, construction, and rescue. It is also the only trade show that proudly displays every class of licence on the showroom floor.
Here are our top selections of things you need to check out at Truxpo 2018.
Women In Trucking
Women are a fundamentally important part of trucking, and their expertise, experience, and insights are rapidly changing the face and spirit of commercial trucking all over Canada and the world.
Truxpo 2018 will celebrate its first-ever salute to Canadian women in trucking on Saturday, May 12th. The event will celebrate the women of the Canadian trucking industry by recognizing successes, accomplishment, innovations, and dedication to the industry.
The pinnacle of the event will be the group photo that will be taken as part of the celebration, honouring women drivers. T-shirts will be given to all those who can show a commercial trucking license to identify them as proud women truckers.

Next Gen Trucking
Recruitment and careers are a pivotal aspect of ensuring that the Canadian trucking and commercial transportation industry remains of the cutting edge of what's possible.
The Next Gen Trucking seminar at Truxpo 2018 will focus on the education, career-building, and recruitment of the next generation of truckers. Further, the showcase will encourage high school trade and vocational programming students, as well as those from trade and technical post-secondary institutions to attend the show
Recruitment will be underway at Truxpo as well. Job-seekers and new drivers are invited to:
Meet the biggest players in Western Canada's transportation industry

Get face-time with hiring companies and recruiters

Find a company who meets your needs as an employee

Get informed with career information and driver education sessions

Apply directly with resumes and abstracts to company recruiters
Show N Shine
When it comes right down to it, we're all just big car and truck fans. The Truxpo Show N Shine is an excellent opportunity to ooohhh and ahhhh over the many prime trucking specimens that grace our highways and backroads. Be on the lookout for the best in paint, chrome, sound, technology, and efficiency this year - as well as a wild display of good, old-fashioned, diesel powered big rigs.
Indigenous Works
As part of an all-new partnership with Truxpo, on Friday, May 11th at 2pm and Saturday, May 12th at 12pm there will be an exhibit bringing focus to educating and employing the many talented Indigenous workers of the BC warehousing and transportation sector.
Indigenous Works has assisted companies and organizations in strengthening their outreach and support of continued Indigenous employment, workplace engagement and inclusion for almost 20 years. An information session will highlight best practices for 2018 Indigenous labour market training and skills development, and tips on how your organization or company can benefit from supporting Indigenous recruitment.
$10K in Prizes
A massive $10,000 worth of great prizes and raffle goodies are up for grabs on the Saturday of Truxpo. Attendees may be lucky enough to take home anything from Cummins swag and heavy truck equipment, to restaurant gift certificates, golf packages, and subscriptions to the best trucking and transportation magazines in the business.
With so many exciting exhibitors and fantastic features, you won't want to miss Truxpo 2018! These are only a selection of what will be available, and this event is the perfect reason to get out and share in your love for the industry. We won't have a booth this year, but keep your eyes open for some of our Truck Instructors and staff roaming around!