"If you got it, a big truck brought it; and if you want it, there's a big truck on it," says Rob Vaarmeyer and Corin Raymond, two Canadian musicians dedicated to the words of the road. Truer words have never been spoken, with semis and big rigs running goods across the globe since the early 1900's, accounting for over 70% of all goods today in the US alone.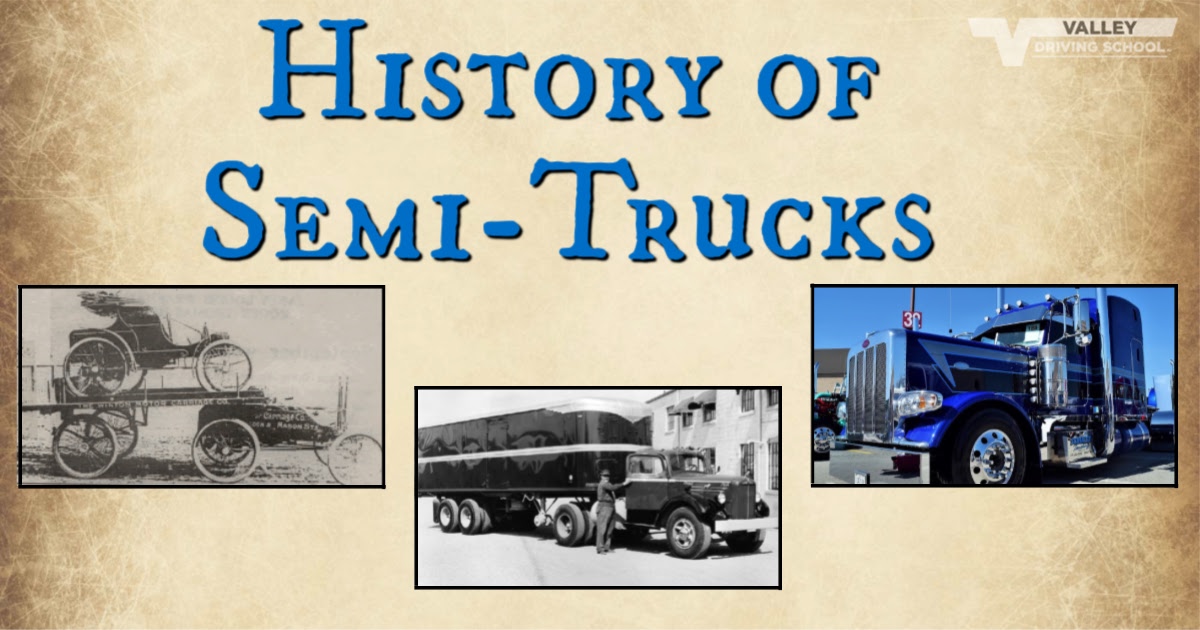 Before then, it was rare to see a vehicle larger than a standard delivery truck on the road, whereas today, trucks can easily house over 1000 ft/lbs of torque and feature as many tech gadgets as some luxury cars. In this post, we'll outline a comprehensive history of the big rig truck, and how these transporters of products and goods became the unsung heroes of our modern society.

Blue Collar Beginnings
Truck-like vehicles have always been employed to transport goods and products - but there was a time when the roadways themselves wouldn't allow for cross-country transport. In the beginning of industrialized transport, railways were the kings of North America, controlling all inland transport, maintaining the focus of the technological advancements of the day. Products and goods that needed to go elsewhere not accessible by rail were usually serviced by pack-animal drawn carts and buggies.
As society evolved and changed, more and more settlements and urban centres were developed outside of the reach of the powerful railway industry, prompting a new type of vehicle to help service rural and out-of-the-way stops. Enter the Big Rig.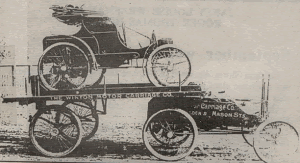 The first ever designated Big Rig truck was invented and built in Cleveland, Ohio by Alexander Winston in 1898. Winston was an inventor of automobiles and cars, and needed a massive, powerful truck type vehicle to transport his inventions to various car lots. The idea of a super truck was further developed in 1914 by August Charles Fruehauf, who needed to transport a friend's boat. Fruehauf attached a semi-trailer to the rear end of a Ford truck. Soonafter, industry took notice - particularly the logging industry, who has largely used the railway and natural means of transport, like rivers as a vessel to transport lumber from location to location. The advent of the semi trailer would shape and change the industrialized world forever.
In 1839, American Charles Goodyear was accredited with the vulcanization process for tires, a treatment for rubber heated with sulfur, transforming sticky rubber into a material perfect for tires. Following the vulcanization process, the first semis, big rigs, or transport trucks as they're known in Canada, featured solid rubber wheels, making the expansive network of dirt and unpaved roads in North America a treacherous, uncomfortable, and slow prospect for drivers. It wasn't until 1846 that Scottish inventor, Robert Thomson filed the first patent for the pneumatic tire. The idea was later developed by Belfast's John Boyd Dunlop, and synthetic rubbers were invented in the 1920's helping to smooth and speed up the ride of big rigs.

The Motor Carrier Act
The biggest boom in commercial trucking happened in the 1920's in the USA. Trucking companies began to emerge thanks to increased demand, and steadily improving roads. At this time, Philly to New York was considered a lengthy trip, and the Great Depression threw a wrench in the gear of many manufacturers and operators. In 1935, US Congress passed the Motor Carrier Act, authorizing states to regulate the trucking industry via the Interstate Commerce Commission, as part of the Interstate Commerce Act, put into effect in 1887.
The Act established regulations for freight-hauling and limited the number of hours truckers were allowed to drive at one time. It also restricted and oversaw the types of cargo trucks could carry - at first, truckers thought these restrictions would impede progress of the entire trucking industry, as the Motor Carrier Act appeared to place trucking in the same categories as railway transport. The Act gave unprecedented authority to the ICC until deregulation of the US began to take hold in the mid 1970's. The Motor Carrier Act was amended in 1980 and deregulated the trucking industry along with the Railroad Revitalization and Regulatory Reform Act in 1976, signed into effect by President Jimmy Carter.

The Brands We Know Today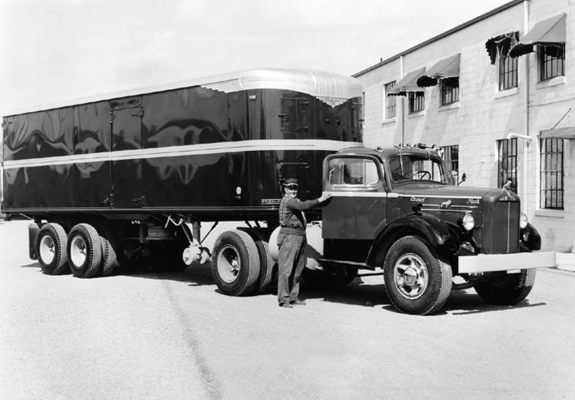 The big rig industry is well known for its grunt and power, as well as its big brands. Today, there are dozens upon dozens of semi manufacturers, but it's the oldies that spark our imagination with visions of glorious open road freedom, capability, and reliability.
The first semis were two wheel powered beasts, but the beginning of the 20th century saw the big rig grow. Today, a typical tractor unit features two or three axles, and can feature up to as many as five - all specially built for towing and hauling commercial construction machinery and huge loads. Of the most common rigs, you can expect to see a forward engine, one steering axle, and two drive axles. The purpose of the dual drive axles is to evenly distribute the weight of the load between the axles.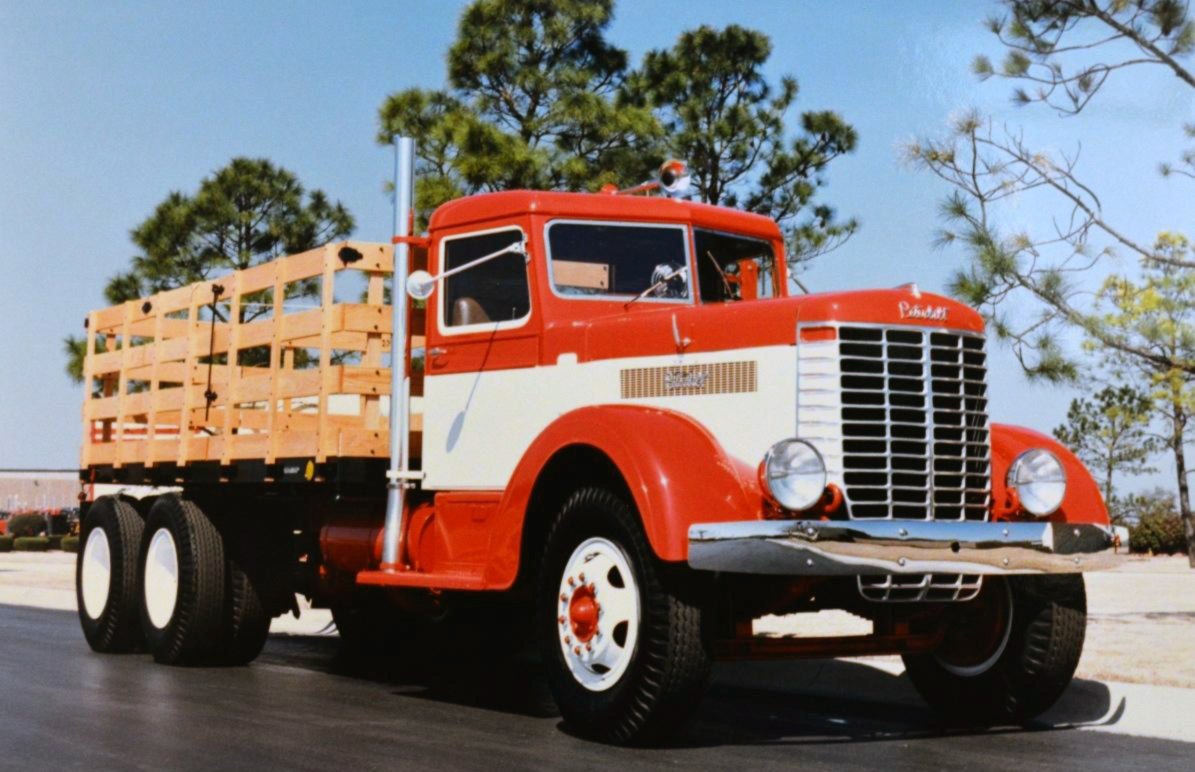 1900. Brooklyn, New York. A small manufacturer called Mack begins to develop heavy-duty commercial trucking vehicles. They also begin to manufacture their own engines, equipped with automatic starters and making the age-old hand-crank completely obsolete. Mack produced over 2,600 trucks from 1929-1944, garnering a reputation as tough, dependable trucks. Others began to take note, and the race was on.
In Tacoma, Washington in 1939, the logging industry was in desperate need of a transportation savior - and they got it in Peterbilt, a truck company that would be used extensively to haul and transport lumber to mills in the Pacific Northwest. Peterbilt's continue to be some of the most powerful, dependable, and recognizable trucks on the road today.
Other notable brands like Volvo, Kenworth, International, Hyundai, Mitsubishi, and Western Star all began to offer their own rendition of the semi truck all over the world. Today, in the US alone, there are over 3.7 million truck drivers transporting over 700,000 tons of goods and products each year.

Engines and Fuel
All big rigs are synonymous with power. They've been known to possess enough power to pull houses right out of the ground, and are routinely used to relocate vastly heavy and large pieces of commercial construction materials, equipment, and raw materials with their impressive diesel engines.
Mack has been engineering and building their own engines since 1900, and today offers a wide selection of engines in their MP lineup, with each offering over 1200 lb/ft of torque in 11L and 13L configurations. Similarly, Cummins has become a staple diesel engine supplier for the semi world, with their X-15 engines easily making over 2000 ft/lb's or torque and 600 horsepower… all at 1000 rpm.
This section wouldn't be complete without mentioning Caterpillar, a world class diesel engine supplier to construction equipment, marine applications, defense, and of course big rigs. The Caterpillar C12 super truck racing engine, named one of the top 10 diesel engines of all time by Truck Trend Magazine - producing a mind-numbing 3,400 lb/ft of torque and 1,400 horsepower and is well known for its near indestructibility.
21st Century and Beyond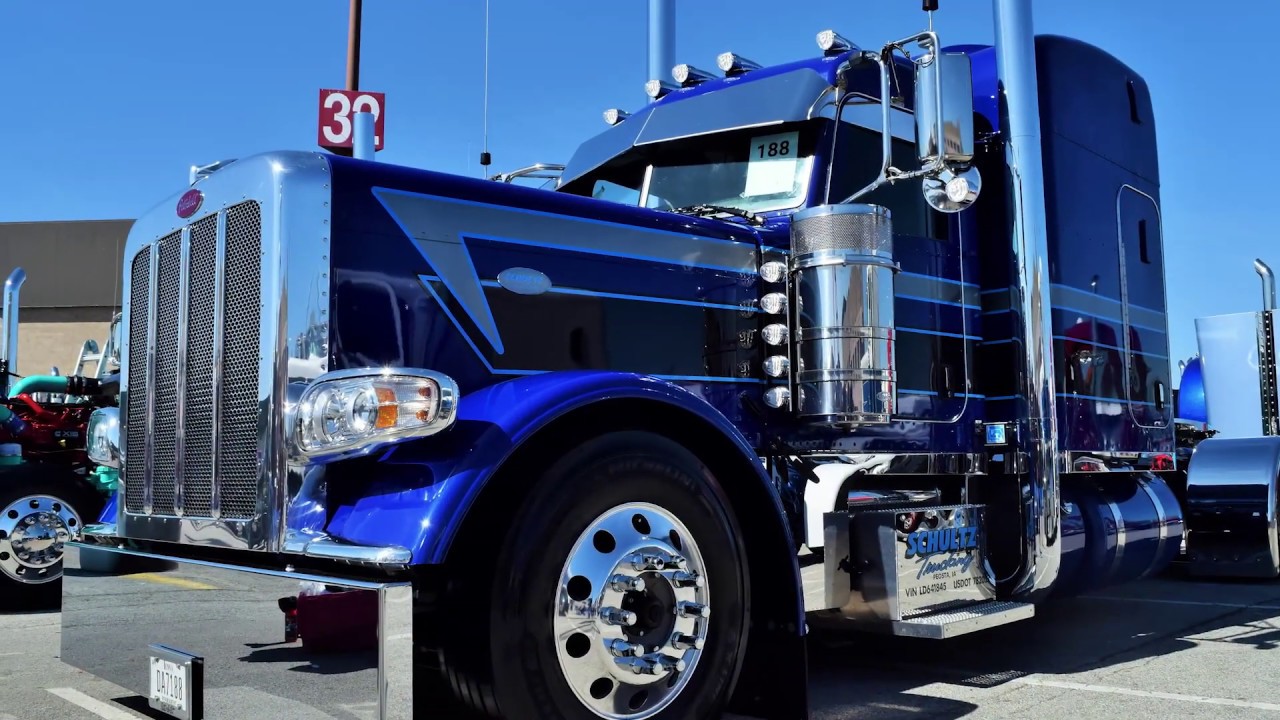 Like most transportation-based industries, the trucking industry is constantly rethinking its approach. In today's day and age, fuel efficiency and cost effectiveness are two of the main categories of rethinking for the trucking industry. Exploring alternative fuel sources, as well as smaller more efficient engines that develop their power from multiple turbochargers is becoming the norm, all the while aerodynamics and ergonomics are becoming a topic of constant discussion - the iconic rigs of yesteryear may lose their chiselled shape, but they can never lose their powerful image.
The world of commercial trucking may not conjure up the same romanticism of the open road on a motorcycle or in a luxury European sports car, but there's something intoxicating about the power, practicality, and sheer reliance we have on these monstrous haulers. Yearly in North America, over 1 million tons of products and goods cross international borders, bringing everything from food and building materials to aid for natural disasters, defense systems, and even stages and makeshift entertainment hot spots for the world's most coveted entertainers.
The zest big rigs bring to life in the modern world often goes unnoticed. There's an old saying that says: "If it ain't broke, don't fix it," - and the world of big rig trucks has very seldom let us down, offering 24/7 transportation of all our most desired - and required - supplies.