We've all seen this before: you're driving down the road and see a vehicle heading in the other direction with some lights flashing on the roofline and a reflective chevron on the bumper. A decal that says OVERSIZE LOAD adorns the front of the vehicle.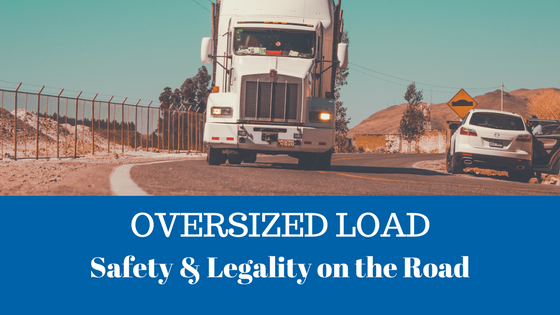 "How big can it possibly be?" you ask yourself. Then you see it, and it's huge. A pre-fab house. A wind turbine. A piece of monstrous construction equipment. A supply of steel girders. A yacht. Kanye West's ego.
Oversize loads are typically loads that exceed the legal size or weight limits for a specific section of roadway, or transportation vessel, like a truck, train, or plane. We enter a grey-area when loads like these may exceed per-axle limitations, but not overall weight limits. These dimensions and weight regulations vary by province, region, and country, but generally require a special permit, and could require the use of a pilot vehicle to signal the load to other drivers.
In this post, we'll explain some of the necessary regulations, permits, etiquette, and visual cues that signal an oncoming oversize load.
The Road
Different countries build their transportation infrastructure to accommodate different vehicle dimensions and standard legal limits that usually include per-axle load, width, height, and overall length.
Commercial transport regulations tell us that generally the maximum road-going payloads are as follows
Length: 14.65 meters (48.06′) from the kingpin to the rear of the trailer. No combinations of payload in length of over 23 meters (75.45′) overall may be transported without a permit. The maximum overall length of a truck bed in BC is 12.5 meters, according to the province's Commercial Trucking Regulations.
Width: No shipment may travel on roadways if in excess of 2.6 meters (8.53') in width (without a permit) unless it is a shipment of hay, limited to 3.1 meters (10') or rear view mirrors which are limited to 30 cm (11.8″) on each side. Auxiliary devices are allowed 30 cm (11.81″) and tires are allowed an additional 10 cm.
Height: No payload may travel if larger than 4.15 meters (13.6') in height without a permit.
Weight: Single axle: 9,100 kg (20,062 lbs), exception – super single tires: 7,700 kg (16,976 lbs). Tandem axle: 17,000 kg (37,478 lbs). Tridem axle: 34,000kg (74,957 lbs). The maximum licensed gross vehicle weight of a vehicle or combination of vehicles must not exceed 63,500 kg (139,994 lbs) without a permit.
When travelling outside of BC, always check the Interprovincial Operations In Canada Memorandum of Understanding (MOU) to ensure you understand and are in compliance with that region's rules and regulations.
Permits
An oversized load may be required to secure a permit to be transported, and in some cases, may be required to be accompanied by a signaler, or a pilot vehicle. Various municipalities and cities, may enforce invalid/valid time schedules that all oversize load transporters must abide by. The City of Surrey, for example, does not permit oversize/overweight loads during peak hours of 7-9am and 3-6pm weekdays.
Available permits include:
Non-resident permits
Term oversize and/or overweight permits
Single trip oversize and/or overweight permits
Motive Fuel User Permits
Extra-provincial temporary operating permits
Temporary Operating Permits (Emergency situations only)
Highway Crossing Permits
Most permits issued are single trip oversize/overweight permits. These may be issued for up to 7 days and in some cases, up to 30 days, as an exception. The permit amounts are determined by weight over a specific number of kilometers travelled. For example, a transporter moving an oversized/overweight payload of 26,001-27,000 kilograms will be subject to a fee of $19.85 per every 10 km travelled. Meaning a trip of 200 km would cost approximately $397.00.
Signaling / Pilot Cars
The owner and/or transporter of an oversize load may be legally required to hire a pilot car - sometimes referred to as a flag car, or an escort vehicle - to accompany the load while it is moved on a public roadway. A pilot car is a marked vehicle that uses signs, lights, and even written warnings of the oncoming transportation unit. There could be a pilot vehicle behind the oversize load as well.
In some cases, a pilot vehicle may also follow the RCMP, or local law enforcement agency. Each escort vehicle must feature as least one flashing amber light. Aside from notifying the general public of the presence of a large oversize load, the function of a pilot car is also to observe and notify the moving crew of any obstacles, routine stops, or highway impediments to efficient transfer of the load between its predetermined departure and destination points. A pilot car may have the authority to block or delay traffic at an intersection to ensure safe passage of the load.
Additional information on the requirements for pilot cars can be answered by Commercial Vehicle Safety and Enforcement.
Safety & Hazards
Many people don't realize that roadways are designed to tolerate certain weight/speed/structural limits. When a load goes above and beyond design clearances, there's a risk for potential damage to the road, bridges, and other infrastructure. For example, in 2013, an oversize load in Washington state caused the collapse of a truss bridge at the Skagit River, causing two vehicles to fall into the river below. The cause of this collapse was determined to be the oversize load striking several overhead support beams, sway struts, and compression chords of the bridge.
As drivers using the same roadways as oversize/overweight loads, it's important to maintain defensive driving skills, and awareness of your surroundings. The more aware drivers can be of truck loads, the fewer incidents there will ultimately be. Drivers can also reduce their speed or pull over in the presence of an oversize load to protect themselves, their passengers, and the employees of the transport crew.
---
Encountering and dealing with oversize and overweight loads on public roads is a part of driving. Commercial drivers are responsible for ensuring their oversized load is secure and they have the necessary permits to safely and legally deliver their load to its destination. When drivers come across a pilot vehicle signaling the presence of an oversize load they should allow space and remain safe while sharing the road with their commercial counterpart.
How we all deal with these situations is dependent on our ability to maintain composure, focus, and patience as drivers. Additional rules and regulations regarding oversized loads can be answered by Commercial Vehicle Safety and Enforcement.