A good old-fashioned road trip is a great way to make some awesome memories. The fun isn't always in the destination, but within the journey.
Road trips are all about experiencing the freedom of the open road and taking time to pull over and explore the surroundings at your own pace. In this post, we're detailing some of the road trip essentials that you should consider bringing with you to maximize fun.

Friends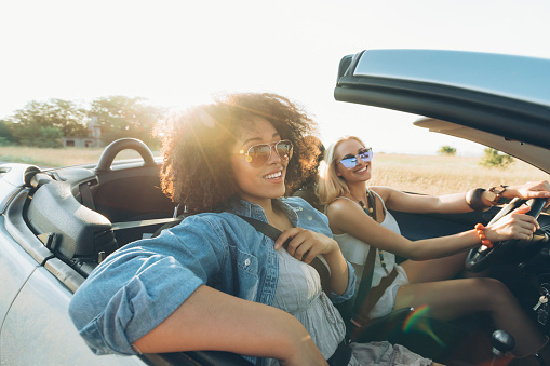 Perhaps this one is a given? Make sure your road trip is stocked with a roster of good friends who always compliment and benefit your desire for a good time. Taking your best friends is critical to boosting your capacity for good memories, and for having the help you may need to get out of an unfortunate jam.
Friends may mean conversation and company, but they also mean less of a financial strain on your pocketbook; passengers mean help to pay for gas, food, supplies, etc.
Your best friend and their spouse, your spouse, their friends, some third wheel acquaintances - everyone is up for selection. Without good friends by your side, a road trip just becomes an idle drive. Pick them strategically but take every opportunity to fill the car with as many good buds as you can.

Tunes
No self-respecting road trip is complete without having your favourite music available to you and your passengers. Modern technology and widespread connectivity mean that keeping thousands of songs in your pocket is a reality.
Access to streaming platforms like Spotify, Tidal, Apple Music, or Google Play Music means that almost everyone who owns a phone can curate, download, and stream. This makes an infinite number of great tracks in a variety of genres available at any given time. Take turns burning through road trip playlists created by your passengers to get away from the music you listen to regularly. Check out our staff picks for a free list of Valley Driving School's favourite driving songs.

Snacks
You're going to get hungry, and if you're planning a road trip with a specific time and destination, packing snacks is a great way to save time by not stopping at roadside grub stops, gas stations, and drive-thru's.
Not only will you save money and time by packing your own munchies, you'll also probably eat healthier. Consider packing: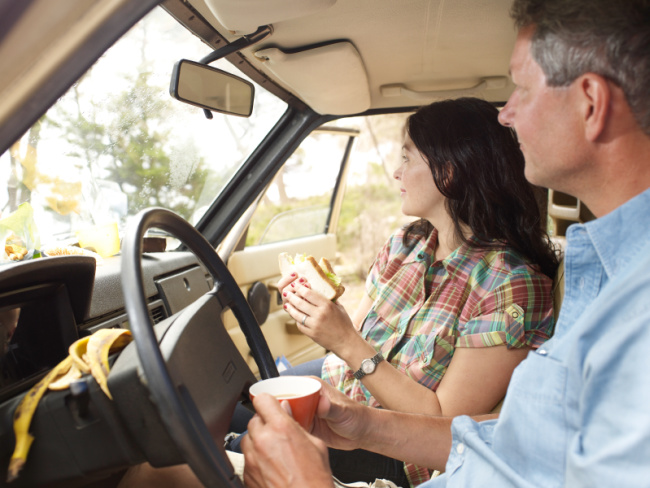 Water
A thermos of coffee/tea
Trail mix
Granola / protein bars
Sandwiches
Crackers/chips
Homemade smoothies
Wet wipes for easy clean up

Clothing
Always wear clothes that are loose, breathable, and comfortable - there's nothing worse than being uncomfortable during a 5 hour drive.
Pack a sweater and a pair of pants, regardless of the weather being warm - you never know what's going to happen, and a change of clothes or two can come in helpful if the weather changes. Dark clothes hide dirt and stains, and a spare t-shirt or two is always a good idea should you feel the need to freshen up, or even dress up for a meal or a meeting with another party en-route.
If you're on a multi-day road-trip, consider packing a portable laundry system that you can use on-the-go, with a bit of soap and water. Something like a Scrubba Wash Bag doubles as a great impromptu laundry service, and a waterproof knapsack for transporting your gear.

Navigation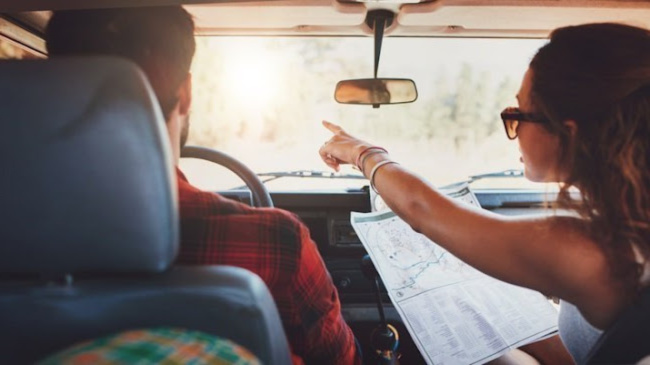 If you're heading into the sunset with little more than an idea to get away for a couple days, consider a navigation system. This can mean utilizing and inputting your points-of-interest into your vehicle's Nav system prior to leaving, syncing your phone's mapping system, or bringing along a friend who can act as a co-pilot and navigator.
It's also a good idea to look over an old school map before you leave; technology, while infinitely accessible, can also fail you at the most inopportune moments. Knowing how to read and use a map is an important skill for any road tripper.

Safety First
We don't want to rain on the parade, but there are a few safety precautions to take before hitting the blacktop. Consider compiling a safety pack that includes:
Spare gas money
Flashlight
First aid supplies (gauze, bandages, disinfectant, pain killers, etc)
Windshield wiper fluid
Battery jumper cables
Roadside assistance card
Phone charger
Blanket
Having a few things like this at your disposal will give you the ability to handle most things that come your way and give you peace of mind while you're traversing the countryside or freeway.
This guide will not only help you enjoy whatever comes your way during a road trip, but it will refine the process and develop your skills as a certified road-tripper in the future. Take this as a starting point, and adjust according to your own likes and tastes, and for your specific road trip and destination.
Whatever you do, don't forget that the name of the game on a road trip is fun - without that, you're just out for a long drive. Enjoy!