Do you dream of travelling the open road on two wheels instead of four? Motorcycles are a great way to explore, but of course you need to be properly licensed first! Motorcycles fall into a different licence categorization than passenger vehicles do, here in BC, so there is a separate path to obtain your motorcycle licence.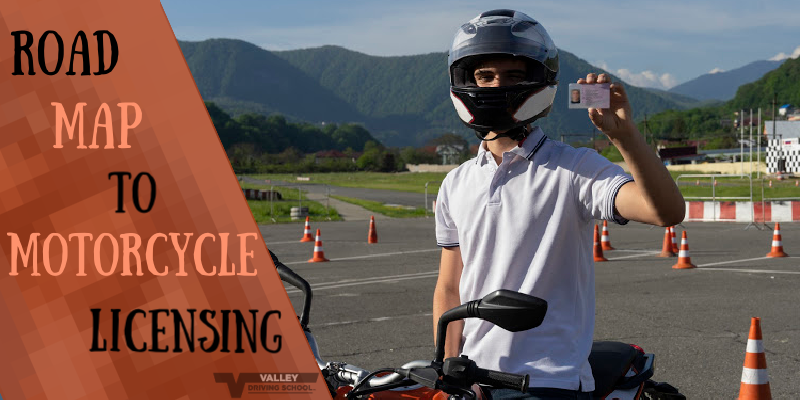 In today's post, we're breaking down and simplifying the steps involved in getting your motorcycle licence, to make the entire process easier for you to navigate.

Test Your Knowledge
Just like getting a car licence, anyone interested in obtaining their motorcycle licence is required to study up and pass a knowledge test before getting on the road. This test is made up of 40 multiple choice questions that students complete on a touch screen kiosk at an ICBC driver's licensing office. The test is available in English as well as Arabic, Cantonese, Croatian, French, Farsi, Mandarin, Punjabi, Russian, Spanish, and Vietnamese. You can get prepared for the knowledge test before you head to ICBC by reading through the Learn to Ride Smart guide and completing online practice tests.
To take the test, make sure you have a valid ID and $15 for the testing fee. For those under 19, a parent or legal guardian is required to accompany you and give you consent. Questions about your medical condition as well as a vision test will be performed to ensure you're physically able to ride safely. If you were successful and passed the test, congrats! and onto the next step. If you were unsuccessful, don't worry, you're able to retake the test after 7 days.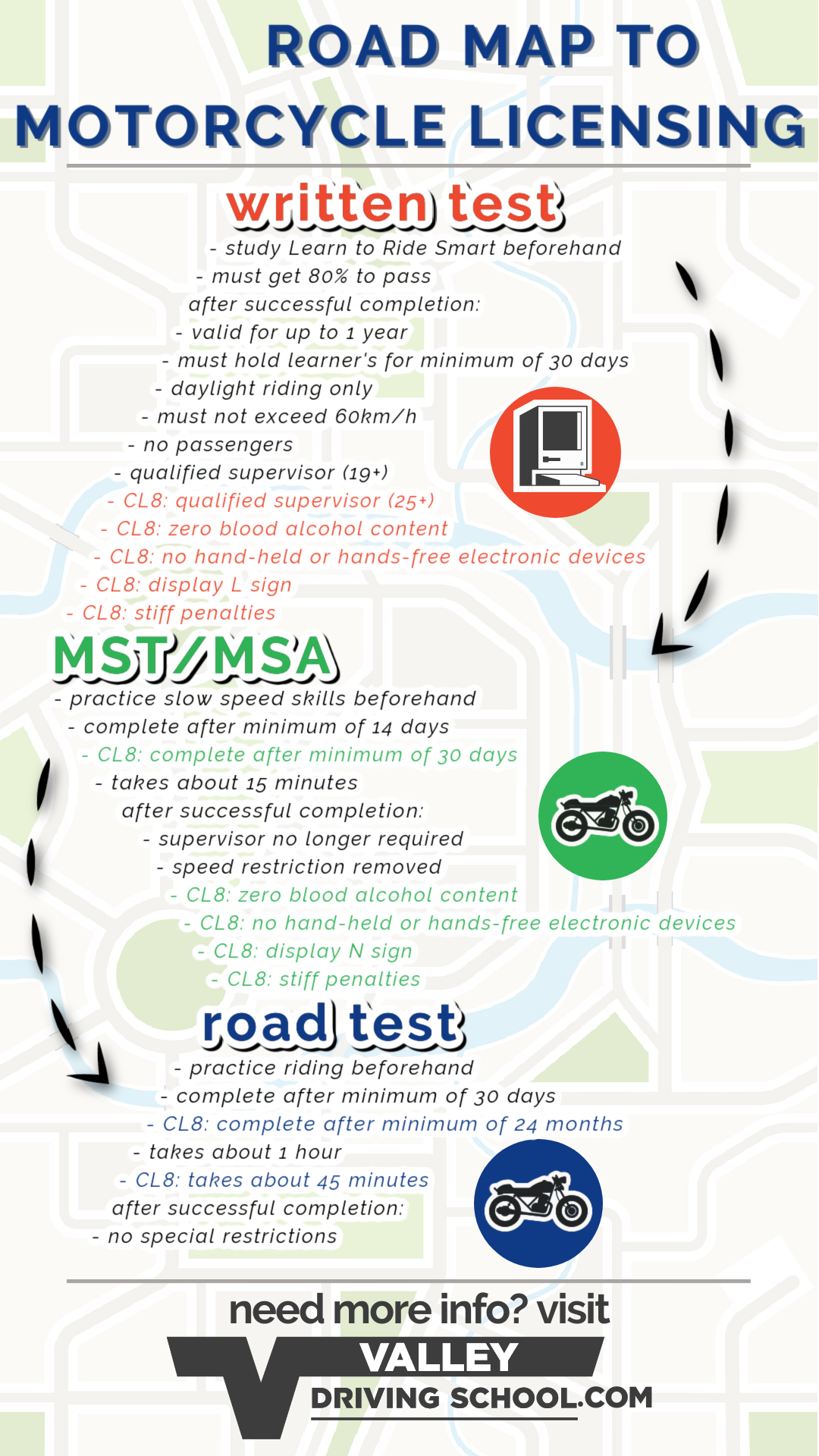 If you've never held a car licence, you'll be required to do a knowledge test for a class 7 (car) licence at the same time as the class 8 (motorcycle) knowledge test. Fortunately, there is no extra cost for this test if you take them both on the same day!
You can book your knowledge test appointment online through ICBC, which will ensure you'll be able to complete the knowledge test when you want to, and should cut down the wait time at the office.

Learner's Stage
Once you are successful with the knowledge test and have met all medical and vision requirements, you'll receive a 6L motorcycle learner's licence if you're already a full-privilege passenger vehicle driver. If you're still in the L or N stage, or you don't hold a driver's licence at all, you will receive an 8L motorcycle learner's licence. In either case, you're then able to practice riding with the following restrictions:
You must ride within sight of a qualified supervisor. Your chosen supervisor must have a valid Class 6 full-privilege license and be at least 19 years old if you hold a Class 6L licence, or at least 25 years old if you hold a Class 8L licence.
You cannot exceed a speed of 60km/hr
You cannot ride with any passengers
You may ride only between sunrise and sunset
You must display an L sign if you're a rider with an 8L licence
After you've become comfortable with riding, the next step in your licensing process is a 15 minute skills test. This is where you are expected to show basic abilities like signalling, handling the clutch and throttle, braking, and turning. The earliest you can take the skills test with a 6L licence is 14 days after being issued the license. For a rider with an 8L licence, you must hold the licence for at least 30 days before taking the skills test.

Motorcycle Skills Test / Assessment (MST / MSA)
You may have heard of this "closed circuit test" or "parking lot test" referred to as the Motorcycle Skills Test (MST) or the Motorcycle Skills Assessment (MSA). Don't worry - you don't have to take both tests! This is one test, just with two different names. It's called the MST when conducted by an ICBC Examiner or called the MSA when conducted by a Riding School Instructor, assessing you on behalf of ICBC.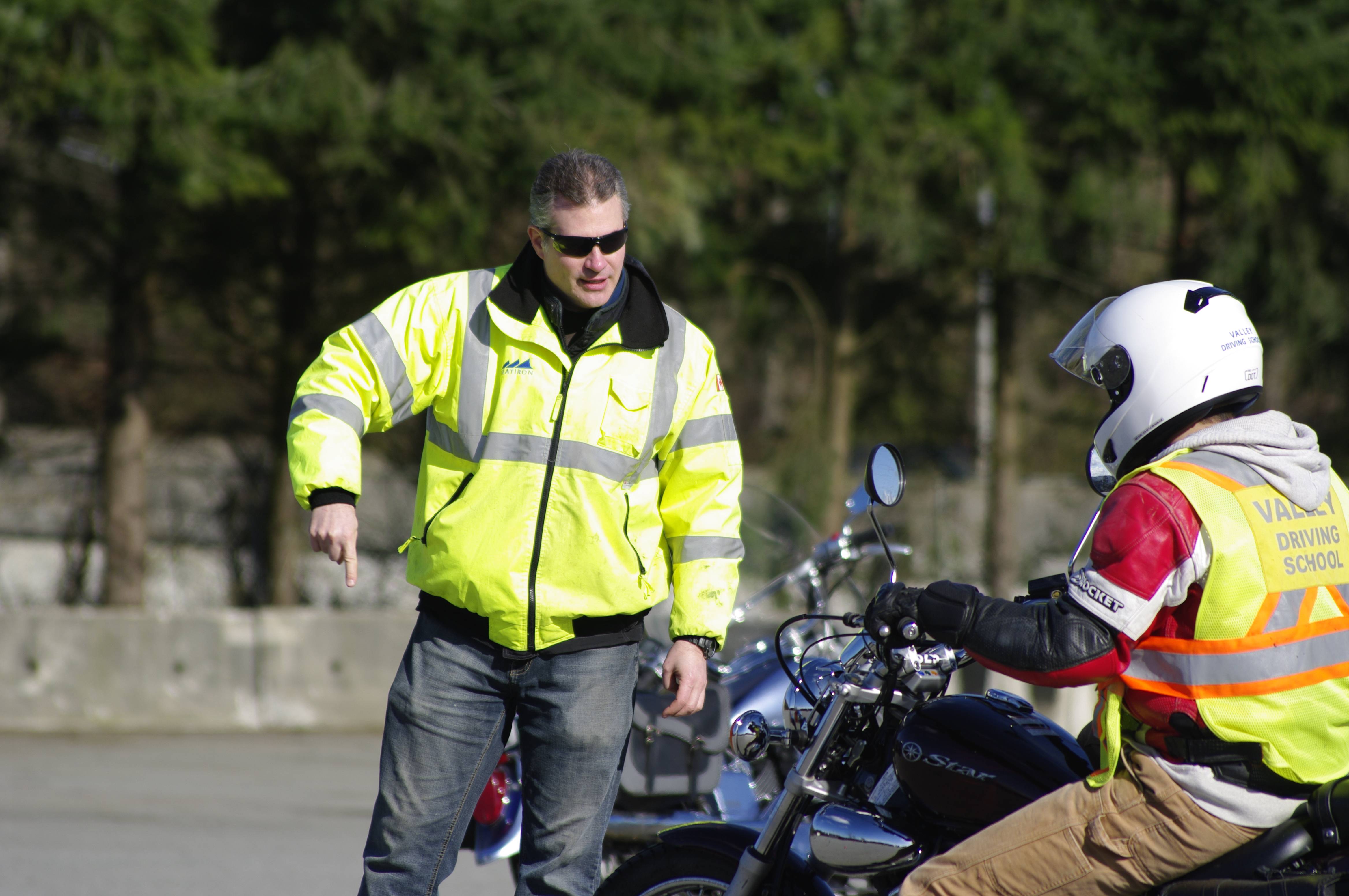 After you have had your 6L licence for 14 days, or had your 8L licence for 30 days, you can take the MST/MSA. The MST/MSA tests your skills at slow speeds, to show that you have control over your bike. You should be prepared to ride on paved roads at slow speed, and a course with traffic cones will be set up where you will be expected to do the following maneuvers.
identify the controls on your motorcycle
push the motorcycle (non-powered)
demonstrate using hand signals
use the side stand or centre stand
ride slowly and straight while using the clutch
slalom
brake
turn, including u-turns, three-point turns and right turns when moving
accelerate and decelerate (this may include shifting gears), and
stop suddenly in a controlled manner
For further guidance on your practice sessions, check out the Tuning Up for Riders guide.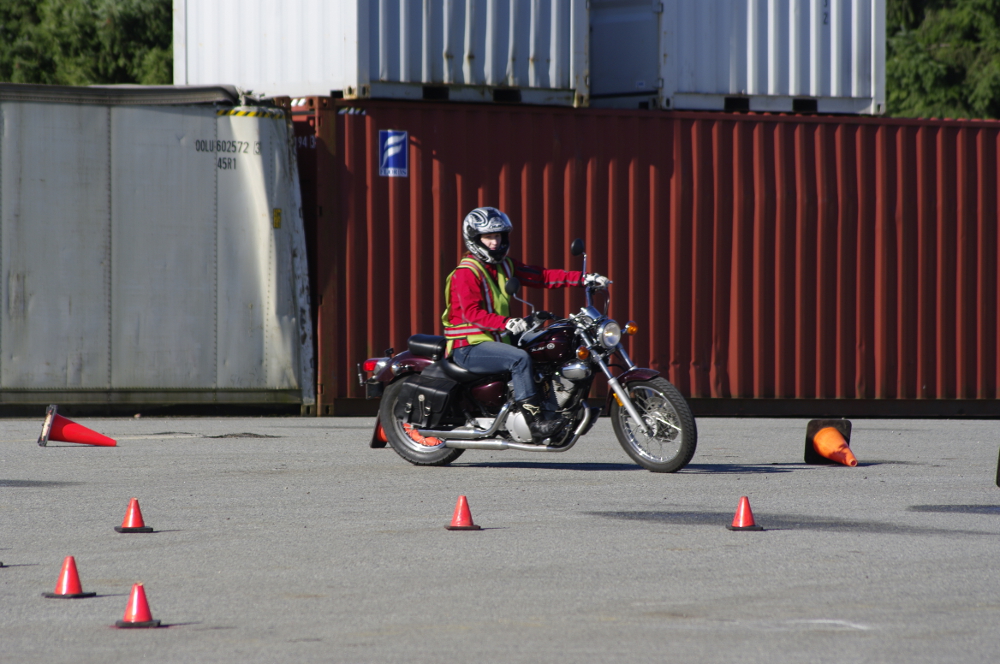 You can take this test with ICBC, but make sure to bring your own motorcycle and your qualified supervisor. You can also take the MST/MSA with a certified driver training school, like ours, so you don't need to worry about having a qualified supervisor or a motorcycle since we supply both! The MSA is included within our Skills Program and Complete Program, which means that you never have to leave our site to have the test completed. One of our Certified Assessment Officers will train you, guide you through what the MSA includes, and then test you, all in one weekend! Another perk for 6L licence holders, if they take the MSA through a certified driver training school, is that they can skip the 14 day wait period and instead take the MSA as soon as they have met the minimum training requirements and are a safe rider, or can demonstrate the required skills.
Once you have successfully completed the skills test, the 60km/hr maximum speed restriction is removed and you can now ride without a supervisor, hoorah! All other learner's restrictions remain in effect until you complete the applicable class 6 or class 8 full road test, and taking that test is the next step on your road map!

Motorcycle Road Test
Motorcycle learner's licences are only valid for a certain amount of time, and you need to complete both the MST/MSA and the road test within this timeframe. Riders that hold a 6L licence have one year to complete both tests, and riders that hold an 8L licence have two years. Once the learner's licence (for either a 6L or 8L) has expired without the full road test being completed, riders will be required to repeat both the knowledge test and MST/MSA.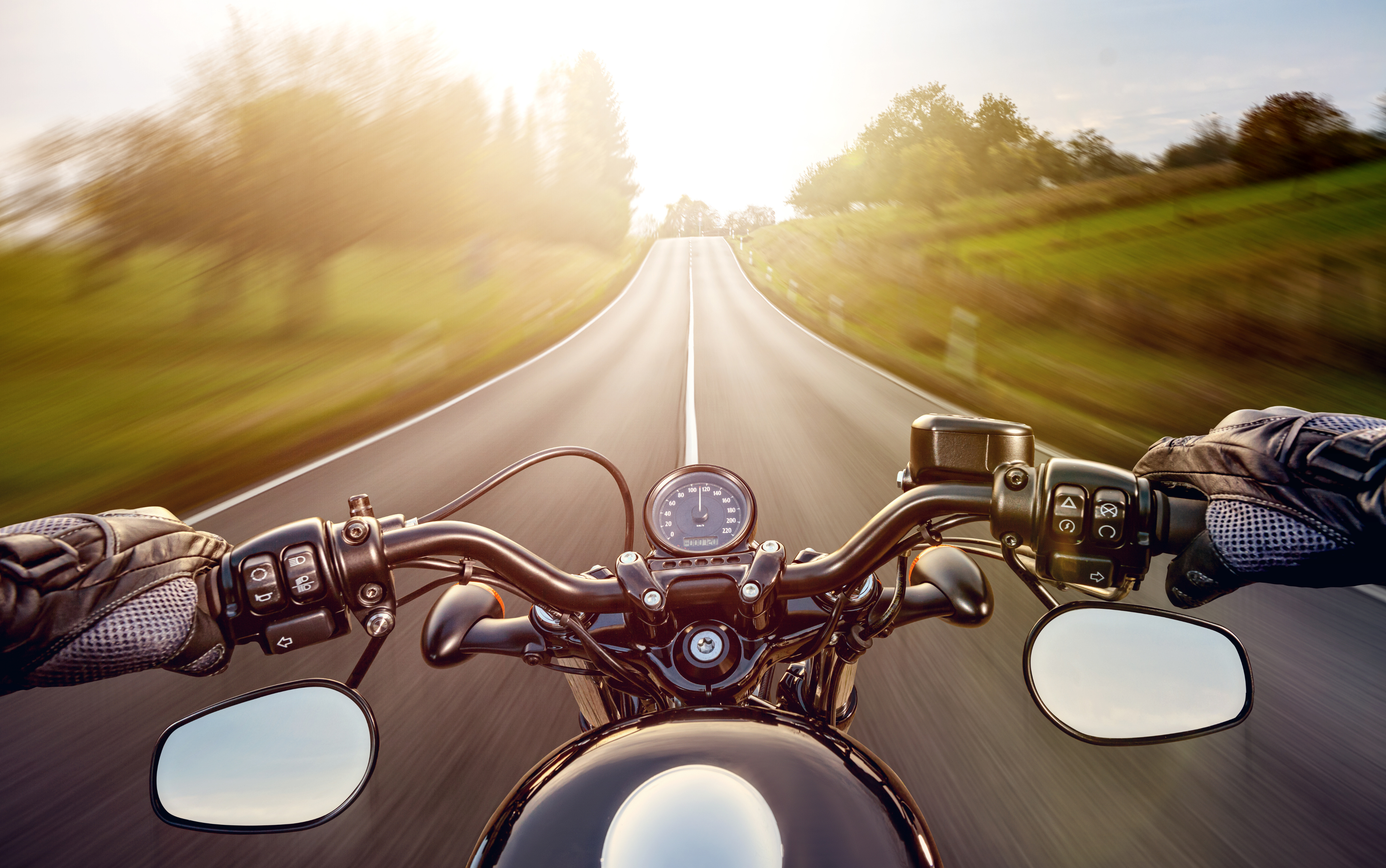 There are two motorcycle road tests - one for 8L licence holders and a different one for class 6L licence holders, but both classes will have an earliest road test date and this is listed on the learner's licence. Class 6 road tests can be taken a minimum of 30 days after completing the knowledge test, while the class 8 road test will vary depending on where in the Graduated Licensing Program stages you are.
Both class 6 and class 8 road tests will require you bring a motorcycle in good working condition with an engine over 200cc - lower speed bikes are allowed too, however, your licence will be restricted so you can only ride the type of vehicle you use during the road test. You'll also want to bring a valid ID and your road test fee: $50 for class 6 and $35 for class 8. Seniors who are 65 and older are exempt from the licensing fees.
The test lengths are different for class 6 and class 8 - the class 6 road test takes approximately 45 minutes to complete, and the class 8 takes approximately one hour. During the test, riders will be taken through different riding environments such as city streets, commercial areas, highways, and intersections. You'll also be expected to do a pre-trip safety check with your motorcycle and show your examiner how to use controls as well as hand signals. You may also be stopped at some point during the test to pull over and identify all the hazards you see.
For those that are 8L riders, once you successfully complete the class 8 road test you'll be in the class 8 Novice stage for 24 months and, as long as you make it through without any prohibitions, you will be able to take the final step – the class 6 road test. However, prohibitions will result in your 24 month wait period being reset, so be mindful of safe and defensive riding! The time you spend in the class 8 novice stage can vary based on where you were within the class 7 learners or novice stage, so be sure to check your licence for when you'll be eligible to take the class 6 road test!
And once you successfully complete the class 6 road test - whether you were able to go straight to this test or you had to go through the Graduated Licensing Program stages first - congratulations! You are now a fully privileged motorcycle rider!
If you are unsuccessful with either your class 8 or class 6 road test, you will be able to retake the test again after 14 days. If you need to take the road test a third time, the retest time frame increases to 30 days, and further attempts after that increase to at least 60 days.
--
If the road map to motorcycle licensing doesn't seem as clear as it should be, you can always give us a shout and ask any questions that you've got! We're here to get our students on the road, and once you make it down that winding route to getting your full privilege motorcycle licence, there is nothing like hitting the open road on two wheels!