When you've got a new driver in the house, it's an exciting but nerve-wracking time as your teen gets a sense of their newfound freedom. Making sure your teenage driver has some rules and guidelines, in addition to the Motor Vehicle Act (MVA) regulations, is important to keep them safe on the road and reduce the chances of accidents, fender benders, and other issues. Some of our top house rules fall in line with MVA regulations, as well as our recommended best practices.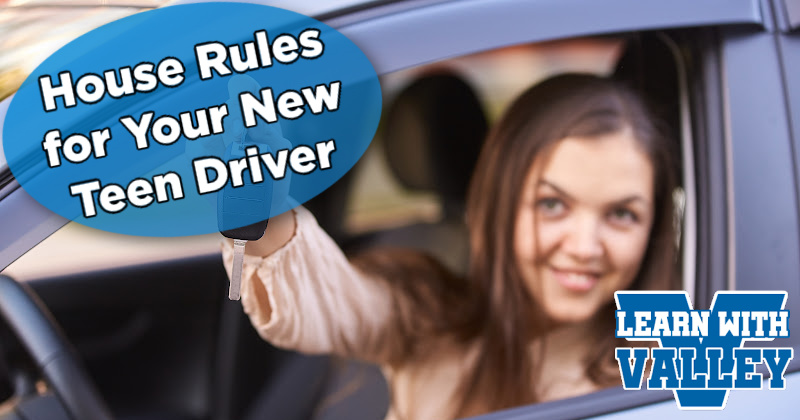 As a parent or guardian, you are sure to feel a sense of relief when your teen hits with some house rules to follow!
No Distracted Driving
In a day and age when cell phones are a habitual part of life, ensuring your child has a zero tolerance rule for distracted driving is an important rule to make. Whether it's texting, calling, eating, or anything else that directs their focus away from the road - encourage your teen to use alternatives, pullover where and when it is safe to do so, or wait until they've reached their destination safely.
This is a great house rule to have and it's also a regulation in the MVA and distracted driving, especially when an electronic device is involved, can result in hefty fines and penalties.

Passenger Safety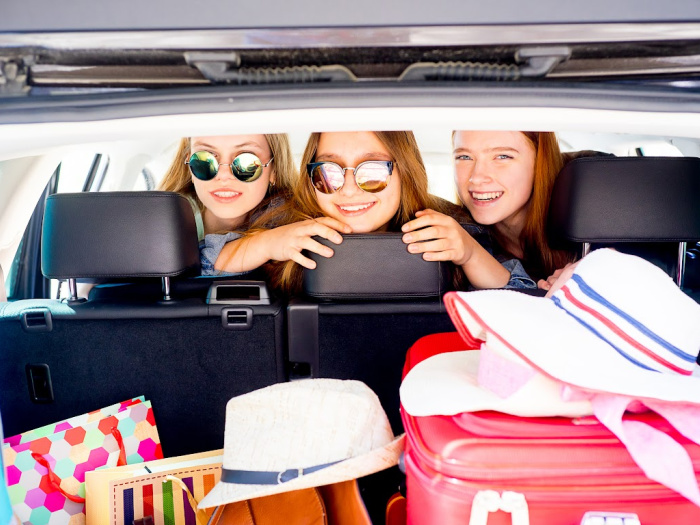 Picking up friends is an exciting milestone of getting a driver's licence but our teen drivers still need to have safe habits when they're behind the wheel! Have a rule with your teen that they should never have more passengers than seatbelts, or even make a rule that they can only drive with a certain number of passengers and then allow more as they gain more responsibility. This rule falls in line with the ICBC Graduated Licensing Program (GLP) passenger restriction 39 and restriction 45. Restriction 39 states Class 7L licence holders are prohibited from having more than one passenger in addition to the supervisor and restriction 45 states that Class 7N licence holders are prohibited from having more than one passenger unless they are accompanied by a qualified supervisor (family members are exempt).
Ensure that your teen's friends also know to be respectful and responsible when riding as passengers, and consider chatting with their parents before the ride.
Implement a Driving Curfew
Driving at night is much different and can be more dangerous than driving during the day. Consider giving your teen a curfew and not letting them drive after a certain time until they have gained enough driving experience. This is another house rule that aligns the restrictions as set forth by the ICBC GLP, wherein Class 7L licence holders are prohibited from driving between midnight and 5am, although it may not be a bad ideas to have your teens driving curfew begin a bit earlier in the night!
Living in BC, you should also chat with them about sharing the road with wildlife and make sure they know to look out for animals crossing at night time or in the early hours of the morning.

Speed Limitations

Speeding tickets can be costly and they can also result in penalty points on your licence! It is also extremely dangerous and can lead to car accidents. Speeding is a violation of the MVA and while this should be reason enough for new drivers to stay within the speed limit, it can be easy for teens to succumb to peer pressure and push their boundaries.
Ensure that your child knows that they should not speed, and consider having additional consequences in place if they do speed.

No Drinking and Driving or Impaired Driving
Even if you think your teen would never drive impaired, alcohol and drugs (even prescribed drugs) can cloud judgment, impair a driver's reaction time, and increase the likelihood of making poor decisions. After a couple of drinks, a teenager may think they're still "okay to drive". Parents or guardians should work with their teen to have a plan in place for a safe ride home whenever they decide to have a drink or use drugs, whether it's a ride-hailing service, a taxi, or having them call you at any time.
Pledge to yourself that you will not judge them or that they'll be in trouble if they phone you for a ride - safety comes above all.

Use a Monitoring App
There are a few apps that you can use to monitor your teen while they drive, which can be helpful for monitoring speed and other driving behaviours. Driver monitoring apps can also be great in an emergency, to easily locate and help your teen if they need you. We recently compiled the pros and cons of our top 3 teen driver monitoring apps - Life360, Bouncie, and Famisafe - to help you make an informed decision about which one, if any, is right for you!
Before you look too far into these apps and which one may work best for you, be sure to include your new driver in the discussion. Including your teen in this decision shows that you both care about them, and respect them as an individual, and you value their opinion.

Vehicle Maintenance Care
Vehicle maintenance habits are an important, but sometimes forgotten, part of being a driver. The same care and responsibility we look for in drivers on the road should be transferred over to any vehicle a driver is using. Teaching your kiddo about both preventative and emergency vehicle maintenance habits will help to avoid breakdowns, expensive repairs, and other issues.
Important maintenance skills include refilling their fluids, getting oil changes, how to change a flat tire, and even something as simple and basic as how to properly refuel and keep the vehicle clean!

Weather Aware

Driving in Canada, and especially BC, often requires learning how to drive in varying weather and road conditions and sometimes even means experiencing different conditions within the same drive! We encourage our students and their supervisors to embrace less-than-ideal weather conditions and gain some experience in the rain, snow, and dark. These conditions can be more challenging than dry and daytime driving, so it might be best to wait until your teen is comfortable behind the wheel, but it is better for them to experience less-than-ideal conditions when they have a qualified supervisor sitting beside them rather than when they are on their own!
If you aren't super comfortable being that qualified supervisor, this is the perfect opportunity to use a lesson with a professional driving instructor. They will be well-versed in poor road and weather conditions and any instructor in BC should have dual-controlled vehicles so they can be there to help if necessary!
–
Having a new teen driver behind the wheel is an exciting time for both them and their parents or guardian, although a bit nerve-racking for both as well. This milestone comes with a newfound freedom - your teen gets to experience a new and fun responsibility, and you get to experience the joy of them learning something new as well as being a bit more independent!