Are you a new parent, infant caregiver, or new grandparent? Even if your little one hasn't arrived yet, it's not too early to start thinking about car safety! In the second installment of our three-part series, Car Safety for New Parents, we're focusing on Child Safety Features that most vehicles will have. As a parent (or caregiver or grandparent!) it's important to make sure you're ready to transport the most precious cargo.


Seatbelts
The first part of our Car Safety series was all about Car Seat Safety, where we dived into the variety of child car seats available and when they should be used. But what happens when they no longer need an extra piece of equipment while they're in the car?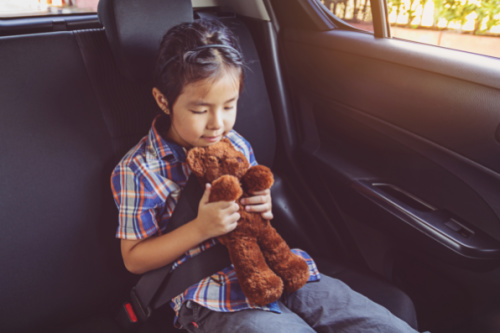 For seatbelts to function properly and provide safety for your child, your child should ideally be around 4'9 so that the shoulder belt can sit properly across their chest and stay between their neck and shoulder. The headrest should be positioned behind the head to the top of their ears for the best support, and the lap belt should fit low and snug across their hips. Kids' knees should be comfortably bent over the edge of the seat when they're sitting all the way back.
Your child should be able to sit comfortably in this position with a seatbelt for the entire duration of your trip. That means no putting the shoulder strap BEHIND the shoulder or sitting sideways. If they are unable to do this, or if they transition to a seatbelt before they're ready, they are at risk for injuries to their head, neck, spinal cord, and organs. If the seatbelt doesn't quite work out, it's okay to keep going with a small booster seat for a short while and you can get fairly inconspicuous looking seats if you're kiddo is a bit self-conscious.
It's also important to keep in mind that while a child may pass all the requirements needed in one vehicle, they may still need to use a booster seat in other vehicles where seats differ such as bucket seats.
Child Safety Locks
This safety feature was created to ensure that toddlers and children are unable to open the doors and windows of the vehicle while driving, since playing with and touching everything in sight is a main characteristic of toddlers and young kids. While all vehicle makes and models are different, the majority of child safety locks are engaged via a small switch on the edge of the door which is accessible when the door is open. Some newer models will have a switch on the driver's door, near the window and other door lock controls. To find out where yours are located, refer to the vehicles' owner's manual for information on how to engage and disengage them.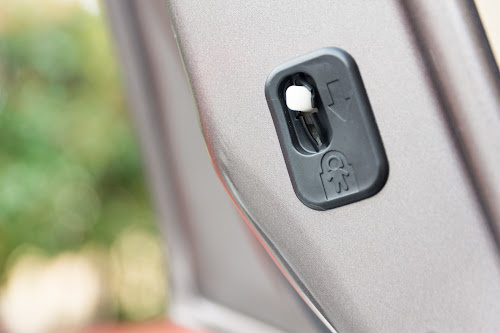 A word of caution, though – there have been reported instances where these features have caused children to be trapped inside the vehicle in sometimes dangerous situations such as hot summer days. Talk with your child about ways they are able to get out of the vehicle if need be, such as the front driver and passenger doors, honking the horn, or turning on hazard lights to draw attention to themselves. As early as possible, children should be taught that it is never safe for them to be inside a vehicle without an adult present.
It can also be useful to teach your kids about the trunk release. Vehicles manufactured after 2001 have an emergency trunk release, and this can be used if they are found stuck in a vehicle - especially if they are able to lower the rear seats and crawl into the trunk. Young kids may not have the strength to use the release mechanism, but it is worth knowing about for both young and older kids.
Be sure to take extra precautions if your child is under speaking age, always checking the backseat before you exit the vehicle. A good tip for remembering to check the backseat, is to leave your phone, purse, or wallet in the backseat - forcing you to grab something you always have on you. This is especially important if you do not regularly take a child with you in the vehicle - these instances of a child being with an adult who doesn't normally have them is when they often get left behind.

Airbags
Airbags were introduced to keep adults in the front seats safe in the event of a collision and since they were designed with adults in mind, they are highly dangerous and can even be fatal to children.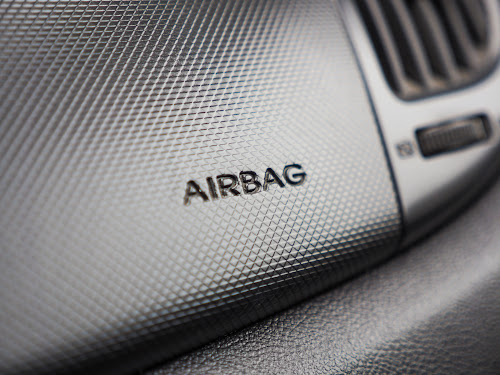 Transport Canada has reported that the safest place for children under 13 years of age to be seated is the backseat. This is because crashes affecting the front of the vehicle are the most common, but also because airbags pop out at a force between 160-350 km/hr which is enough to injure some adults, let alone children.
Some vehicles now have airbags that are only activated based on the weight in the passenger seat, however, it's important to note that they may still deploy whether this feature exists or you've manually turned them off.
--
Kids safety is front and foremost for their caregivers and it's important to carry that mindset with us as we travel with them. Take some time to go back and read our article about Car Seat Safety, and stay tuned for next time when we talk more about car safety for new parents!