Are you a new parent, infant caregiver, or new grandparent? Even if your little one hasn't arrived yet, it's not too early to start thinking about car safety! In our new three-part series, we'll guide you through car safety for new parents (and caregivers and grandparents!) to make sure you're ready to transport the most precious of cargo.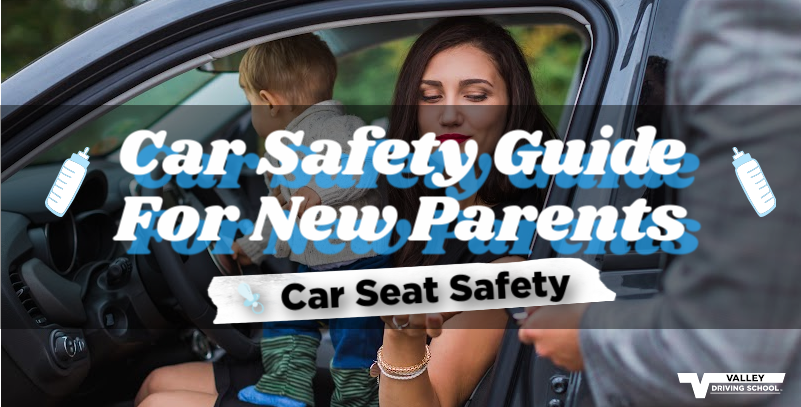 Today we're focusing on car seat safety, not only for new infants, but into the toddler and child years too. Car seat safety can seem overwhelming for first-time or new parents, and there is a lot of advice out there that's only based on anecdotal experience rather than facts. Our first piece of professional advice is to make sure your information is coming from a reliable and credible source - not just your friend's-aunt's-cousin's word of mouth!
Research has found that, when used correctly, child safety seats reduce the risk of fatality by 71% and the risk of serious injury by 67%. Besides making sure that your car seat is graded for the correct age and weight limit of your child, it's also important to make sure the car seat you are purchasing is not expired and hasn't been in any accidents. According to Transport Canada and car seat manufacturing companies, car seats have a six to nine year lifespan due to the molecular structure of the materials used to make them. These materials change over time, impacting their efficacy and in turn, their safety. While it may be generous of friends or family members to pass on their car seat for an extended life, if they've passed their expiration date, it is not a safe or legal option.

Rear-Facing Car Seats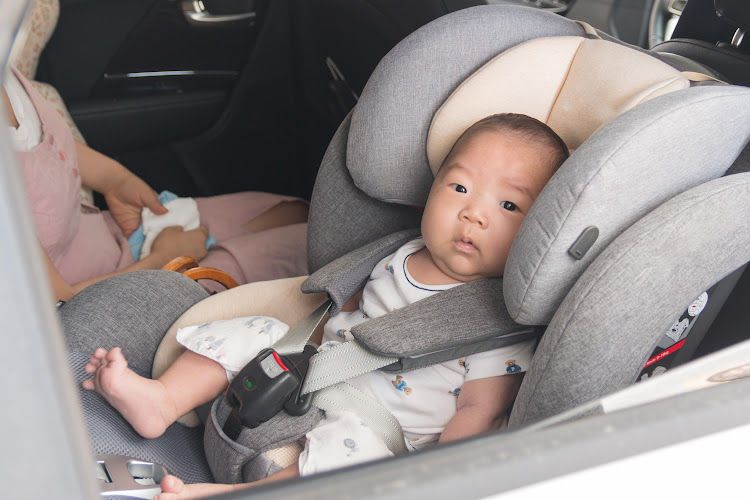 A rear-facing car seat is to be used from birth until around one year old, or once your infant reaches the specified weight limit of the car seat. Many rear-facing car seats only go up to 20 lbs, but you can find some that are rated for higher weights, like the Graco SnugRide 35, which has a maximum weight limit of 35 lbs. The ideal placement of car seats is in the centre of your backseat. This places children away from front seat airbags, as well as window or door airbags in the backseat! Make sure you don't rush to switch over to a forward-facing car seat as rear-facing seats are actually safest for your baby or toddler given that they provide solid support for their head and neck as long as they're within those manufacturer limits. If your baby outgrows the weight limit of the infant seat quickly, use a convertible seat in the rear-facing position.

Forward-Facing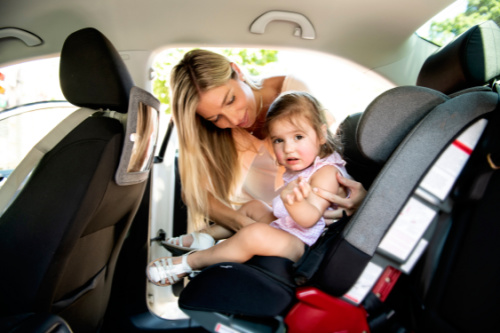 Once your infant is over one year old and over 20 lbs, you can safely transition to a forward-facing car seat with a tether. If, at this age and weight, they still fit within the car seat manufacturers limits for a rear-facing seat, those are still the safest option! Each car seat and car seat manufacturer will have different limits, but they are all based on weight, height, and age. Look out for a forward-facing seat that has a 5-point harness, as this will provide the highest level of safety. These seats are meant to support your child until they have reached at least 40 lbs and are always to be used with a tether strap to ensure that your child is safely secured. In the event that your child is taller than average, a combination harness or booster seat may be a better option.

Booster Seats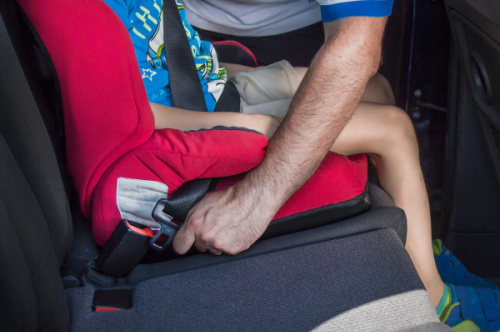 Since seat belts are outfitted for adult drivers and passengers, the purpose of a booster seat is to raise and correctly position your child to ensure that the seat belt falls across the bony structures of their chest and pelvis. Proper placement on your child means that the seat belt can function as it is meant to and they are protected in the event of a collision. These are to be placed in the back seat and only used with lap and shoulder belts – never use a booster seat with only a lap belt. You can use a highback booster seat or a backless booster seat. Highback booster seats are great to be used when your child is near the beginning stage of using a booster seat, since it provides cushioning and support on the sides and around the head. Since children must be over 40 lbs to transition to a booster seat, and regardless of their protests, or what other parents may say, they are expected to remain in booster seats until they are nine years old or 4'9", backless booster seats offer a more discrete option that will be easier for your older child to accept as they near the end of their car seat stages.
Combination Car Seats
We mentioned combination car seats earlier, and these are a great option to cut down on equipment purchased and money spent. Combination car seats take all of the car seat stages and combine them together, allowing you to have one car seat that changes and evolves with your child. These seats start out as rear-facing seats, and then turned around and extended to be used as forward-facing seats, allowing a five-point harness to be used for a longer period of time. The harness can then be removed and the car seat turns into a booster seat with a sturdy and safe back, and then can be evolved even further into a backless booster seat.
Combination car seats are a top choice for many parents, saving the tasks of having to buy new seats when old ones are outgrown, and dispose of the old seats as well. This saves on your wallet as well as keeping used seats out of landfills. Be sure to check the manufacturer limits and features to make sure these seats will work for you! Combination seats often do not have features like snapping into a compatible stroller, or snapping into a fixed base. This could make installation or ease of getting in and out of the vehicle a bit more difficult.

Seat Belt Only
After they have reached either nine years old or the height requirement, children can finally sit independently in the vehicle! It is still recommended that they remain in the back seat until 12 or 13 years of age or until they reach a certain height, and in some provinces and territories, this is a law. Keeping children in the back seat will continue to keep them away from powerful airbags that could cause serious injury to a child when they are inflated. When your teen graduates to sitting in the front seat, make sure that their seat is pushed as far back as it can be, to put as much distance between them and the dashboard airbag as can be.
Whether seated in the back or front seat, children (and adults!) should always use seat belts properly - no seat belts under the arm or behind the back and no overly-reclined seats. They should also be sitting straight up against the seat, not slouched down and not with their legs up against their chests.
Car Seat Installation

Installation can be frustrating, so it's important to follow the directions provided by the manufacturer, as well as the tips in your vehicle's owner manual, and Transport Canada gives some help as well. Both of these will give you direction for installation and the best seats to put them in. Most newer model vehicles come with anchor points in the rear seats that allow for the safest car seat installation method. You can also use the vehicle's seat belt if these aren't an option. We recommend that you install the car seats well in advance of when you need them, so you aren't struggling with a needy child as well as a stubborn car seat. After you've got your seat installed, or if you're really struggling as to how it goes in, you can enlist the help of a Child Passenger Safety Technician. These techs are located across Canada and can provide a safety check or demonstration.
--
Adding a child to the family comes with a lot of new experiences, even if this is not the first! Start planning for your car safety well ahead of time, and by the time your little one arrives, you will be ready. Check back next week, when we dive into Child Safety Features.