my account
frequently asked questions
WHEN REGISTERING MY CHILD, SHOULD I USE THEIR INFORMATION OR my own?
When registering a new student, the majority of the information should be theirs (name, date of birth, address, etc.). We recommend that parents include their own contact information, such as phone number or email address, as well as the student's.
You can also add a contact number for the student in case we are picking them up from school or home without a parent present. Having a contact number for parents in case we need to discuss account details such as payment or scheduling changes can be helpful.
why can't i log in to my account?
Please ensure you are logging in through the "STUDENT LOGIN" button at the top of the webpage, and not the "STUDENT RESOURCES" button.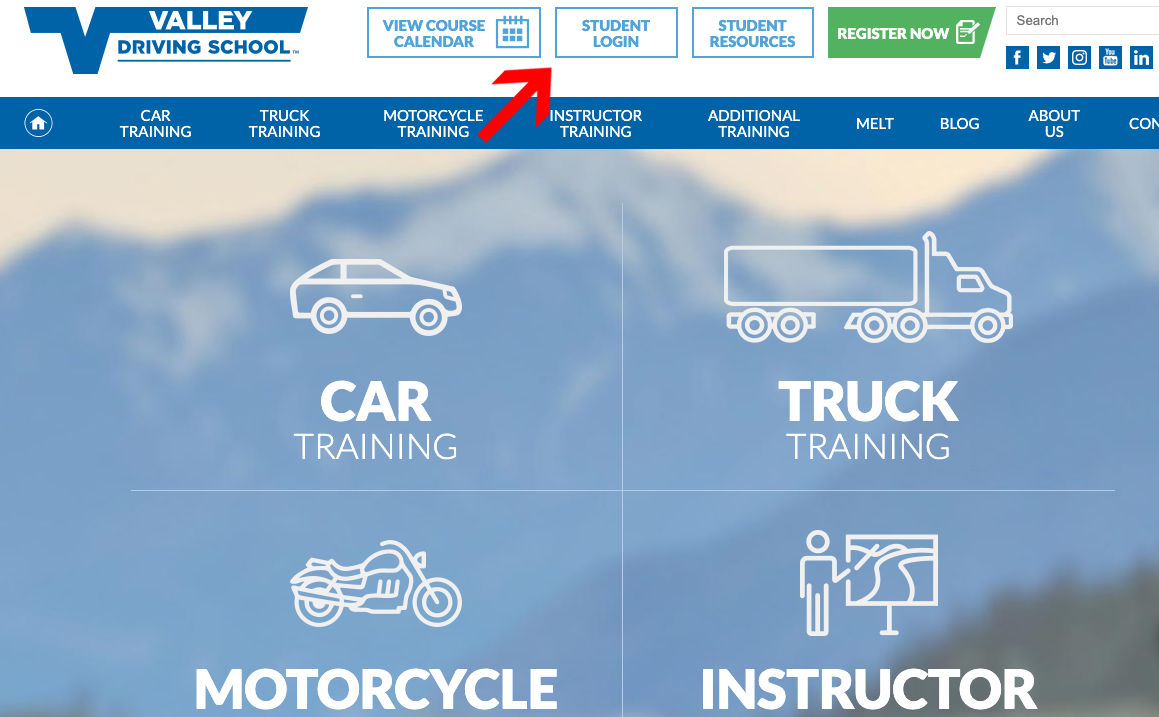 If you are still unable to access your account via the "STUDENT LOGIN" button, you will need to ensure you have confirmed your account. When you originally registered, you would have received a confirmation email that had an activation link. This confirmation email can sometimes go to the junk/spam folder as it comes from "do-not-reply@valleydrivingschool.com".
If you cannot locate your confirmation email, please contact us to request a new one.
my password is not working, how can i reset it?
If your password is no longer working, you can reset your password by visiting the login page and selecting "Forgot Password" above the login window.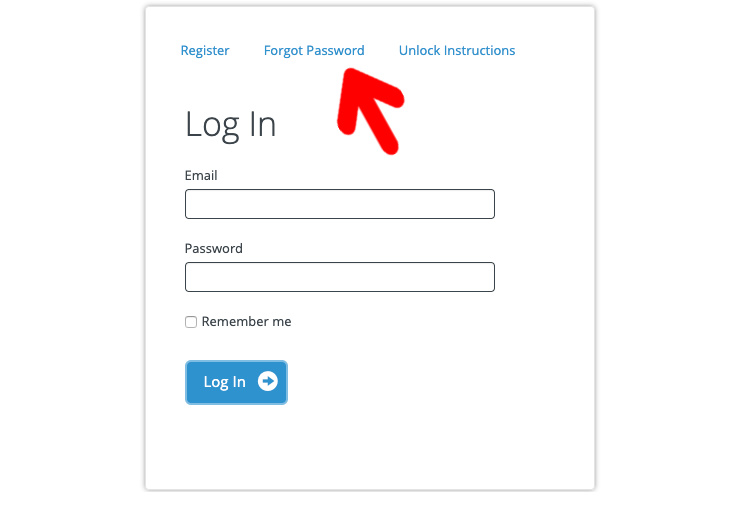 how do i schedule my program?
Once you are logged in to your account, you can schedule your training by clicking on "Sessions & Appointments". This will bring you to a screen with red-lettered tabs along the top of the screen.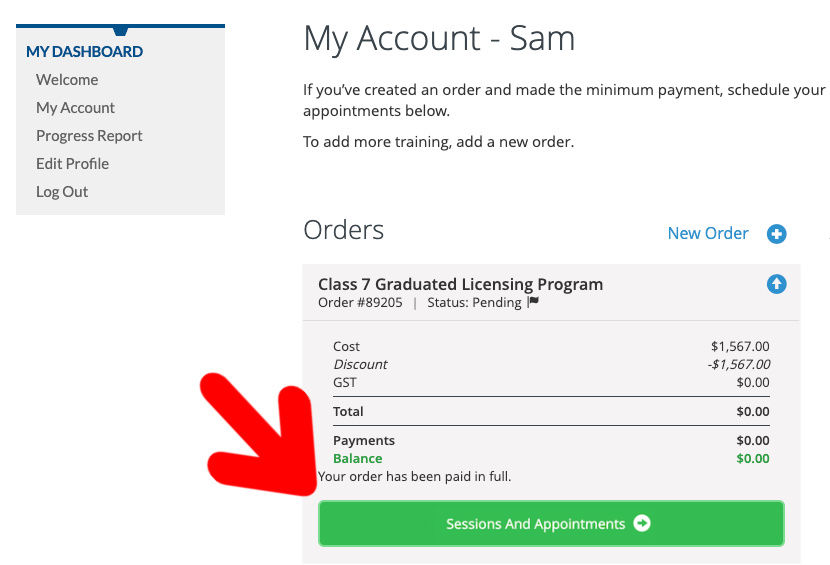 You will want to click on each tab to book your various training components. If you cannot find any events under these tabs, please consider removing some filters as this will expand the search results.


At this time, car and motorcycle training are available for online scheduling. Please contact us if you would like to schedule any on-road truck training.
how do i change my pick-up location for an on-road lesson?
You will need to select your pick-up location in order to see the available appointments in that area. Your pick-up location will default to your primary address, but you can select an alternate location from the drop-down menu on the booking screen. You can then continue by clicking "Find Matching Events".

You will see many popular pick-up locations, such as schools and ICBC offices but if you would like to be picked-up from an address that is not listed, or change the pick-up location of a lesson that is already scheduled, please contact us.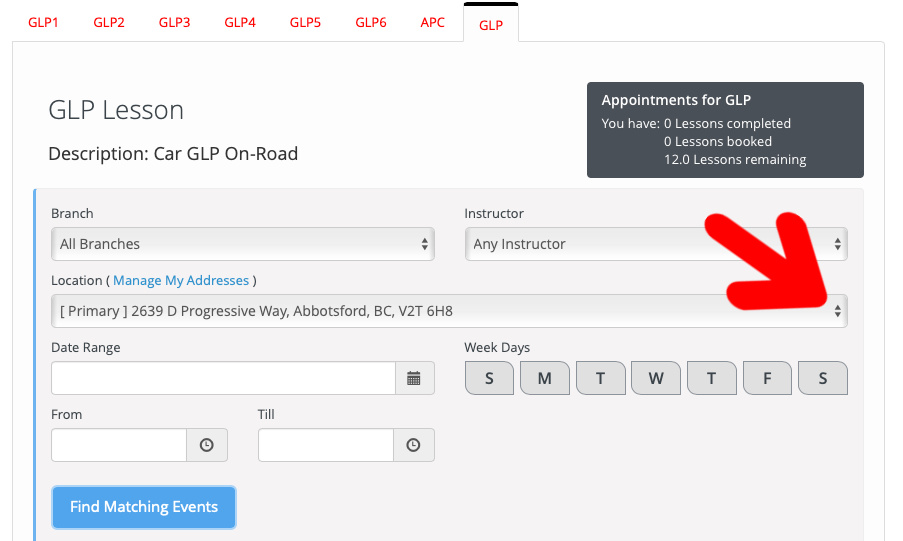 how do i access and read the progress report?
Once you are logged in to your account, your progress report or report card can be accessed through your online account. Scoring is based on competency level, with 0 being the lowest and 3 being the highest. If you have any questions regarding the scoring, or accessing your progress report, please feel free to contact us.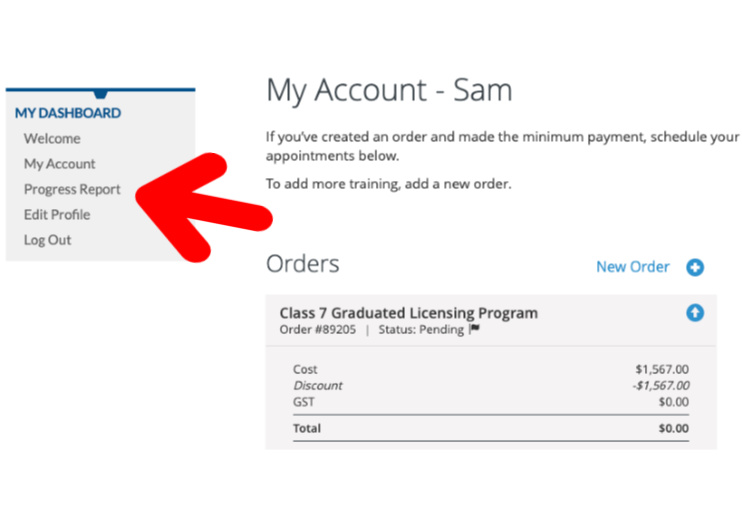 HOW HAS COVID-19 AFFECTED MY TRAINING AND/OR MY ICBC ROAD TEST?
Covid-19 has affected all of our lives in various ways, including training with Valley Driving School and testing with ICBC. Please see our Covid-19 FAQs for more information.