Many a parent has spoken the truth to their teenage son or daughter when they first embark on their riding career. It's a sacred moment when knowledge and wisdom is passed along to the younger generation.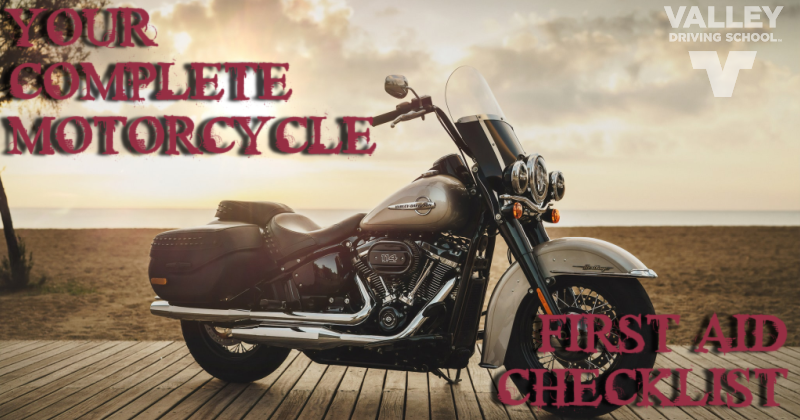 For motorcycle riders, there's always a whiff of the responsibility that riding entails - a lament of safety, duty, and foresight. There's also the chance of hearing something from someone along the lines of machines are only machines, and machines can fail you sometimes.
As Sun Tzu famously prophesied in the Art of War, "attack is the secret of defense; defense is the planning of an attack." If a rider expects to make it home after a bike break down, they had best prepare well before leaving on their journey - for this, you'll need a complete motorcycle repair kit. In this post, we'll divulge all of the necessary bike accoutrements you'll need to take care of yourself on the road.
Medical Kit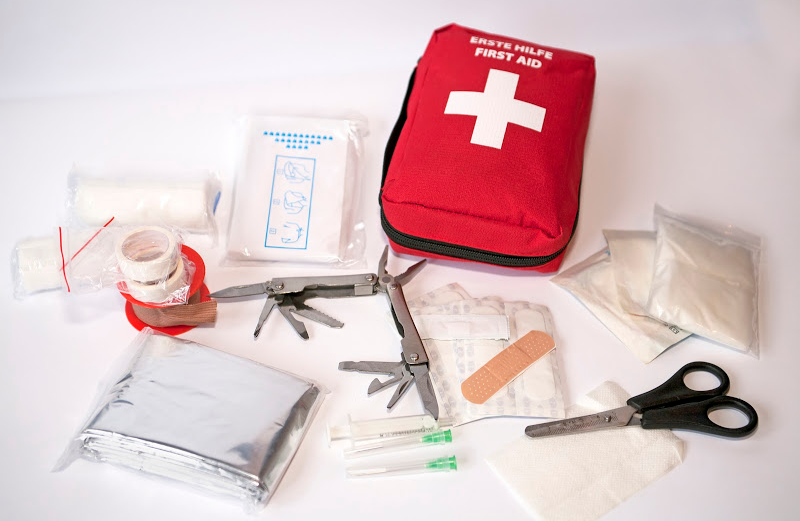 First up, a small medical kit is never a bad idea. These inexpensive kits can be purchased ready-to-go from any number of rider outfitters or supply stores, as well as outdoor lifestyle shops.
Kits should include some type of disinfectant alcohol, bandages, wraps, iodine, scissors, burn dressings, gauze, a splint, light sticks, and a few safety pins. Minor cuts or the odd exhaust burn is an unfortunate truth of riding - how you deal with them is what's really important. They easily store away in a saddlebag or backpack, and should always accompany you on extended rides.
Tire Patch Kit
Being stranded with a flat tire is a terrible way to end your day of riding. Prior to 1975, tire patch kits were largely nonexistent, but now products like tubeless tire plugs help riders get back on the road in a short amount of time safely. Depending on the extent of damage, these kits include rubber inserts and patch plugs that are inserted from the inside of the tire. They make it possible to get yourself home at lower speeds and back to civilization.
Small Tool Kit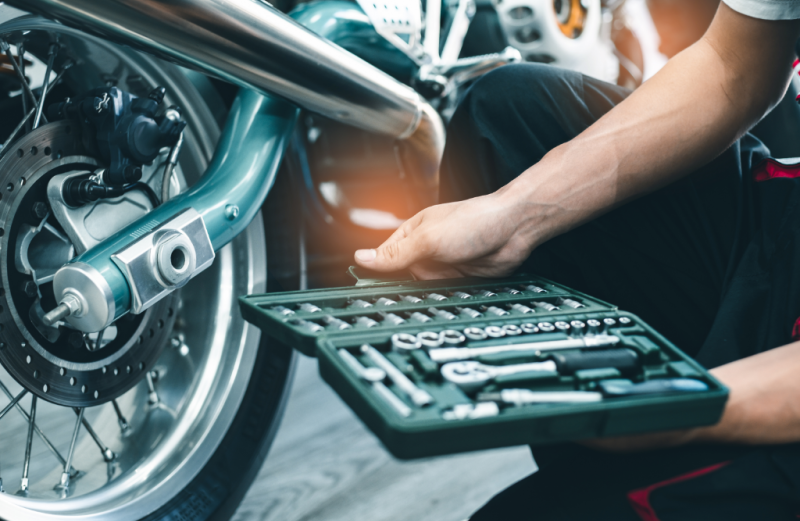 Having a few simple tools on your person at all times can help stop small mechanical problems from turning into big mechanical problems. A small motorcycle tool kit gives you the ability to tighten down loose nuts and bolts, adjust seats, clutch/throttle perchs and handlebars on the fly. Most will include a fold way Allen wrench, combo/multi screwdriver, pocket knife, a pair of pliers and an adjustable wrench. Some of the nicer ones will include a small flashlight, battery cables, and a few zip ties. A roll of duct tape never hurt anyone either - Red Green would be proud.
Extra Gear
We'll be the first to tell you that you'll only forget to pack an extra set of gloves once on a cold ride. Having a few extra pieces of wearable gear on you is a great way to help you stay comfortable and in control of the bike. When your hands get cold, they lose dexterity, making it harder and slower for you to change gears, compress the brake, or use your signals. Likewise, an extra pair of cheap sunglasses goes a long way when you're riding off into the sunset, and a visor can help you out when riding through mosquito country or a surprise hail storm.
USB Charging Module
More of a modern selection, having a solar-powered USB charging module can help you out of a pickle by allowing you to recharge your dead cell phone and make a call for help, or alert your friends and family that you're running a little late. With a portable charging base, you can easily get yourself the help you need should your bike break down on a remote or seldom-passed roadway.
Spare Clutch Cable
Having a spare clutch cable is a more advanced repair kit supply, but a handy one nonetheless. If your clutch cable snaps. It'll be pretty difficult to get the bike into gear and running again without resorting to a bump-start, which can damage your bike's gearbox. A spare clutch cable is an inexpensive motorcycle repair kit supply that can help you get home on time and in one piece.
Bulbs & Fuses
Riding at night without a headlight or tail light can be dangerous for you and other road users. Without a light, it'll be nearly impossible for other riders to see you and can easily translate into a crash. Research and invest in the bulbs and fuses that fit your specific bike make/model to be sure that you can locate and replace the bulb prior to leaving on a trip.
Kickstand Support
A personal bit of advice - never leave home without a small kickstand support in your pocket. Let's imagine you get stuck somewhere in the dirt or mud and your bike won't stay right side up - having a small coaster sized piece of steel, or wood in your jacket is a great way to ensure that you give yourself a level, stable place to put down your kickstand when dismounting or repairing your bike.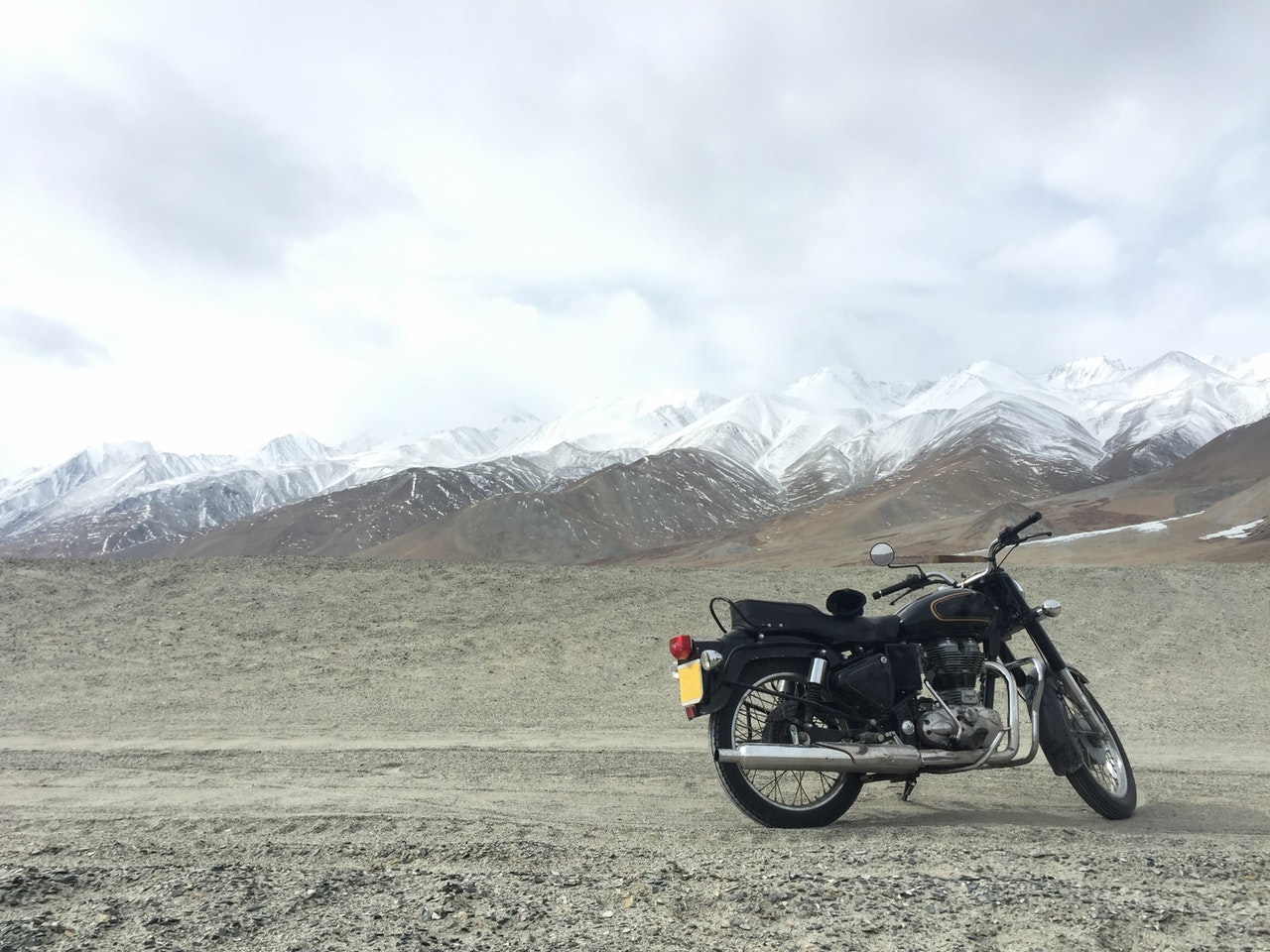 Riding a motorcycle is just like any other undertaking in life: you'll learn your personal preference to what kind of gear you need as time progresses and you learn more about your style as a rider. But when it comes to safety and first aid gear, it's crucial to do your best to be prepared for anything before you need the gear that you may not have readily available.
Take your time to prepare yourself a first aid kit for your motorcycle adventures as part of your riding routine. It'll give you the assurance you need to ride with care and confidence, knowing that you're able to help yourself, and others that you may encounter on your travels.