Learning to ride a motorcycle is one of the most rewarding experiences you can give yourself. It's chalked full of excitement, gratifying new skills, and the inexplicable sensation of being fully immersed in your surroundings as you ride. In order to learn to ride, of course, you need a good bike. What you choose to ride can say a lot about your level of comfortability as a new rider, but also a lot about your personality and character. But the bike isn't the only thing you'll need to invest in.
Motorcycle gear is an absolutely critical factor you'll need to research and invest your time in. What you choose to wear on your body and your head not only accentuates the style and character of your riding style but adds a very necessary layer of safety and practicality to your riding career. Keeping yourself safe, visible and comfortable is every bit as important as the perfect bike.
In this post, we'll outline everything you need to know about motorcycle gear, the incoming tech that adds safety and function to your choices and include some advice from some of British Columbia's foremost experts on riding.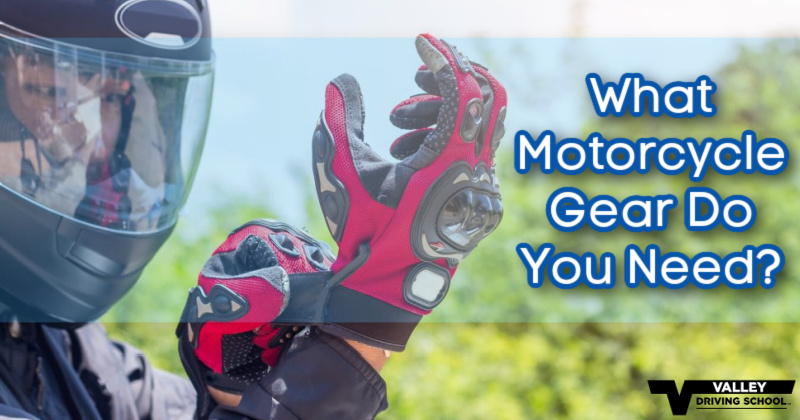 Why Do You Need Good Gear?
We'll be blatantly honest, because riders deserve to know what they stand to lose in the event of a crash. The human body wasn't exactly designed to withstand impacts and falls at high speeds. We've been biologically crafted to remain at a slow and steady pace, which is why even falling off a bicycle or skateboard can spell serious injury. On a motorcycle, you'll inevitably be reaching speeds easily exceeding 50km/h without a vehicle to protect you.
There's also weather to consider. Speed can change temperatures at alarming rates. This means that at a speed of 50km/h, a moderately warm day can easily feel as though it's below 10 degrees Celsius outside. In the rain, or on a cold day, a rider who isn't prepared for the elements can easily experience temperatures at speeds that could induce shivering, immobilization of muscles, and hugely decreased reaction times needed to keep them safe.
ICBC estimates that there are, on average, 2,200 motorcycle accidents each year in British Columbia, and further, those roadway incidents involving motorcycles have been on the rise since 2011 at a rate of approximately 100 per year. While these statistics include minor accidents that occur in parking lots and involve parked cars, it's important to note that the key to keeping these accidents from being too serious is a necessary dedication to rider awareness, education, and proper safety equipment.
What You'll Need
Jacket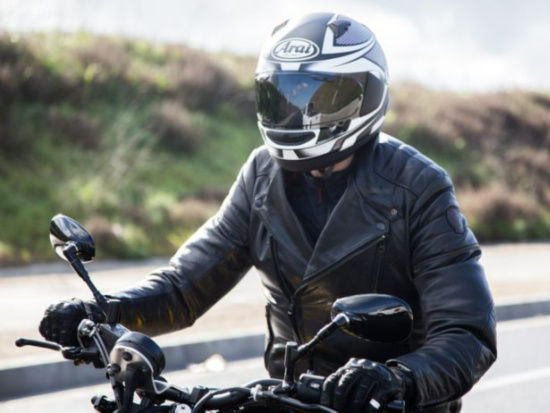 A good riding jacket is much more than a fashion statement. While that's also important, riders need to choose a jacket that's suitable for their style of riding, and more specifically, appropriate for the riding conditions they'll encounter.
Marq Smith from Langley, BC's Holeshot Motorsports recommends a multi purpose jacket constructed of a synthetic material that features multiple removable layers for warmth in both cool and warm temperatures. A mesh underlayer adds a factor of breathability to a jacket in the summer months. The benefit of a multi-layer jacket means a fully customized piece of apparel that can be tailored to seasonality and rider comfort. Added protection can be found in jackets that feature armor and abrasion resistant material in common impact zones.
Our very own head Motorcycle Instructor, Doug Ellis, tells us that it's equally important to ask yourself about your riding style as it is the possible worst case scenario. "If you are going to race on a track versus long distance cruising, or ride around town for short periods of time, you have to think about the worst case and match the best choices for riding gear. I doubt anyone would argue against quality riding jackets if we knew the date and time of our motorcycle accident. Wearing appropriate gear all the time is an insurance policy we don't want to claim. The colour should also be a deciding factor, as one big threat to riders is not being seen by other road users."
High visibility jackets may not be the slickest or coolest jackets of the road, but the added visibility they offer new riders is invaluable to being seen by other drivers. Good quality jackets will often feature reflective finishes or accents to help offset style vs. function issues.
Gloves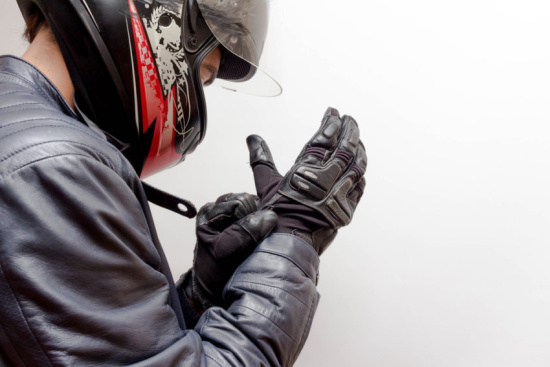 Doug sums up the need for gloves quickly. "Don't wear gloves, and the first time you get hit by a bug at speed you'll be able to explain the need for gloves yourself. It's often an unfortunate experience, but can be a huge motivator for a long list of safety gear."
Gloves are absolutely necessary for all motorcycle riders and come in a variety of finishes, materials, and for different riding purposes and climates. Glove choices always come down to the environment; if you're riding a dirt bike or dual sports bike through thick bush, you'll want a glove with protective armour across the knuckles to protect your hands against getting whacked by branches or rocks. Alternatively, maybe you ride a cruiser and you need a glove that enables you to use your touch screen GPS equipment without having to remove the glove itself.
Often times, riders will choose a good quality synthetic material for riding in warmer weather, and insulated leather gloves when the temperature drops. In either case, waterproof gloves are a good choice.
Helmet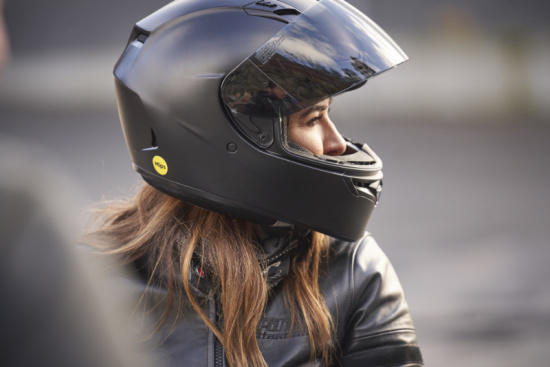 The quintessential piece of motorcycle riding gear is an excellent quality helmet. A good helmet, while a legal requirement of riding a motorcycle, is also a superbly important piece of your safety gear arsenal. Without a helmet, otherwise moderate accidents and mishaps can spell life-threatening injuries and disaster.
Valley Driving School motorcycle instructor, and former Justice Institute riding instructor, Bruce Waddington, tells us that the best helmet available on the market means nothing if it doesn't fit properly. A proper fit ensures that your helmet is capable of providing you the protection it promises. Waddington also recommends a full face or flip up helmet for new riders, as opposed to an open-face helmet for added protection.
Safety certification designations for helmets are intricate and important to know. Many of us are familiar with a DOT certification as the definitive safety standard. DOT is the universal requirement for all of North America, while ECE is a similar universal requirement for Europe. Snell certifications are thought to be one of the strictest and therefore highest safety certifications. Many racetracks require a Snell certification.
Footwear


When considering purchasing riding footwear, a rider must first ask themselves a series of important questions:
Where am I going to spend most of my time riding?
What's my riding style? (Aggressive, more cautious, etc.)
What type of terrain will I be riding on?
How much protection do I want?
What design will work best with my motorcycle and can I properly operate my bike while wearing them?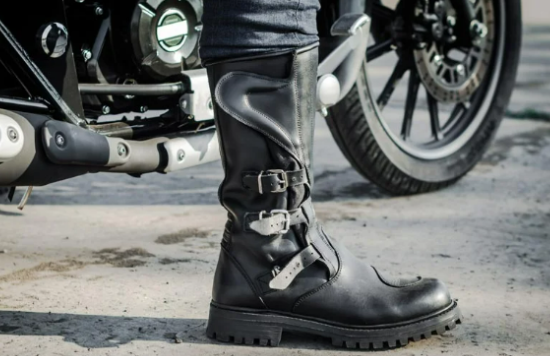 A good decision is to always purchase the type of riding boot made specifically for the type of riding you will be doing. "Feet and ankles are more fragile than we care to think they are," says Doug Ellis. "You'll need to determine the level of protection needed against your riding. The only person who can truly and honestly answer what type of rider you will be is all on the individual."
Comfort plays a major role in selecting riding footwear. A boot should be comfortable enough to wear all day without cramping your feet or making you uncomfortable. Protection wise, it's important to pick a boot that's as good a quality as you can afford. Marq from Holeshot recommends always selecting a high top boot that covers well above the ankle, and Waddington agrees, citing a non-slip sole and sturdy leather or synthetic material as an added bonus.
Eyewear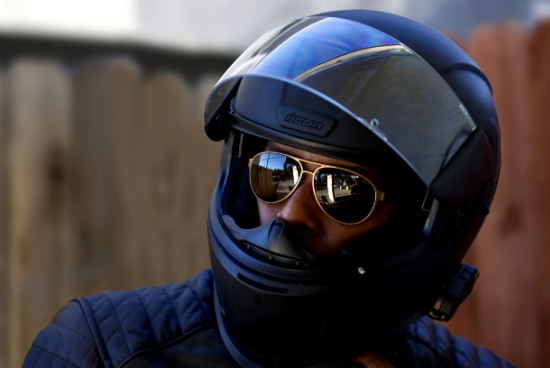 Many helmets recommended for beginner riders will feature a full face mask that includes a shield for the eyes. That being said, most visors or shields will not help you in the event of riding into direct sunlight.
"I always recommend a full coverage helmet with sun/clear glasses underneath," says Marq. "You can always add the extra glasses, or take them off at a moment's notice by pulling over."
Choices should be about safety for your eyes over style. True motorcycle glasses will feature foam padding on the inside, fit snugly to the face and shield your eyes from the elements like wind, dust, and bugs.
"It only takes a second for your ride to become life threatening if you can't see," adds Doug.
Motorcycle glasses feature different lenses to help in different lighting conditions. Yellow lenses help increase visibility at night, while clear/shaded eyewear helps during daytime and overcast weather. For quality purposes, all riding eyewear should be impact and scratch resistant. Consider looking for rubberized ear pieces that help your glasses stay put on your face - and always investigate the benefits of polarized lenses, UV protection, and anti-fogging finishes.
Aesthetics & Performance
Riding a motorcycle will always be about style and making its rider feel cool - that's more than likely at the very core of your choice to become a rider. While safety is absolutely paramount to your success as a rider, style, performance, and aesthetics are very important to feeling good about your decision to ride.
Aesthetics and style develop over time when you're a rider. As you build confidence on the road and begin to develop your own riding style, you may find that your bike and comfort could benefit from adding or replacing a number of aspects of your bike.
Marq adds to the conversation surrounding aesthetics and performance: "Where do I start? I believe that a great saddle seat is one of the best items a client can get - more comfort equals being able to pay more attention to the things around you. When selling a bike, it's important not to overwhelm the client with too many choices. Accessories should be suggested at initial bike purchase."
Bruce chimes in, suggesting that aesthetics can be safety-oriented as well, noting the power and appeal of brighter LED headlights and brake lights. The crispness and strength of LED technology helps to boost your visibility and looks great at the same time. Bruce also adds that a louder horn is an inexpensive upgrade that helps to increase your presence on the road. Anti-lock braking systems (ABS) can reduce skidding on both dry and wet surfaces - limited slip when accelerating is a gift rooted in both safety and performance.
Doug adds that aesthetics can easily be diverted into aspects of opening up awareness and visibility for new riders. He says that in terms of performance, the best weapon in our arsenal is always knowledge, citing the importance of a motorcycle riding course as a performance product that helps you become a more efficient and aware rider.
"Anything done to open up our attention to the risks around us is positive. Scanning and shoulder checks are a basic language for riders... Take a motorcycle course, it will open up your eyes to safety gear, motorcycle choices and how to apply it all when riding. It will give you the skills needed to safely operate a motorcycle."
Tech Gear


Many riders talk about the latest and greatest gear or motorcycle accessory, but the truth is - how the rider applies them to a safe ride is the biggest part of your safety. GPS systems are quickly becoming popular tech accessories for more advanced riders, offering more open routes and back roads to help take riders off of busy and potentially dangerous major highways - not only it is safer, but getting away from the main road is always a more scenic option as well.
All our industry experts cited the popularity of rider to passenger communication systems, and rider to rider communication headsets as well. Being able to communicate easily and clearly with your riding partners helps you to not only stay focused, but can assist you in taking directions, or alerting your partners on upcoming obstacles, or road conditions.
When it comes down to it, the right motorcycle gear can save your life. Whether it's preserving your eye sight when you're riding off into the sunset, or protecting your body from road rash and abrasion burns with a proper motorcycle jacket, the right gear is always designed to keep you protected, safe – and believe it or not – lookin' good. If there's anything new motorcycle riders need to know, it's that safety gear doesn't have to be ugly. The right gear can easily make you feel safe and confident.
If you ask us, what's even better than having awesome riding gear is arriving at your destination in one piece.