Questions are the key to better understanding the critical and subtle arts of driving. Professional driving instructors are full of knowledge that can help new drivers successfully earn their licenses, while keeping themselves and others safe on the roadways.
Some questions can be serious, and some are downright humorous - but in any case, all are valid. Here are the top 10 road test questions we hear from curious new drivers, and a few insights on each.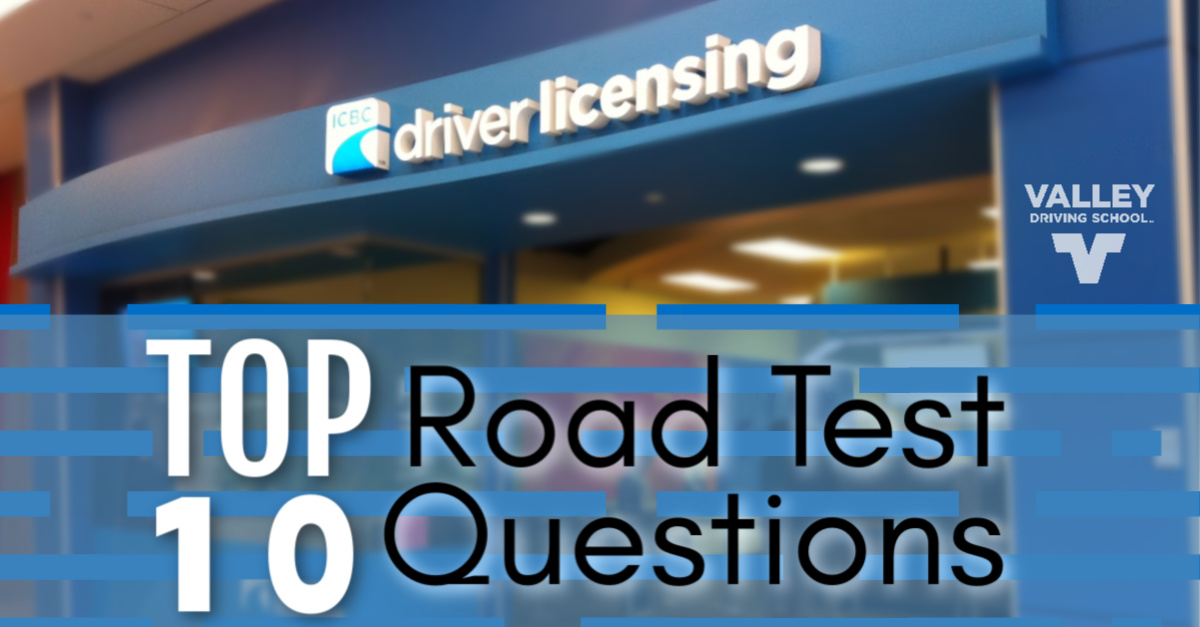 10. "What's the best way to prepare for my road test?"
We recommend pairing in-class instruction with on-road practice for the ultimate preparation plan. In-class instruction provides an opportunity to break down different maneuvers at a slower pace that may not be possible while on the road. Classroom training can also cover situations you may not experience on lessons or practicing with your supervisor such as what to do in the situation of an accident, how to handle different weather conditions, etc. You should also be getting some varied experience with on-road training – venturing outside of familiar areas and routes, once your skill and confidence develops, will challenge your driving skills with more complex driving environments.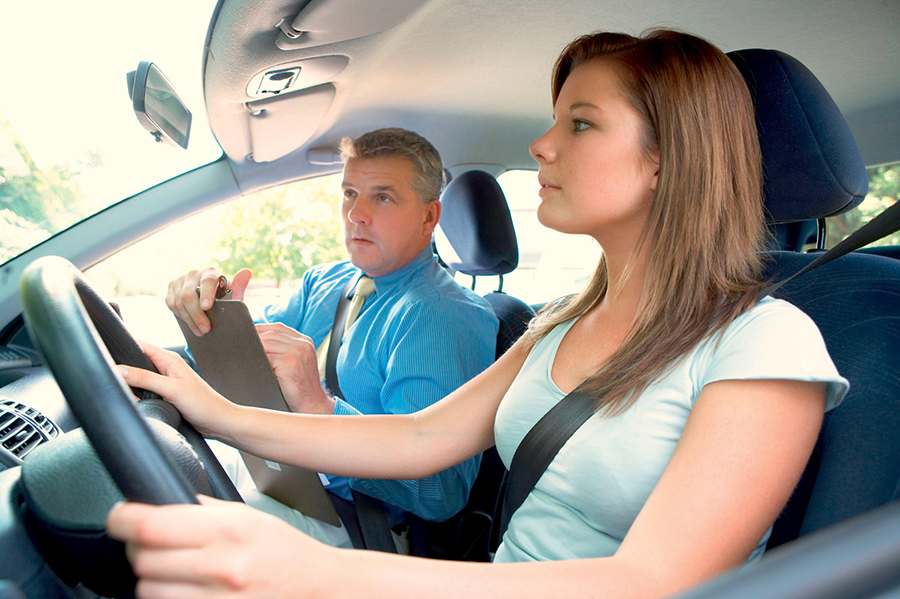 9. "Should I read the entire book?"
We get this one a lot. And the answer is 'yes.' The Learn to Drive Smart manual is a comprehensive guide to understanding the rules of the road, road signs, lines, turning signals, sharing the road with others, and different skills that come with learning how to drive.
This ICBC-written book provides the knowledge that you'll need to give yourself the best chance at success on your road test. Studying the book paired with on-road practice and training will create knowledgeable and confident driving attitudes as there may be a variety of scenarios covered in the book or in a classroom setting that drivers may not experience while on the road. Think of this book as your encyclopedia or dictionary – if you're unsure of what to do or what the rule is, you can usually turn here for the answers and guidance!
If you come away from reading the recommended chapters feeling like you need to review, or dive deeper into what's next - go with your gut and study until you feel as though you're ready to take your test. Always book your road test after you feel accomplished enough and confident enough to take the test without worrying if you've read enough of the handbook; and if you have questions - ask your driving instructor or an experienced driver you trust.

8. "How much should I practice/drive before my road test?"
ICBC recommends 60 hours of driving practice prior to attempting the road test – some students may need more hours and other drivers may be able to successfully pass with fewer. If in doubt of how much time you'll need, more is always better! Each time you drive, you experience different driving scenarios, encounter varying traffic patterns, and expose yourself to the opportunity to gain more experience and insight. Ask yourself this important question: "Do I feel that I would be able to safely and confidently drive independently without the assistance of anyone else?" If the answer is "no", you likely need more practice time.

7. "Should I drive an automatic or standard vehicle?"
This question gets asked often because many people feel the added stress of operating a clutch and a manual transmission could be a detractor of their driving ability. The thing is, you should always seek to drive the vehicle that you feel most comfortable driving - and that typically means the vehicle you've learned to drive with. Sometimes, new drivers come to the road test driving stick like they've done it for years, and that's great! Drivers who road test on a standard transmission should be aware of some possible manual-specific infractions. Actions such as rolling back while in neutral or shifting at unsafe times (like in a corner or intersection) could result in demerits.
Driving confidence is what's important when selecting your preferred road test vehicle. If you feel good and like you're ready behind the wheel, your road test examiner will surely take notice - and that's good news for your chances of success!

6. "My car has an issue – can I still road test with it?"
There are strict guidelines for vehicles being used on the road test and you can find ICBC's vehicle checklist online. Ensure your vehicle meets the ICBC requirements so you can complete your road test as scheduled and there are no problems on road test day. If you are unsure if your vehicle will meet those requirements, give ICBC a call or stop by one of their offices, prior to road test day, to clarify. You can find some more information regarding what ICBC is looking for during your road test in our Top 8 Tips to Be Successful on Road Test Day.

5. "What is the road test route?"
ICBC does not publish their road test routes and, in fact, there is no one set route. The road test can take you anywhere at any time, as ICBC examiners need to have drivers safely demonstrate their skills and ability to make various maneuvers, not travel on certain streets. Instead of trying to memorize the routes, you should practice and learn to be a safe and independent driver. As a result, you will be able to safely drive anywhere – not just on a designated route!

4. "How many errors or demerits can I make or receive and still pass?"
Don't focus on how many mistakes you might make! The ICBC road test is all about demonstrating your driving confidence, ability to drive safely, and showcasing your understanding of the rules of the road. Focus instead on your strengths and how well you execute those maneuvers. Examiners aren't ogres who are looking to fail new drivers – they are looking for reasons to pass you. If you demonstrate that you can safely navigate the road and show that you can independently make safe driving decisions, your road test will typically result in obtaining your licence.
If you do make a mistake, try to move on and don't dwell on what's already happened. Small errors are allowable on the road test, but focusing on them throughout the remainder of the test could cause distraction on what's coming up. Continuing to show the examiner your safe driving skills will keep you on track and increase the likelihood of making it through successfully!

3. "Can I go?"
You'd be surprised with how many times this sentence is muttered during a road test.
Being prepared for your driving test is all about demonstrating you hold the knowledge and understanding of the rules of the road, and vehicle dynamics, to a point where you can make decisions based on your own competency. Having to ask "is it my turn to go?" is a red flag to your ICBC examiner that you're unsure of your place on the road.
We're all about learning and affirming your knowledge in different ways and talking out loud to yourself – 'running commentary', as we call it - may be one of them but this is different than asking for help. If you need to ask the examiner if you have the right-of-way, you likely need to study and practice more. Once you have the confidence and know-how to make good driving decisions without asking for a second opinion, that's a sign that you're ready to road test!

2. "Does everyone fail the first time?"
This is a common myth – we've heard all the rumors that everyone will fail their first road test attempt. It's simply not true. Drivers who demonstrate the ability to follow the rules of the road and safely operate their vehicle during the road test, will typically pass. We've seen many students pass on their first try. While you have probably heard the myths about failing the first time (and we know the road test can seem daunting), try to treat the ICBC road test like any other time you've practiced.
Keep a positive attitude going in to the test and show the ICBC examiner how prepared you are. Remember what you've learned, stay calm and confident throughout the road test, and a successful result should follow!

1. "Can I ask my examiner questions before we start the road test?"
The ICBC examiners want to see you succeed! While they cannot assist you on the road with decisions (see above: "Can I go?"), they are a wealth of information that you can use before you get started with the road test. Your examiner will introduce themselves to you and exchange some pleasantries with you to help ease your nerves. They will explain what will happen during the road test including specifying the maneuvers they will ask you to do. This will be your opportunity to ask any questions about what to expect or to clarify any road rules or regulations.
For example: depending on when you are road testing, school zones may or may not be in effect. Summer, spring, and winter break can impact when school zones are in effect and it is okay to ask your examiner (ahead of time!) for clarification. You will not receive any marks against you for asking to clarify something – the worst that may happen is the examiner will explain they can't provide the answer for you. They are just there to test after all, and not train.
If you find yourself on the road test and need to ask for clarification on directions that they provide, don't be shy! While the examiner will remain mostly silent so you can focus on your driving, they are happy to clarify directions. At the end of your road test, the ICBC examiner will advise you or your road test results and give suggestions to further improve your driving – pass or fail!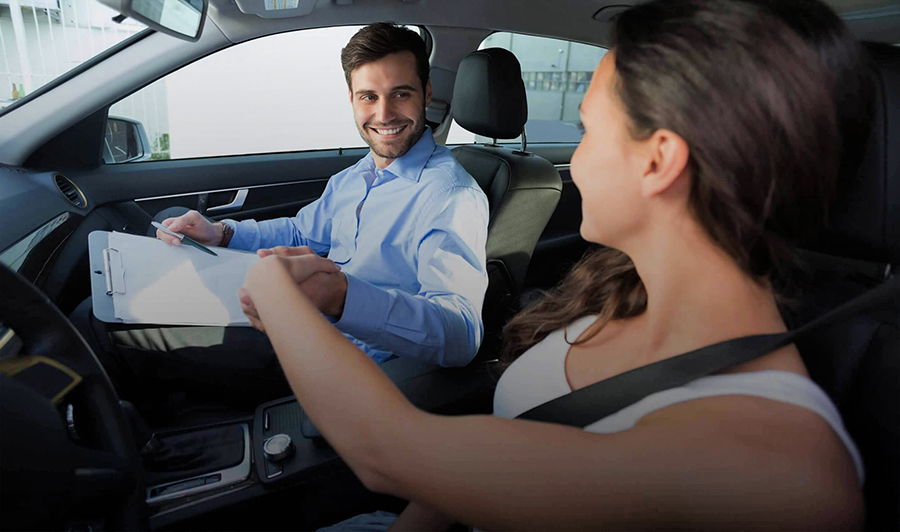 -----
The driving road test is a major milestone in a new driver's life. Many people dream of driving on their own, of leaving the ICBC Driver Licensing Office with their upgraded licence in hand; earning their spot alongside others on the daily commute. Others stress over the whole ordeal, over analyze, and even fear taking the road test. In both cases, driving instructors deal with a lot of questions and have the answers!
Questions are so important to learning about driving, and no serious question should be turned away. If anything, feel empowered and encouraged to ask every driving question you've got before your road test.