If you don't have access to a pickup truck, or at least a friend with a pickup truck, you may find yourself struggling to get that dirt bike to the trail, accommodate a weekend landscaping project, or haul some firewood up to the cottage.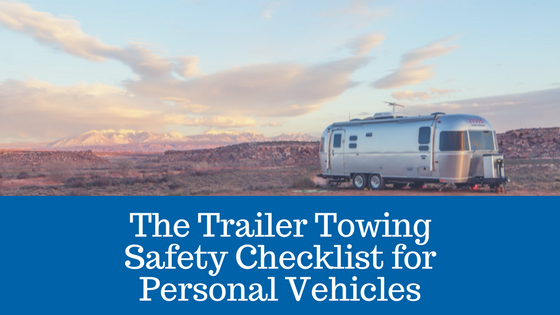 Even without the truck, there's a clear way to make these things happen - with the help of a small utility trailer. Increasingly popular for their usefulness, non-permanency, and relatively inexpensive price point, a utility trailer is a wise investment that extends the convenience of your SUV, van, or hatchback; the only minor speed bump is figuring out how to tow one safely.
From hooking up your trailer and evenly towing and distributing its payload, to hooking up lights and learning how to back up, here's our take away points for a guide on the towing safety checklist for personal vehicles.
Let's Get Hitched!
First things first, you're not going anywhere without a hitch. If your vehicle doesn't have a factory hitch installed on the rear bumper, take your car or SUV to a qualified mechanic or dealership to have one installed.
Hitches come in various classes, with a Class II representing one of the most common designations, perfectly suited for a sedan, crossover vehicle, or minivan. Classes of hitches ascend upwards, each capable of supporting higher gross trailer weights and trailer tongue weight.
Have a friend or family member back your rear bumper up close to the trailer hitch, being careful not to back into the trailer itself. Most modern utility trailers come equipped with a crankable lift so that you can maneuver your vehicle's ball hitch under the trailer, perfectly situating the ball under the hitch receiver. Once you've situated your vehicle's ball under the hitch, lower the trailer onto the ball hitch and secure the trailer following standard connection protocol, which can usually be found in your vehicle's user manual or within the trailer literature. It isn't uncommon or impractical to give the connected trailer a good stern jiggle. Next, connect the safety chains to the hitch frame, typically located under the hitch.
Finally, connect your trailer's wiring harness to the corresponding plug underneath your vehicle - sometime located in the trunk or your vehicle. This wiring harness ensures that your trailer's lights and turning signals are operational, giving other drivers a sense of your actions and ensuring safety on the road for everyone.
Towing/Hauling Capacity
Aside from the rating of the hitch (classes of weight), you must understand the maximum weight that your vehicle can tow, as well as the rating of the tow hitch. It's important to note thst installing a larger hitch doesn't mean your vehicle can accommodate more weight - both the vehicle and trailer need to work together.
Your vehicle's towing capacity and hauling weight limitations can be found within its user manual or by contacting the manufacturer via the dealership to inquire about your specific model. The rating of the trailer itself is especially important to towing and driving on roadways. Every trailer has a maximum weight that it is capable of carrying, all based on the structural elements of its construction - frame, tires, axles, and hitch.
Most trailers will feature this information in an operational manual or on the data plate riveted to the tongue or frame, but to determine the load capacity of an older trailer, you may need to calculate the numbers yourself. Trailer capacities are determined by tongue and axle ratings. Typically, the diameter of the axle will help determine the capacity of the trailers load.
1.5-inch diameter, 1,000 pounds
1.75-inch diameter, 2,000 pounds
2.375-inch diameter, 3,500 pounds
3-inch diameter, 6,000 pounds
3.5-inch diameter, 8,000 pounds
4-inch diameter, 9,000 pounds
5-inch diameter, 10,000 pounds
Multiply the axle capacity by the number of axles your trailer has to find the maximum weight capacity of your trailer.
Weight Distribution
When loading your gear or material into the trailer, it's critically important to evenly distribute the weight of the load over the axles to limit the weight placed on the tongue of the hitch. Failing to evenly distribute the weight can result in putting too much strain on the hitch, or removing too much weight from the hitch, affecting the suspension of your vehicle.
As a general rule, levelling the trailer will result in an evenly distributed load, and will also help to make towing more predictable, and safer. Not only does even distribution mean front to back, but left to right as well. Uneven weight on either side can place too much pressure on one tire, making for an unpredictable ride, and the possibility of a tire blowout.
Backup Technique
Backing up a trailer is much like riding a bike; difficult to master at first, but eventually, it becomes second nature. Practice always makes perfect.
Backing up a utility trailer is most easily articulated by suggesting drivers use their rear-view mirrors to guide them as best they can - simply put, resist the urge to turn your head because the trailer direction and your steering wheel correlate in opposites; left is right, and right is left. Using your rear-view mirrors helps to correct this confusing learning curve.
When you park your trailer, always make sure that your vehicle and trailer brakes are applied, especially when your trailer happens to be loaded with weight. This will help keep everything safe and secure.
--
A utility trailer drastically extends the practicality and resourcefulness of your sedan, hatchback, crossover, or minivan. Equipping yourself with the knowledge to confidently and safely operate, hook up, load, and drive with a trailer attached to your vehicle is another feather in the cap of capable and safe drivers. Who needs a truck?!