Now that ride hailing services like Lyft and Uber have arrived in British Columbia, it's important to understand how to keep yourself safe and utilize best practices as a rider. These services can be a great alternative to traditional taxi services and with added features like payment through the app, GPS navigation, ride splitting, and location tracking, it's no wonder their popularity has risen exponentially in recent years.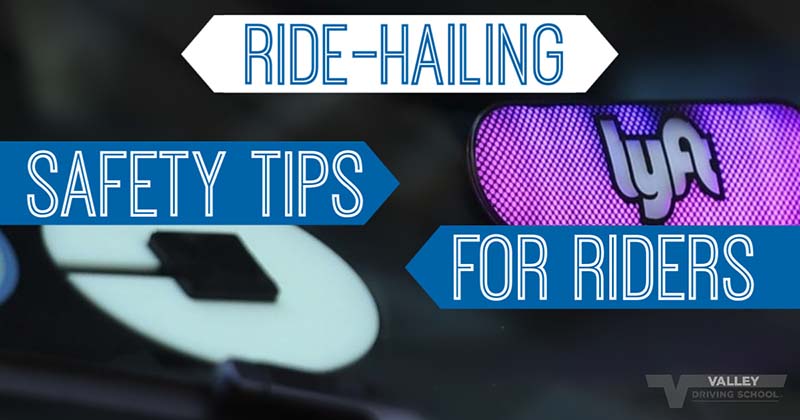 But, even with safeguards in place, it's still important to be proactive. Here are our top safety tips to keep in mind when using a ride hailing service in British Columbia:
Stay Safe & Stay Together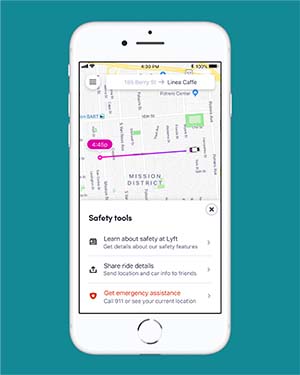 When you request your ride, be sure to wait in a safe and well-lit, preferably indoor area. Waiting alone in dark or unsafe areas can attract pickpockets or other unwanted attention. Plus, it's warmer indoors during the winter. Most ride hailing apps give you a two-minute grace period to find your driver once they've arrived before the driver begins charging you for the ride.
Stay safe while you're riding as well. When you can, be sure to share a ride with a friend. If that's not possible, Lyft has a handy feature called "Share Route" (Uber's equivalent is "Follow My Ride") that allows you to share your location and trip status in real time with family and friends. And, just as you would in your own car, it's important to buckle up any time you're riding in a vehicle. Drivers are required to follow all laws and posted speed limits, and they should always avoid driving distracted. If your driver is operating the vehicle or behaving in a way you feel is unsafe, you should point out your concerns, or you even have the option to end the trip and request to be dropped off. There is a 9-1-1 in-app emergency button in both the Lyft apps and Uber apps if you need immediate first responder assistance and they both provide a 24/7 Safety Team that can help you with non-emergency assistance, such as a safety incident or citation.
Getting ID'd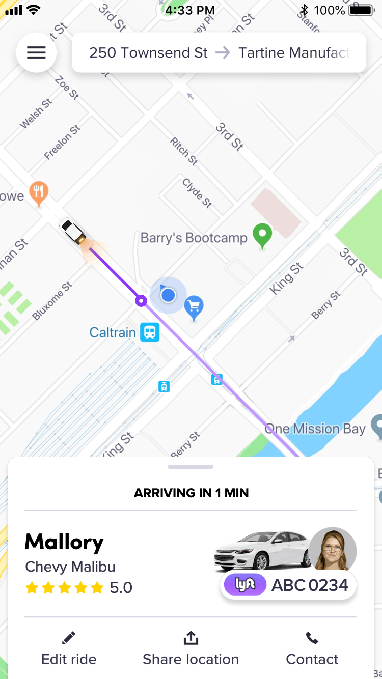 Always look for the Lyft, Uber or identifying logo on the front windshield of the vehicle, prior to entering. Before your ride gets underway, you should identify your driver and they should identify you. If you ask your driver to present proof of employment or identification, they should be able to do so without hesitation. You can also check the model and colour of the vehicle before you get in to ensure it matches what's stated on the app. Use the Amp (with Lyft) and the Beacon (with Uber) to identify your vehicle. The colour of the light is customizable to easily identify which vehicle is yours, especially at night or at busy venues like concerts or sporting events.
To ensure you are getting in to the correct driver, Lyft will have your name scrolling by on their readograph. Uber has implemented a new rule requiring drivers to verify your name when you get in the vehicle before departing, but you should always ask the driver to positively identify you, or tell you your own name, before you get in the vehicle. A legitimate driver will always have your details handy via his app, including your intended destination.
Keep It Informal
Making conversation with ride sharing service drivers is much more common than it is with a typical taxi driver - Uber even alerts you when you've been matched with a driver that's known for his or her great conversational skills. Don't feel pressured; however, to share more than you feel comfortable with. Your driver should not ask you personally identifying questions, other than the ones he or she needs to confirm they've picked up the correct passenger.
Check Your Surroundings
Start your ride in the back seat, as providing a physical distance between you and the driver is safer, and in most vehicles, provides you with at least two points of exit. While the back of a ride sharing vehicle can be a great place to get a bit of work done or catch up on texts, always keep an eye on where you're headed. Even if you're in an unfamiliar city, you can check your phone's maps app or in the ride hailing to ensure your driver is headed in the direction of the location you indicated.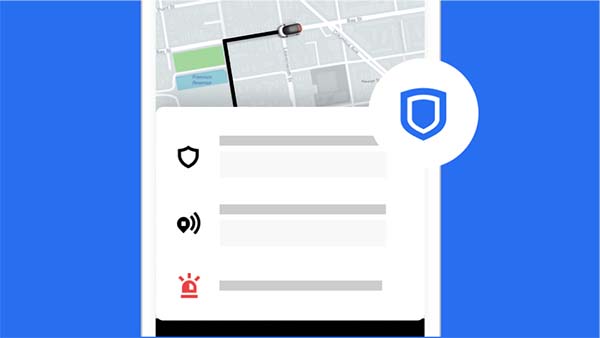 With Lyft and Uber's GPS technology, your ride will arrive in the closest safe location to pick you up to the pin you select on your side of the app. There will be no need for you to jaywalk or dart out into traffic to meet your driver. If your driver parks somewhere that you feel is unsafe, you can request for them to choose a different location. Make sure to shoulder check for other vehicles, bicycles, and pedestrians before opening your door.
Rate & Provide Feedback
Even if your ride was uneventful, sharing feedback via the app is helpful to ensure good drivers are connected with more passengers, and that criticism and concerns can be followed up on and, if necessary, unsafe drivers can be removed from the service. If you rate someone as three stars or less with Lyft, you will never be matched with them again for rides. If you feel uncomfortable with a certain driver, this will help you avoid that specific driver in the future.
New Safety Innovations
Both Lyft and Uber are always innovating with new safety features to make rides even more enjoyable and trustworthy. Lyft is currently developing a system that will predict when you should have arrived and will check in to make sure you're safe and is making it mandatory for all of their drivers to attend a Community Safety Education seminar. In late fall of this year, Uber announced that riders would now be alerted when they were being dropped off by a bike lane – improving not only rider safety, but cyclist safety as well.
Enjoy the Ride!
All things considered, trying out these new ride hailing services should be fun, convenient, and a handy new way to get to where you need to be. Being proactive and keeping yourself safe is always important whether you're driving your own vehicle, taking public transit, hailing a taxi, or using a ride hailing service. Following these tips will help reduce the risk of ending up in a dangerous situation and together, we can help keep everyone safe.