Driving Instructors are more than just the people hired to help new drivers learn the ropes. They're trained professionals who undergo rigorous training and certification processes, as well as background screenings and medical evaluations.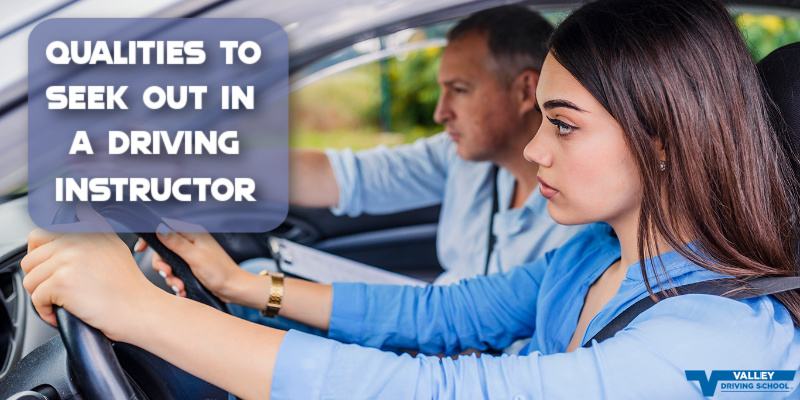 Effective driving Instructors are selected for their ability to confidently and cautiously read driving situations, assess potential driver anxiety, promote safe and defensive driving skills while still having fun. In this post, we'll discuss important qualities to seek out in a driving Instructor.

Calm, Cool & Collected

Teaching new drivers can be hectic, taxing, and rewarding. The ability of a driving Instructor to remain professional, calm and patient in a stressful situation will in turn help their student remain calm. This provides an environment that focuses on driving proficiency and learning, rather than the nervousness or chaos of the situation.
Students make mistakes just like every other driver on the road, and they don't always learn applicable defensive driving skills or maneuvers on the first try — practice makes perfect. An Instructor who is willing to be patient and allow the student to make mistakes will ensure that the student is able to learn from their habits, mastering their skills as time progresses.
Ready, Set, Coach!
Instructors who are willing to try different teaching techniques like verbalizing directions, giving physical demonstrations, or drawing out a driving maneuver can be beneficial. Students who are having difficulty mastering a skill, or those who learn differently may require a different approach than other students.
This adaptability while teaching is a key quality of an effective driving Instructor because it allows for a spontaneous pliability that benefits a larger number of students, not simply one group who learns a specific way. This adaptability is a great tool for finding ways to communicate with everyone.

Effective Communication – Can You Hear Me Now?
Secondary to communicating the required skills and maneuvers associated with driving, communication branches out to cover various sectors of teaching. Being able to motivate students through active and engaging training can help them in their own training and development as drivers and ensure a successful and productive training session.
Driving is a privilege, and not a right - but it's also a huge milestone for all everyone that should be celebrated. A driving Instructor who can proactively bridge the gap between fun and work is an Instructor who can communicate the importance of the rules of the road, while enjoying the drive.

Left, Right, Left

Driving instructors must be able to navigate through cities, rural roads, highways and freeways, and everywhere in between to find student addresses for pick up but this doesn't mean you need to be a one-person GPS unit.
For some, this means taking the time to explore and learn the immediate area that training will occur in to find suitable areas for training. Driving Instructors should always have a variety of environments in their back pocket to expand and challenge the horizons and driving skills of their students.
For example, an proficient Instructor will always make sure they have a variety of areas nearby to teach parking such as a hill, along a curb and another location without a curb. Parallel parking abilities are often part of driver training so using areas with larger more forgiving spaces, and then graduating to a smaller and tighter parking area will test a formal progression of skill.
Get Your Motor Running And Head Out On The Highway
Teaching new drivers the joys and skills of operating a vehicle won't be much fun if the Instructor doesn't enjoy driving. A defining quality of driving Instructors is that they enjoy their job, but also enjoy driving; and this doesn't just mean driving on a sunny day on a beautiful, windy country road. Instructors will inevitably spend significant time battling traffic, both as the Instructor and as a driver heading from lesson to lesson. There's a lot of sitting involved, and many potentially patience-testing situations to encounter.
Driving Instructors who are able to enjoy driving through their everyday tasks associated are able to do so because they permit themselves small luxuries and remember that their demeanor while driving is the attitude translated to their students. Instructors often drive nice vehicles as a way to enjoy the position, and some go the extra mile by investing the time to clean, wax, and vacuum their vehicles. They're perpetually driving around in a vehicle that is in a constant showroom state.

Safe Driving History
A trustworthy and professional driving Instructor must be able to demonstrate their ability to uphold a clean and safe driving history. As part of the Instructors' licensing process, ICBC conducts a background check into an Instructor's driving history, as well as other screening procedures to ensure the Instructor can practice what they will preach.
A safe driving record means that the Instructor not only can operate a vehicle safely, but that they can do it while demonstrating and following the rules and regulations of the road anytime they are behind the wheel.
Know Your Rules
ICBC requires Instructor applicants to meet a minimum standard prior to becoming an Instructor by passing a knowledge test and on-road driving evaluation. An excellent knowledge of the rules and regulations of the road will help driving Instructors continue to pass on accurate and up-to-date knowledge to their students. Driving Instructors constantly find themselves in the student mindset, continuing to learn and adapt their own skills to pass on to others.
Instructors must be knowledgeable and confident on all driving practices, rules and regulations. This ensures they are capable of the responsibility of their role and creates a student/teacher relationship based on trust and ability.

Driven To Provide Exceptional Customer Service
Finally, driving instructors must be kind, friendly, and generally excited to be teaching others to drive. An exceptional level of customer service can't be emulated any other way than by being a cheery, friendly and engaging individual. Imagine trying to learn how to drive from someone with a monotonous voice, zero sense of humor, and a penchant for spreading an energy of boredom. Not fun for anyone.
Effective teaching and coaching is largely dependent on the way that knowledge can be translated to another person, and when it comes to driving, the best way to engage and support the customer service experience is to smile.
The traits required to be a quality driving Instructor are vast; it takes a special type of person to be able to teach, demonstrate empathy, and coach new drivers through a formative skill of their lives. The role takes constant dedication, and it's also a very rewarding position as Instructors personally influence the safety of the roads around them for everyone.