We've all seen it – the person who underestimated the size of their order versus their vehicle at the furniture store, the car with a too-large load halfway out of the trunk, or the mattress strapped precariously to the roof. Improperly or unsecured loads can pose a serious danger not only to you, but to other drivers and riders on the road. Even pedestrians can be injured by an improperly secured load.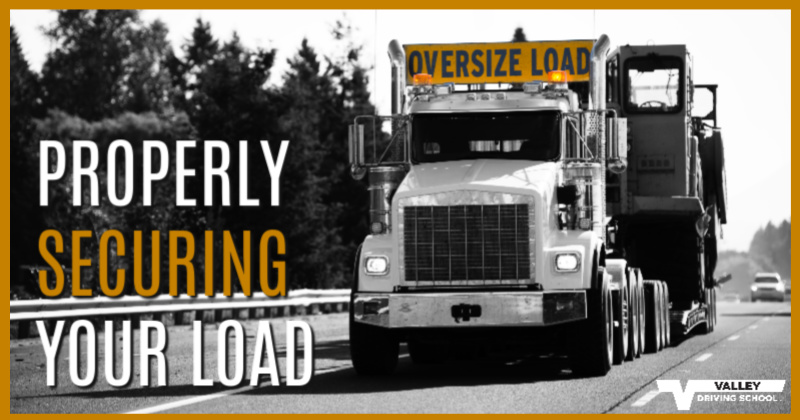 Patience, proper and well-maintained equipment, and knowledge of how to operate your vehicle and/or trailer is all you need to be a safe hauler on the road. In this week's blog post, we're discussing how to properly secure your load no matter what you're driving, and how you can keep yourself and other road users safe from preventable incidents.

Commercial Drivers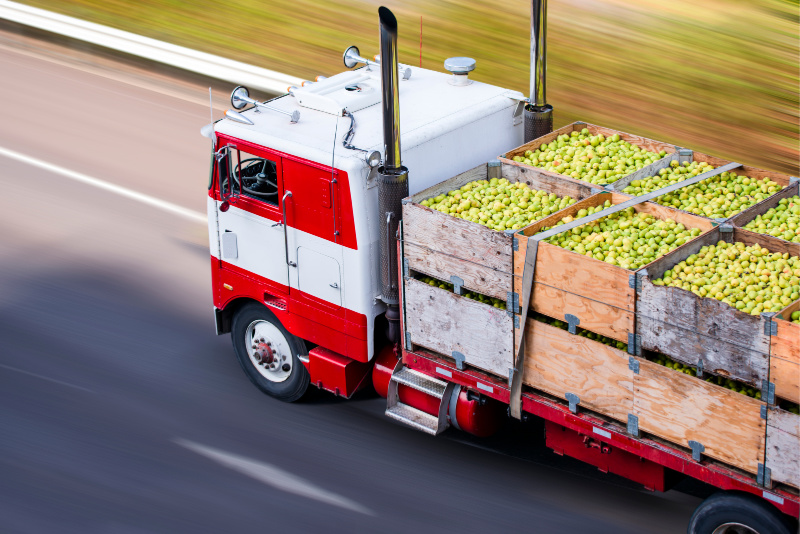 Commercial truck drivers are responsible for securing and hauling many different types of loads and cargo. Learning to safely secure their load is an essential skill for a professional driver. In BC, a common type of hauler is a flat-deck (or flat-bed) trailer, which is used to transport pipe, lumber, equipment, steel, and other products. Properly securing a flat-bed load is crucially important, as there are no walls nor enclosure to prevent a load from coming loose.
Although container trucks and dry vans have an enclosed space to hold cargo, drivers are still required to secure their load to ensure it doesn't come loose or become damaged during transport. Loose cargo in an enclosed trailer can still pose a great risk of injury or incident to other road users in the event that the load is lost.
First, you need to ensure that your tie-downs have a combined rating equal to at least half of the loads' total weight. Depending whether or not your flatbed trailer has a header board, the working load limit of your tie-downs, the number of, and position of your tie-down straps will vary.
It's important to plan ahead and travel with an adequate number of tie-down straps depending on your load size (plus extra in case one or more become damaged or broken). Keep your eye out for warping, fraying, small cuts, or any other signs the integrity of your strap or chain may be compromised. When it comes to container loads, void fillers can be added to empty spaces between items to prevent them from moving and shifting during transport, especially when cornering.
When hauling a dump truck load like sand or gravel, you'll likely need to tarp your load. This is important for both road safety – avoiding stray rocks or aggregate from striking other motorists – as well as for environmental safety. Depending on what and where you're hauling, there may be strict rules regarding environmental contamination. Most dump trucks have a retractable tarp that the driver can open and close from the truck's cabin.

Recreational Drivers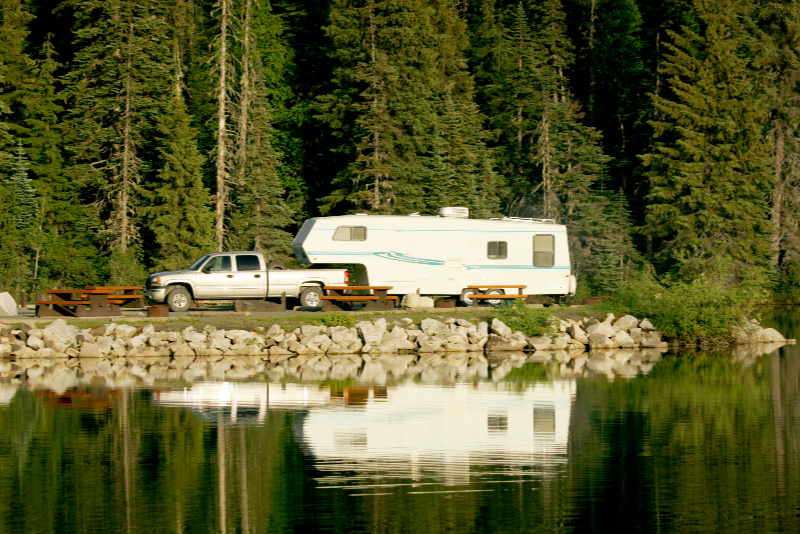 Even if you're not a commercial driver, it's still important to know how to secure loads like furniture, bikes, luggage, and more. If you are driving a motorhome or hauling an RV, be sure to secure the interior load, including the refrigerator or internal doors. Forgetting this step may likely leave you with a messy surprise at your next destination. Additionally, balancing your load for driving will make for less sway and a smoother, safer trip.
Packing liquids and other breakable containers in the door of the refrigerator will leave less chance for tipping and spilling. You can also purchase additional refrigerator bars that can be temporarily installed to prevent items from shifting. Be sure to close and lock all doors and drawers where possible.
If you are using a hitch-mounted or top-mounted rack for transporting bikes or recreational equipment, it's important to note whether or not the rack is rated for RV use. If using a roof rack or luggage container, be sure to calculate the new total height of your vehicle. Your load may now be too tall for low-clearance bridges, gas stations, parking garages, drive-thrus, and more.
A utility trailer can be a handy purchase for any class 5 driver, especially as summer approaches and dump runs and landscaping projects become more common. Even with a small trailer, the same rules for securing your load apply. First, be sure to check the load rating of your trailer. Overloading a trailer is dangerous and can damage both it and your vehicle.
Loose cargo like dirt, landscape trimmings, and garbage must be secured with a tarp, just like a commercial dump truck driver would. Solid items should always be secured with tie-down straps. Try your best to evenly distribute the load across the trailer. Before departing, be sure your load doesn't obscure your licence plate, brake lights, or indicator lights (you must also test these before you take your trailer on the road).
If you are hauling items in the bed of your truck or trunk of your car and the item extends beyond the length of your vehicle, you must mark the end of the load with a flag. It can be difficult for drivers behind you to judge the length of your load without one, especially in low-visibility conditions.

Motorcycle Riders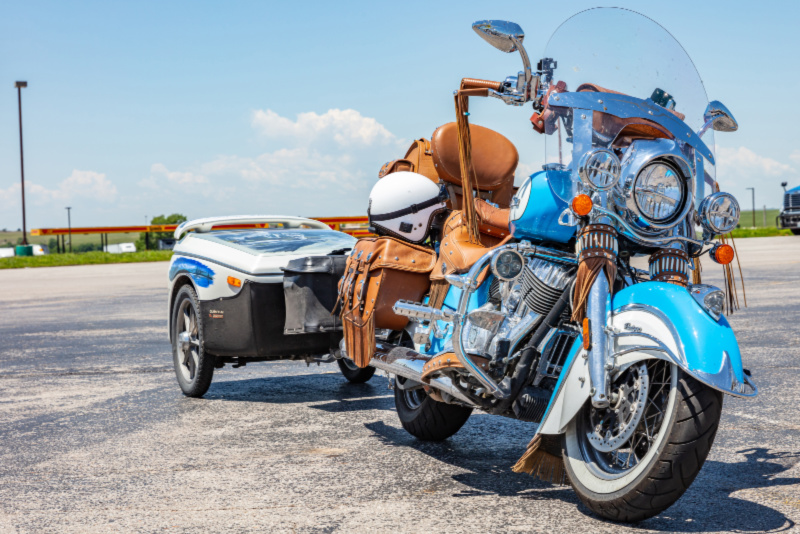 You may not think of needing to secure loads while riding a motorcycle, but there are trailers for bikes out there! Most trailers that can be towed with motorcycles are more similar to a portable car trunk than a flat-bed trailer, but users should still be aware of contents shifting and moving while they're on the road. Pack strategically and make use of bungee cords wherever possible to secure things down.
If you're not ready to commit to a full trailer to pull behind or it's bigger than what you need, saddle bags give some additional space for riders. If you are going to use saddle bags, make sure that they have equal weight on either side of the bike, to keep you balanced as you ride. Whether you are using cloth or leather saddlebags, or something a bit more rugged like aluminum side cases, they should be securely affixed to the backend of your motorcycle. Saddlebags and side cases typically come with their own straps or racks to keep everything locked down while you cruise!
For anyone that has space for a passenger, you may want to keep a spare helmet handy for any unplanned rides. Unless you have a trailer and a larger saddlebag, there isn't much extra space to store another helmet. We recommend investing in one of two options: a helmet bungee or a cargo net. The helmet bungee is specifically designed to hold a motorcycle helmet onto the back of your bike and secures perfectly to the backend frame. A stretchy cargo net is a bit more versatile, and can be used for holding down a spare helmet, a jacket, or other small compact items.
Rules and Regulations
One thing to remember before you start loading up; load security requirements can vary based on the vehicle you're using to haul materials as well as the actual load being hauled. All information provided here is only a summary and doesn't include all cargo or all requirements. Pipes, coils, intermodal containers, hauling vehicles as cargo, boulders, livestock, hanging meat, and liquid loads will all have unique load security requirements. The ICBC Driving Commercial Vehicles manual and Cargo Security - Book 2 outline the specific requirements for load security for commercial vehicle drivers.
--
Whether you're a professional driver, just working on some DIY home improvement, or looking to expand your cargo space, preparing accordingly and securing your load is paramount to your safety and the safety of others. If you're ever unsure, err on the side of caution and call a professional for assistance.