If you're a commercial truck driver, knowing how to avoid and prevent injuries is an important part of your job! If you're new to the trucking industry, taking some time to know common injuries that you may encounter on the job will help you to avoid and prevent them. It's crucial to protect yourself from taking unnecessary risks.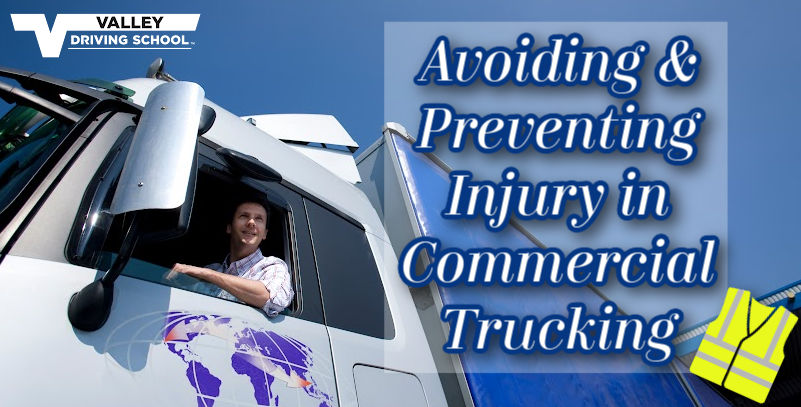 Working in commercial trucking comes with a variety of risks, some that have nothing to do with driving at all. Many actions and movements required come with the risk of sprains, strains, and other injuries because of working in awkward postures for extended periods of time such as twisting, bending forwards, or reaching over your shoulders, using force after sitting for an extended period, or even just repeating the same movements frequently.
To reduce injury risks that come with common workplace activities, whenever possible apply the old adage of "work smarter, not harder". Use tools or equipment that will relieve the stress and potential injury to your body and don't overexert yourself!

Load Security Injuries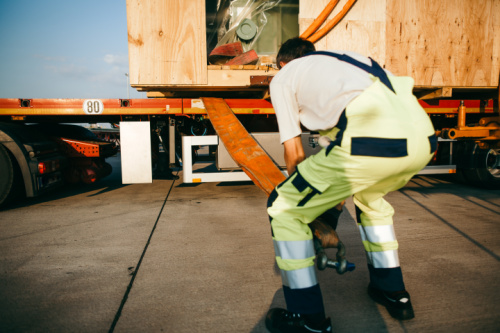 A common area for injuries is when working with cargo. Whenever adding or removing straps on flatbeds, first check that the straps are in good condition with no signs of wear and tear to avoid them snapping and resulting in a hazardous kickback. When throwing the straps over a load, throw with sufficient force to get it across the load while being mindful to not overexert yourself. If the load is low, there's no need to throw – you can simply roll it across to the other side! Never throw the metal end of the strap, as it can injure those working around you who are not aware of them.
Fall Injuries
Falls are among one of the leading causes of truck driver injuries so it's important to get in the habit of using the 3-point contact method whenever you exit the cab as this is the most common area where fall incidents occur. Use the steps and handrail to maintain 3-point contact when leaving the cab rather than jumping (jumping can apply a force of up to 8x your body weight on your muscles, bones, and joints!). Ensuring you have adequate footwear with solid grip, taking a second to look for slip hazards or obstacles, and not rushing are a few other preventative measures you should be in the habit of doing.
Driving Injuries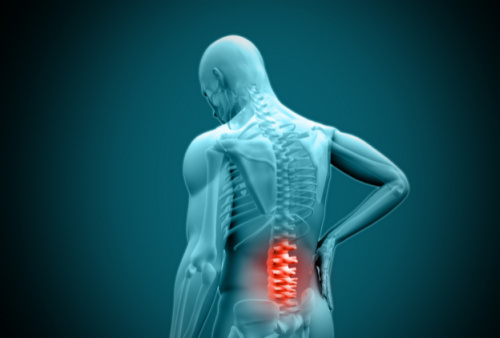 The mere act of sitting for a prolonged period of time isn't the best for our back, which means one of the biggest ways to prevent injury is to take regular breaks and stretch or exercise outside of the cab. It's recommended that drivers should take a break to stretch, exercise, or walk around for 10 minutes, for every two hours of driving. A few more things you can do for a more comfortable, and less back-breaking, drive are:
Recline your seat to an angle past 90º to ensure your lower back has adequate lumbar support.
Adjust the hydraulic features on your seat to reduce the risk of bottoming out which impacts your body.
Adjust the steering wheel so that your elbows are close to your sides.
Adjust mirrors so that you can see them without slouching or twisting.
Anytime you are driving in the rain, fog, or snow, extra precautions should also be taken to ensure your safety and the safety of those on the road with you. When it first starts raining, the road has a buildup of grime and oil that will be especially slick until there's been enough rain to wash it off. Adjusting your speed to the conditions and visibility, ensuring your headlights and taillights are clean, and leaving extra space between you and other vehicles are important basics to practice. Additionally, you should be making sure you're not using high beams during fog and snow and if you ever start to skid, simply look where you want the truck to go and steer in that direction. Avoid braking or accelerating, as this could result in further skidding!
–
Since truck drivers work a large part of their job alone, it's important you're familiar with Occupation Health and Safety (OHS) standards and protocols along with your employer's additional protocols, if they have any. Always follow these to the best of your abilities and don't hesitate to ask your employer for more information or training if you're unfamiliar with the safety protocols in place.