While our staff is most definitely filled with car lovers, more than a few are avid motorcycle fans too, so we couldn't possibly have a blog post dedicated to iconic cars and not do right by their two-wheeling counterparts…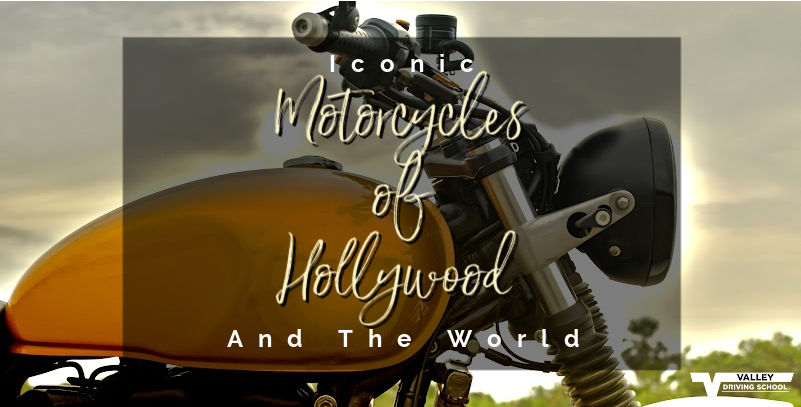 Who knows, maybe once you've read through the list of iconic motorcycles, you'll become a convert.
The Harley-Davidson Captain America Chopper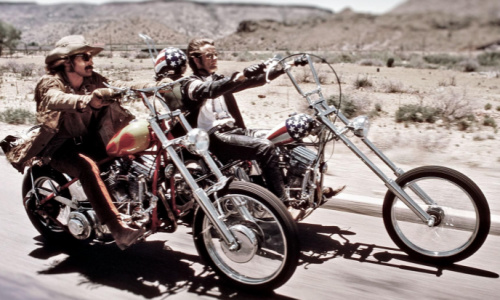 With its hype born from one of the best motorcycle movies in cinema history, Easy Rider not only taught us how to appreciate bikes, it made the 1959 Harley-Davidson Captain America Chopper a legend. With shiny chrome finishes, a stretched out wheel-base, and pulled back handlebars this bike is exactly the type that comes to mind when most people think of motorcycles, and more specifically, choppers. Originally it was the 1952 Harley-Davidson Hydra-Glide that Peter Fonda purchased at a police auction and then had customized by Tex Hall and Dan Haggerty making it the most legendary Harley-Davidson in the world. And after it sold for $1.35 million – one of the most expensive, too.
Yamaha XT 250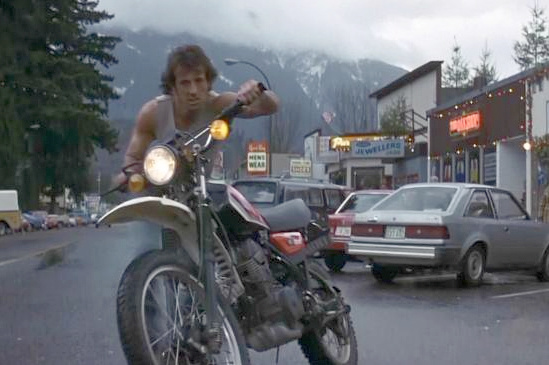 This dual-sport, 22 horsepower motorbike became iconic all thanks to one police chase scene in arguably the best Rambo movie, First Blood. The bike initially debuted in 1980 and instantly became a staple of farms and backroads for its diverse off-roading ability which is highlighted perfectly in the scene as Rambo manages to seamlessly weave in and out of traffic, jump over train tracks, breeze through muddy terrain, and clear a downhill slope to escape into the woods. The film came out in 1982, sparking a love for dual purpose motorcycles across the world.
1985 Kawasaki Ninja 900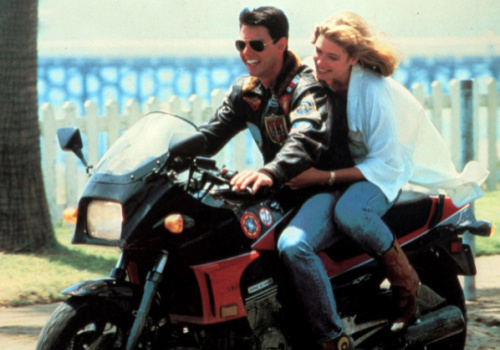 Thanks to Tom Cruise's infamous role as Maverick in Top Gun, the Kawasaki Ninja 900 became infamous too! However, if you're thinking it gained its notoriety all because of Cruise's envied good looks – think again! This baby came with all the technical advances of its time after being developed in secret over a six-year span. With a 6-speed transmission, and a horsepower rating of 115bhp, the Ninja was able to reach a top speed of 151 mph! The movie made sure to showcase this by having Cruise race against F-14 fighter jets in the final scene. It was also the world's first 16-valve liquid-cooled inline 4-cylinder motorcycle engine, putting Kawasaki light years ahead of their rival manufacturers, however that was a trickier component to advertise via film.

Harley-Davidson Fat Boy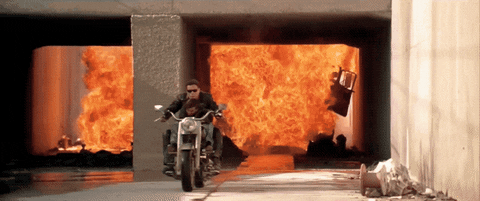 Coming from a sequel that made cinematic history, is a hefty motorcycle that did just the same. Clearly the team behind Terminator 2 knew that when it came to selecting a bike for Arnold Schwarzenegger, it had better fit his build. Enter the 1991 Harley-Davidson Fat Boy. With a heavy duty 49 horsepower capacity, its engine growl makes us purr and its top speed of 91 mph is impressive considering its 300lb weight. With only 630km on its odometer, Arnie's bike recently sold in an auction for close to half a million dollars!

Suzuki Hayabusa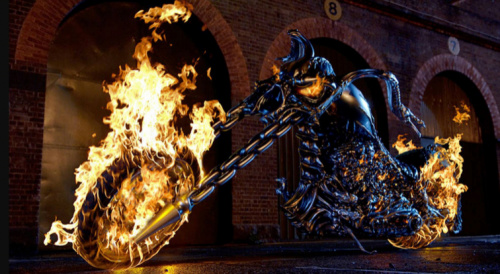 While flames shooting from your motorcycle may not typically be a desired feature, it definitely sets the turbocharged Suzuki Hayabusa from the Ghost Rider films apart from your average two-wheeled ride. The custom-built chopper with the orange flames was created from early concept art from Crash McCreery and built by Kirk Petrucelli. This Panhead chopper (nicknamed because of the distinct shape of the rocker covers) with a Harley-Davidson engine, gets its inspiration from another bike on our list – the Captain America chopper from Easy Rider.
The Batpod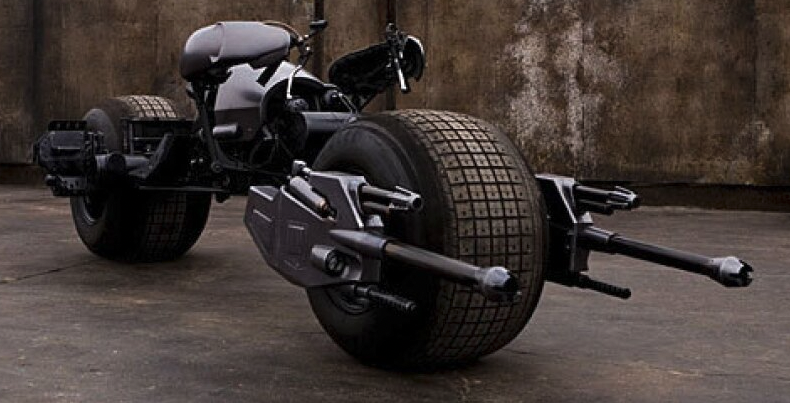 Ok, so this one isn't exactly a motorcycle that can be purchased from any retailer near you, but it is still one for the books. Designed by Nathan Crowley for one of the most epic Batman films of all time, The Batpod is the tactical motorcycle seen ripping around the streets of Gotham in The Dark Knight. Made from fibreglass and armed with cannons, The Batpod is iconic for its two monstrous wheels that can tackle anything that would dare block their path. In total, six Batpods were built and used for filming so if you're wanting to get your hands on one, you'll likely get the chance if you keep your eyes on film auctions!
…well, did we do it? Are you signing up for motorcycle training as we speak?
Knew it.