Emergency medical services are an essential part of any healthcare system, and ambulance drivers play a critical role in ensuring that patients receive timely and safe transportation to medical facilities. If you're interested in becoming an ambulance driver in British Columbia, you may be wondering where to start. This guide will steer you down the right path to becoming an ambulance driver in BC.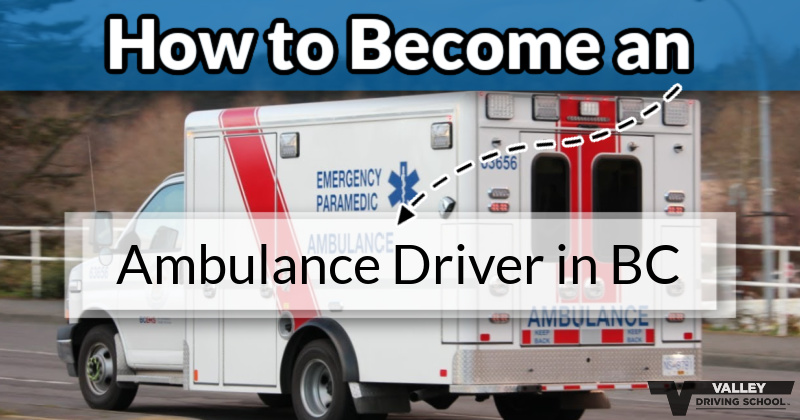 We're covering the licensing qualifications you'll need to become a licensed ambulance driver in the province.
Driver Licensing Requirements for Ambulances
The minimum driver licensing requirement for operating an ambulance is a class 4 restricted licence. Although this is the minimum licence required, BC Emergency Health Services (BCEHS) and BC Ambulance Service (BCAS) have different requirements for driver licences, depending on the specific job position you are wanting to obtain. For Advanced Care Paramedics , they ask for a class 4 unrestricted licence but for Emergency Medical Responders , just a class 4 licence is required. Whatever position you are applying for, you should research further into the specific licence requirements or reach out directly to BCEHS to make sure you are going down the right driver licensing path .
A class 1 or class 2 licence covers a class 4 so if you already have either of these classes of licence, you are legally able to drive an ambulance as well.
Class 4 Licensing Requirements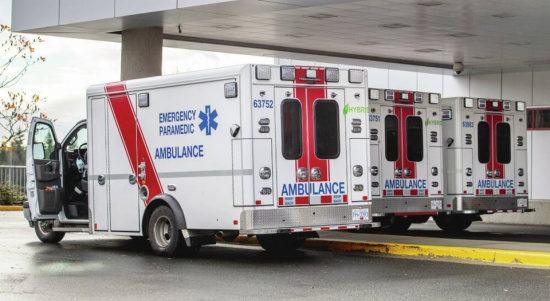 As long as you meet the ICBC licensing requirements for a class 4 licence, you can start the process right away! In order to get your class 4 licence you must have a class 5 or 6 BC licence, be 19 years of age or older, and have a minimum of two years of non-learner driving experience. You must also have a driving record with less than four penalty point incidents in the past two years, have no driving-related criminal convictions within the past three years, and all fines and debts owed to ICBC must be paid.
Class 4 Licensing Process
The first step in getting your class 4 (restricted or unrestricted) licence is to pass a knowledge test at ICBC. ICBC will also conduct a vision test and you must disclose any medical conditions or physical disabilities that may affect your driving. You can study ahead of time for this knowledge test by using the ICBC Driving Commercial Vehicles guide as well as online practice tests . The online practice tests that we provide are based on ICBC's guide as well as the questions they ask during the real knowledge test, and it features a Resource section with excerpts from the Driving Commercial Vehicles guide itself.
If you need some extra assistance to get through the class 4 knowledge test, you can take specific one-on-one tutorial training to ensure that you're as ready as possible. We'll guide you through key concepts and help you to understand the subject matter so that you walk into the knowledge test with confidence.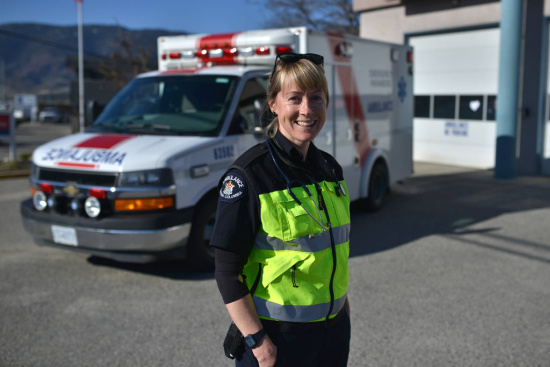 Once you have successfully completed the class 4 knowledge test and have your class 4 learner's licence, you can start your pre-trip inspection and on-road training. ICBC does not require class 4 drivers to conduct a specific amount of driving or training before heading into the road test, but it is a good idea to build up your on-road skills and confidence. During training , you should learn the class 4 pre-trip inspection which needs to be completed in 20 minutes or less. This includes checking the safety and security of the interior and exterior of the vehicle, as well as under the hood.
With some training and confidence built up, the next step with ICBC is to take a class 4 road test! ICBC places a special emphasis on safety and responsibility during a class 4 road test, wanting to ensure that any drivers who are transporting people are doing so with the utmost care and consideration. You will be required to complete a full pre-trip inspection of the vehicle before you hit the road, where you will be asked to complete a variety of on-road manuevers to showcase your driving abilities. You are not required to transport people during the road test itself.
Applying for a BC Ambulance Driver Position
If you're eager to get started as an ambulance driver or paramedic, but don't yet have your class 4 licence, the BCAS encourages applicants to apply or reach out to their Careers Department to discuss your next steps. Paramedics and drivers are in high demand throughout BC and if you fit the other qualifications needed, they may have just the right position for you! You can apply online , and read through the BCEHS FAQ's for the specifics of applying, getting hired, and other qualifications needed.
–
Becoming an ambulance driver in BC is a rewarding career path and with dedication and hard work, you can make a difference.