The best tires to purchase will vary depending on what you drive, where you drive, and when you drive! The right time to purchase tires is before your old ones wear beyond use, and when you live somewhere like British Columbia, it's important to factor in the ever-changing road conditions.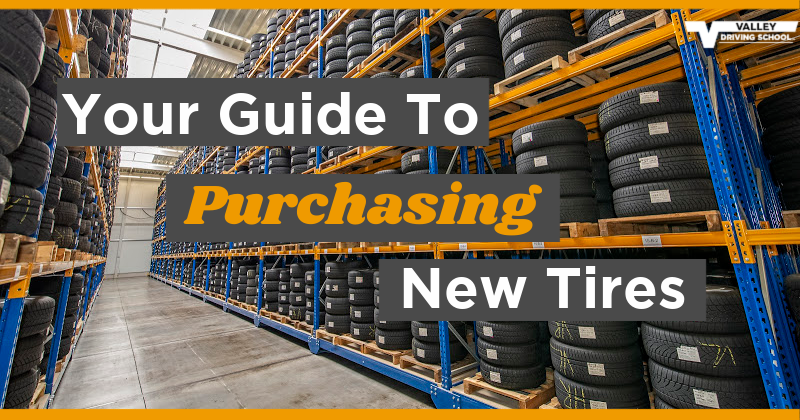 We've got your rims covered with tips for purchasing new tires to meet your driving needs!
All-Season, All-Weather, and Winter Tires
Although labelled as all-season, the tires in this category are typically only appropriate for spring, summer, and fall. These tires are a good choice for warm, dry, and mild wet conditions as long as the temperature doesn't drop below 7°C. The rubber compound used for all-seasons is a hard rubber, which gives tires a longer tread life but loses traction when the temperature dips. These tires have a small and low tread block pattern which reduces road noise and rolls quite well in hot weather. The tread channels will easily fill with slush and snow during poor road and weather conditions, creating a slippery surface.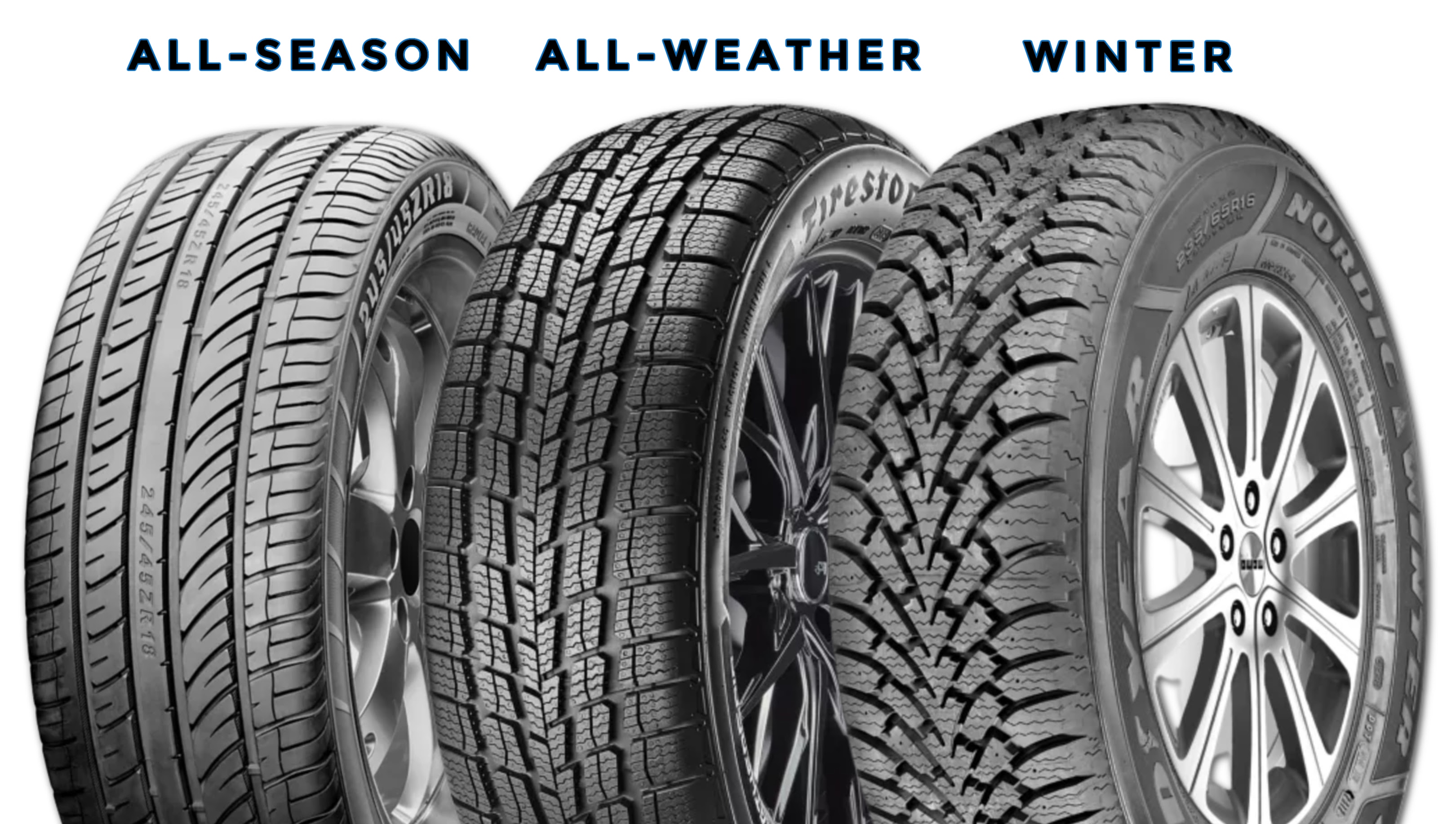 All-weather tires are a step above all-seasons, and are acceptable for driving in spring, summer, and fall, and can also be used in some winter road conditions. With a softer rubber compound that stays flexible in temperatures above and below 7°C, all-weather tires can be used in mild winter conditions with heavy rain and snow that melts quickly, and slush. You'll get reliable grip on snowy, slushy, and wet roads, as well as in bare conditions, as these tires have a thicker tread pattern that allow slush and water to move out from under the tire as you're driving. All-weather tires are equipped with the mountain snowflake designated winter tire symbol, meaning that they meet the minimum safety and traction requirements from BC Transportation for driving in winter road conditions.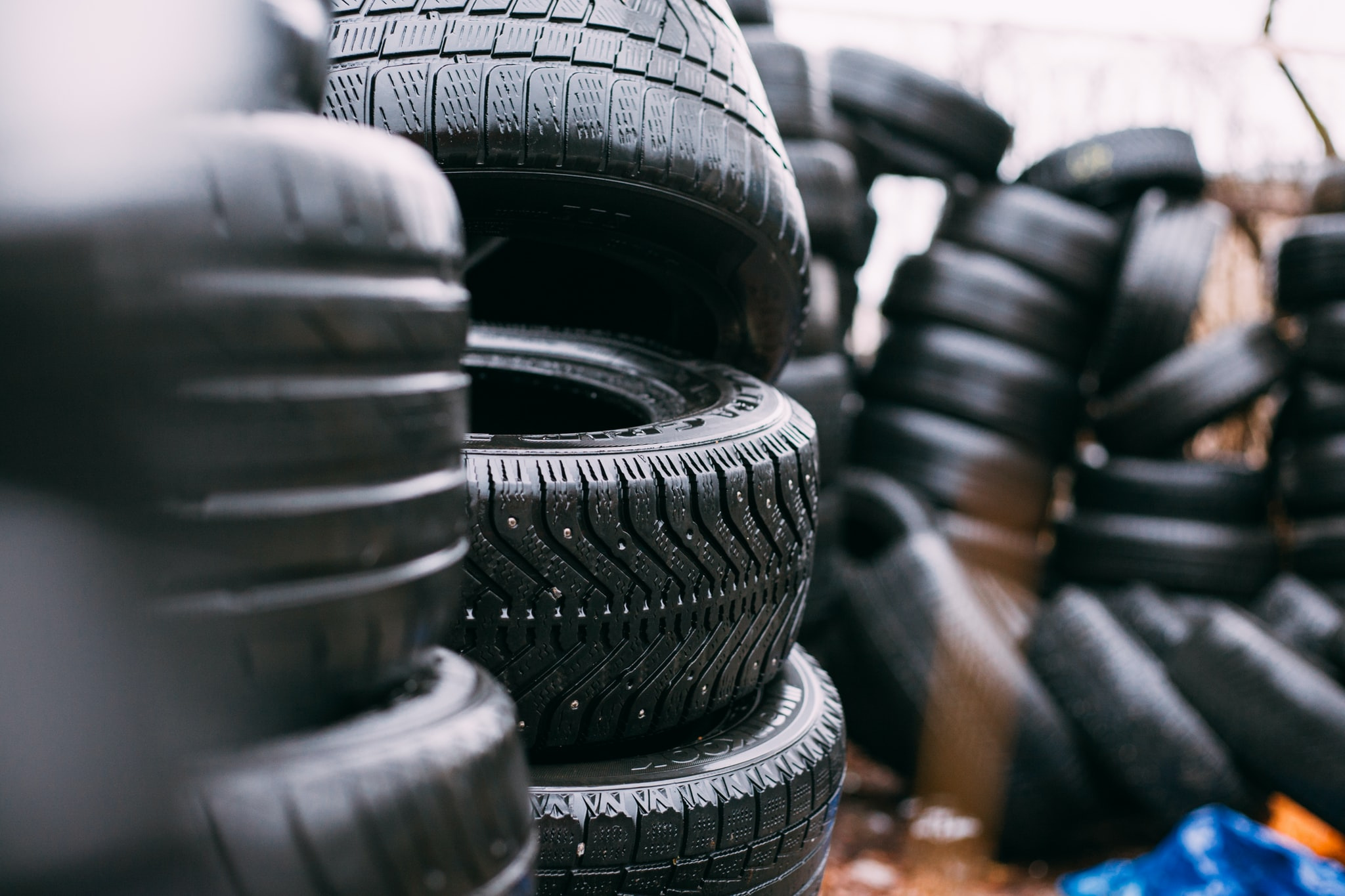 Winter and winter studded tires are the ultimate choice during winter months and road conditions. These tires have a rubber compound that is designed to stay soft in cold temperatures, even down to -30°C, and provide the best traction and grip in snow conditions - giving you full control for braking and cornering in the snow. Like the all-weather tires, winter tires have the mountain snowflake designated winter tire symbol, but are really meant for being driven only in winter road conditions. Due to the soft rubber compound, these tires will wear out quite a bit faster in temperatures of +7°C so it's important to make sure they are changed out when the temperature increases.
Specialized Tires
If you drive a sports car or performance SUV, you may want to consider performance tires. These tires have thinner rubber for a more low-profile look when the wheel is mounted on a rim, giving the vehicle a sleek look. Be cautious, however – performance tires typically come with less tread and when coupled with rear-wheel drive, which most sports cars are, you can be prone to slipping and sliding, even in ideal conditions.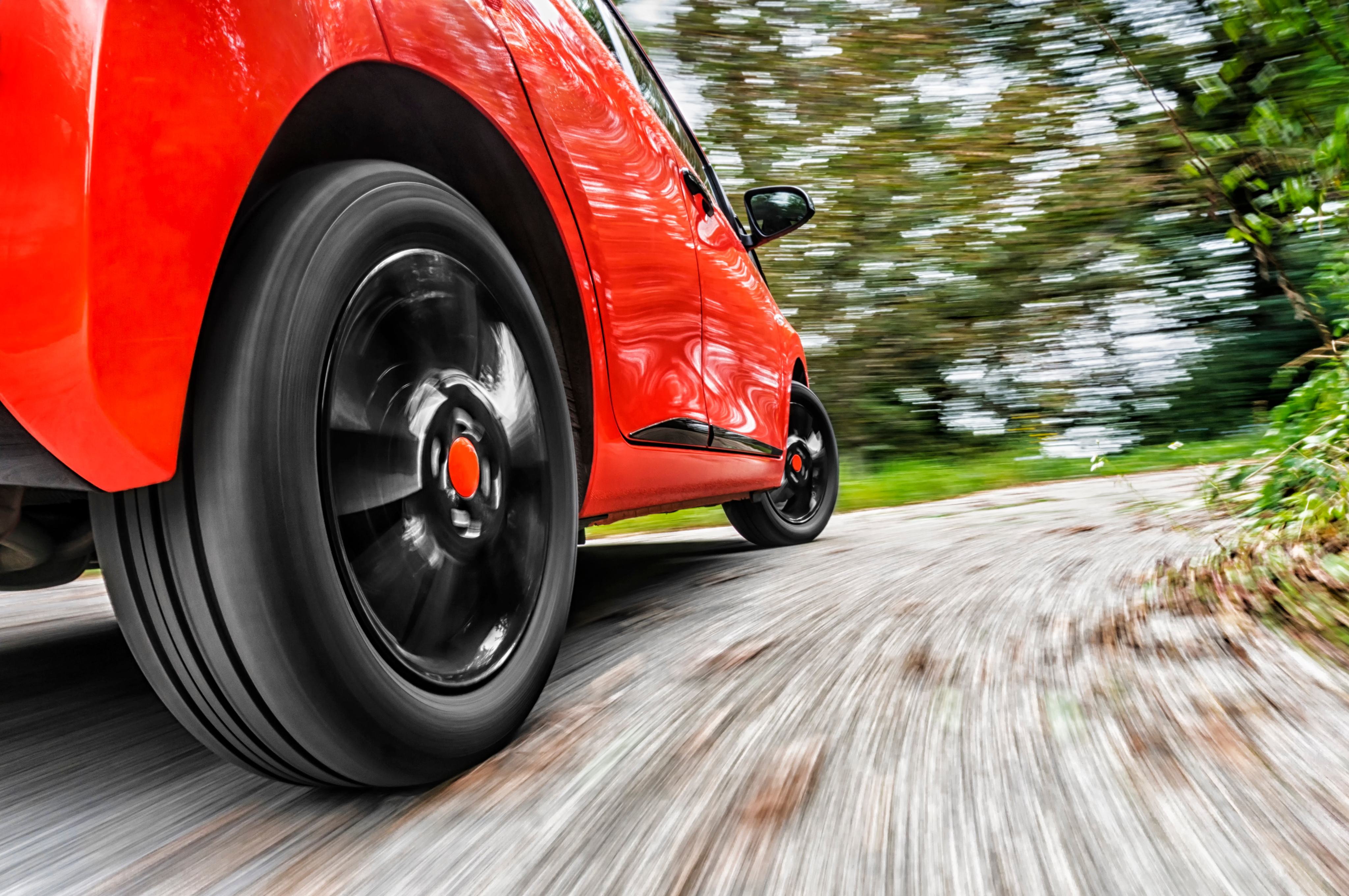 If you drive a truck or four-wheel drive SUV and plan to do any off-roading or travel through the mountains or countryside, you may want to consider all-terrain wheels. These come with larger and grippier tire tread and can stand up to the wear and tear of terrain like dirt, gravel, and mud.

Motorcycle Tires
If you're a motorcycle rider, you have some special considerations to make when choosing your new tires. Depending on what's most important to you when you're riding, you will likely be choosing between sport, touring, and a hybrid often referred to as -- you guessed it – sport-touring. Sport tires will give you the most amount of tread and grip for fast riding and sharp cornering, but you'll likely go through tread at a faster rate. Touring tires are built for long-range riding to give you the best mileage. Hybrid tires give you a great mix of both.
New motorcycle tires are notorious for being slippery, but there are some steps you can take to mitigate this. Referred to as "scrubbing in", this practice will help you wear the edges of your new tires to give you more grip. The best way to do this is with slow figure eights in a parking lot or doing a few loops around the block (at the speed limit!) to warm up the rubber before heading out on your journey. Even with scrubbing in, you should still consider your tires to be new and extra slippery for at least the first 200 kilometres of riding.

Rotating Your Tires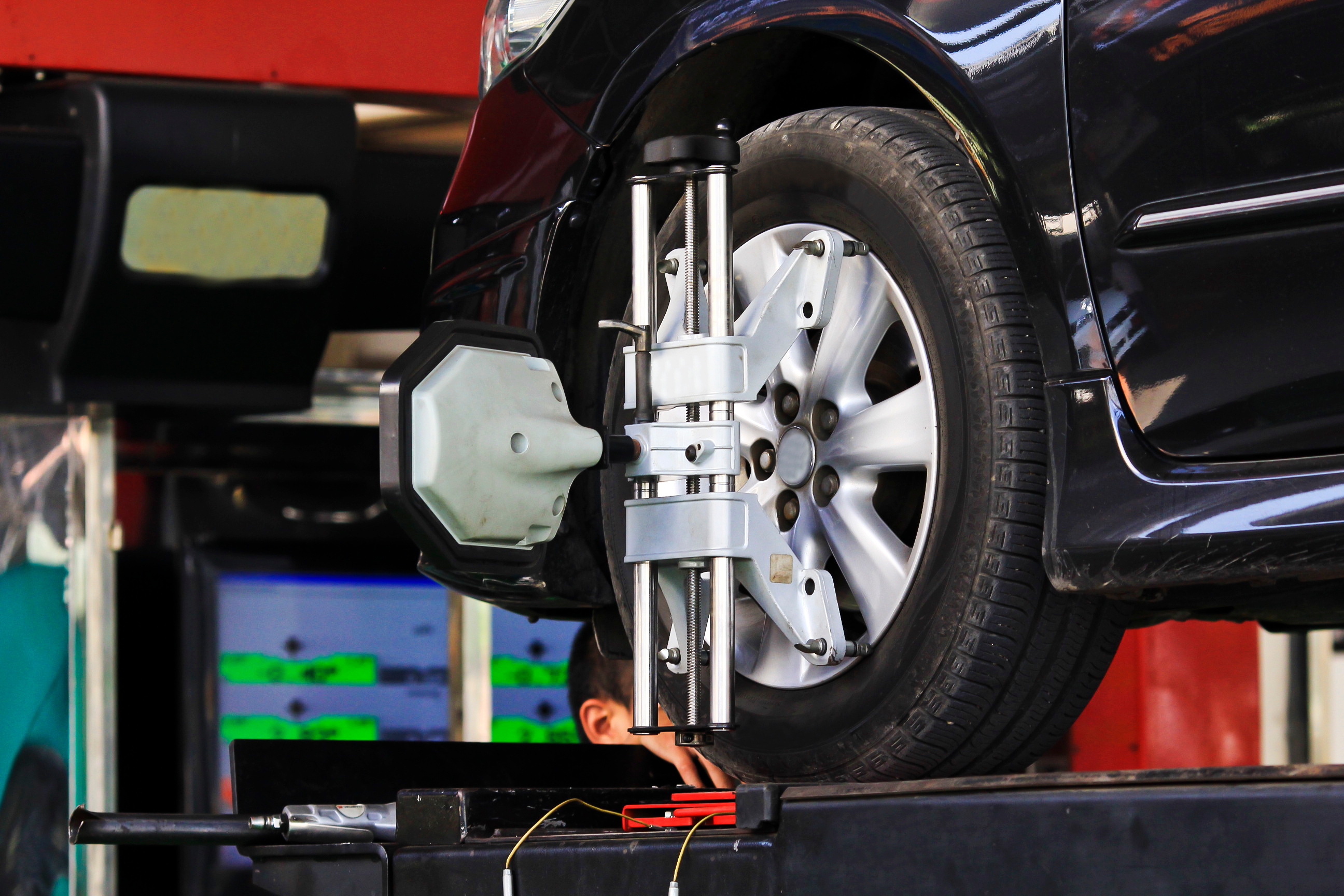 No matter where you buy your tires or how carefully you drive, it's always important to have your tires rotated and wheels balanced on a regular basis. According to tire manufacturer Michelin, tires should be rotated about every six months, or every 10,000 kilometres. This ensures your tires receive even wear and tear. At the same time, you should also get your wheels balanced and check your alignment. If you experience shaking, vibrating, or strange noises when driving at higher speeds, your tires may need an alignment ahead of schedule. It's important to do it right away to ensure you don't wear your tire tread down to dangerous levels.

Expert Installation and Service
After considering what kind of weather or season tires you want, whether you want some high performance, mid-range brand, or the most inexpensive tires you can find, you'll need to purchase them and have them installed. We recommend getting your tires installed by industry experts, like Kal-Tire or TireCraft. Alongside any tire purchase you make, Kal-Tire provides their Customer Care Plan, which starts off with a 30-day no-hassle guarantee. You will also get free flat repairs, rotations, road hazard protection, lifetime balancing, and free air fills - all of which are available at all of their Canadian locations! Tirecraft has a similar option, called the Advantage Plus Program. The Advantage Plus Program offers a treadwear warranty, 20km mechanical warranty, 30-day satisfaction guarantee, free flat repairs, road hazard coverage, and free tire rotations!

--
Tires are a principal part of our vehicle - without them, you can't roll! Taking care of our tires and getting new ones before the tread completely wears out on our old ones are important steps to take for our safe and defensive driving behaviours. Adequate traction and grip on the road, reliable steering and braking control, and comfort behind the wheel all starts with a superior set of tires.