School in British Columbia starts up again soon, which means that school zones across the province will come into effect again too. Knowing when and where school zones are in effect is an important part of navigating the roads through both urban and rural communities, so we're breaking down the top four questions we receive in regards to school zones!

What's the difference between school zones and playground zones?
The main difference between school and playground zones is that school zones are typically in effect during regular school days, over the course of the school year, whereas playground zones are in effect no matter the time of year. The best way to tell what kind of zone you're in is to watch for posted signs.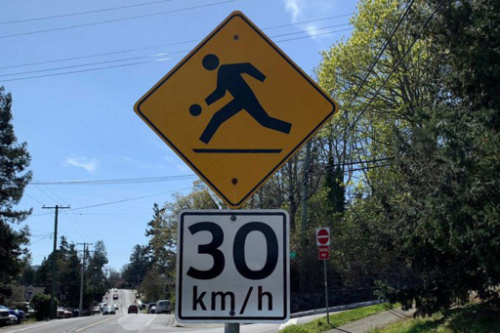 The school zone speed limit is dependent and changes, based on the signs present. You should slow to a lower speed when the fluorescent yellow school zone sign has a speed tab sign paired with it. If the tab underneath only indicates the speed limit, which is often 30 km/h without a specified time of day, that limit is in effect from 8am to 5pm on school days. If there is no speed tab sign, you only need to reduce your speed when children are present.
There are two types of playground zone signs. Like the school zone signs, the speed limit changes when there speed tab signs underneath indicating what the speed limit is. Typically this is 30 km/h as well and is in effect every day from dawn to dusk. If there is no speed tab sign and you just see the yellow diamond sign, this indicates that there is a playground nearby and you should be prepared to slow down.
You can get a sense if schools are in session if the parking lot is full at the school. If the lot is empty, that is a good indication school may not be in session and you can likely drive the posted speed limit prior to the school zone. If you're heading out on a road test, we recommend asking the ICBC examiner beforehand if you need to observe school zones during your road test. This way, you'll receive immediate clarification if you're taking your test on weekends or during a school break.
What guidelines should be followed while driving in school zones?
While driving through school zones, always keep an eye out for children walking or cycling, drive cautiously as you're moving through intersections, and be prepared to stop for jaywalkers and school buses.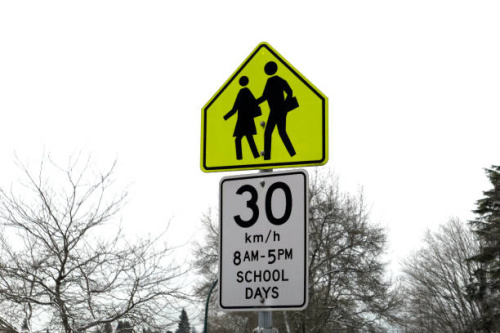 Distraction is a leading cause for drivers in crashes involving pedestrians and cyclists so be sure to stay off your phone and give the road your full attention. Kids are likely to be horseplaying on their way to and from school, as well as during snack and lunch breaks so make sure you slow down and proceed with caution when school is in session, even if you don't immediately see anyone around.
If you're dropping a child off make sure they exit the car on the side closest to the sidewalk and always proceed with caution and be prepared to stop at any moment in a school zone. Watch for other vehicles stopping suddenly as well, they may be yielding to a pedestrian or other road hazard that has suddenly appeared.
There is also increased school bus traffic within school zones, so you should be prepared to share the road with school buses. Watch for stopped buses, flashing lights, and stop signs. School buses could be letting kids off, taking kids on, as well as allowing pedestrians to cross in front of their vehicle so there is a high likelihood that there are children on the road somewhere around the bus.

Are school zones in effect during the summer, spring break, and winter break?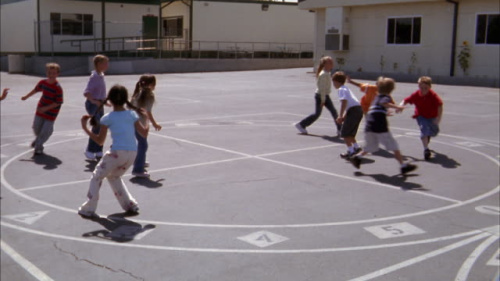 During the summertime, school zones are not in effect, unless they have posted "summer school" signage to pay attention to. Even though the 30 km/hour speed limit is not usually in effect during the summer, it's important to stay aware that children may be playing in the fields and playgrounds beside school so it is important to proceed with caution on these roads.
When it comes to holidays like spring break, winter holidays or even strike periods, unless there is signage in place indicating otherwise, the regularly posted speed limit applies.

What changes are being made to school zones in BC?
In an effort to protect children and youth, school zone times are getting longer and speed bumps are being added near many parks across the province. For example, the 30 km/hour speed limit in Burnaby's school zones will be in effect from 7 a.m. to 10 p.m., Monday to Friday when schools are in session. The hours were previously 8 a.m. to 5 p.m., so this is a pretty significant increase.
–
Whether you're driving through a school zone or playground zone, make sure to be extra vigilant at all times and watch for other road users. Pedestrians, cyclists, and vehicles that may be driving slowly in anticipation of dropping kids off or picking them up are all hazards that could require quick thinking and sudden actions on your part!