In the third and final part of our three-part series, we are looking at lights and symbols that you will only find on newer vehicles. If you're driving an older vehicle, this overview may be a bit envy-inducing as there are some modern lights and symbols that make it easier to figure out what's happening with your car.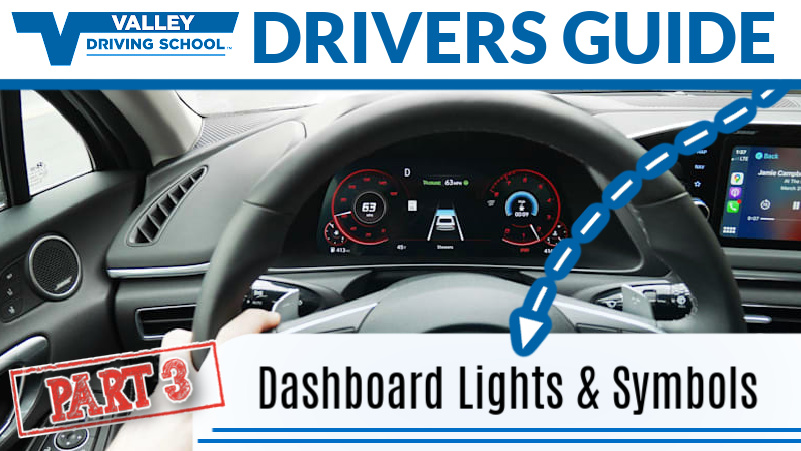 Since the mid-2010's and into the 2020's digital dashboards have become popular and these days it's standard to have them, which brings in more technology than ever before!
Automatic Emergency Braking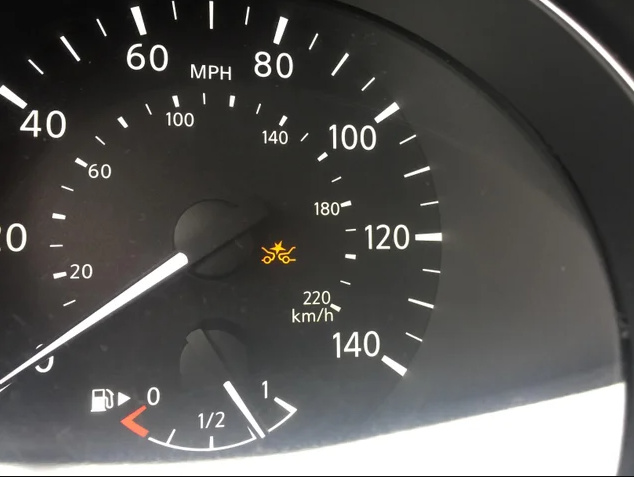 The specific name of an Automatic Emergency Braking (AEB) system and how the indicators appear will vary depending on the make of your vehicle, as many brands have trademarked their own technology. For example, Toyota refers to theirs as "Pre-Collision System", while Mazda uses "Smart Brake Support", and Hyundai uses "Forward Collision-Avoidance Assist". The most common symbol for an AEB system is two vehicles colliding, although some indicators are large triangles or vehicles within a circle. Depending on the make and model of your vehicle, this symbol will only show when the system is turned off or it may show only when the system is initiated.
All of these systems work in the same way: they have sensors built into the front end of the vehicle and when anything comes too close, like a vehicle or a pedestrian, the vehicle will detect this and apply braking power of its own accord.

Blind Spot Warning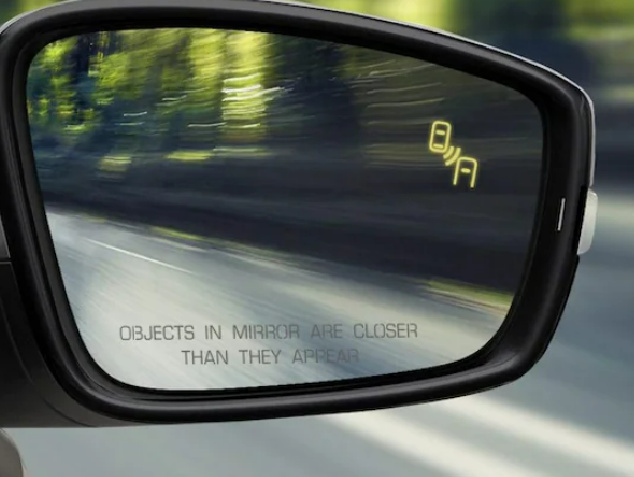 The blind spot monitor uses rear side radar sensors to assist and alert drivers when they're changing lanes. These sensors inform you when a vehicle is detected in the blind spot or, in some makes and models, as vehicles are approaching rapidly from behind and into the blind spot. Most indicators for the blind spot warning are located on the side mirrors and will vary in appearance. Some indicators are just small orange lights and others have a vehicle symbol with motion lines.
There are also some vehicles that will show an indicator on the instrument panel or are paired with a slight vibration in the steering wheel.

ECO Mode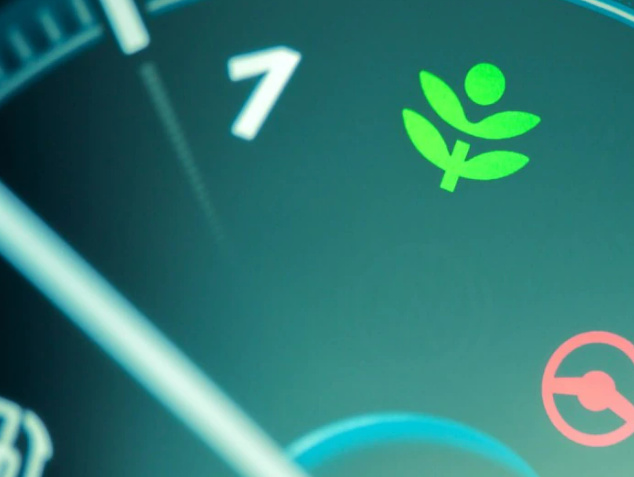 The ECO mode indicator has a variety of different symbols depending on the make and model of the vehicle. The various symbols include a green leaf or plant, a fuel pump hose, a green car, or just the word ECO. For most vehicles, this indicates that you are driving in an economical fashion, with a low-rate of acceleration but many vehicles will also take into consideration the vehicle shifting and braking patterns.
Having a vehicle that has an ECO mode indicator will not necessarily guarantee bettering the fuel economy or saving money, but it does allow you to adjust driving behaviours and work towards lowering emissions and improving fuel economy.

Lane Departure Warning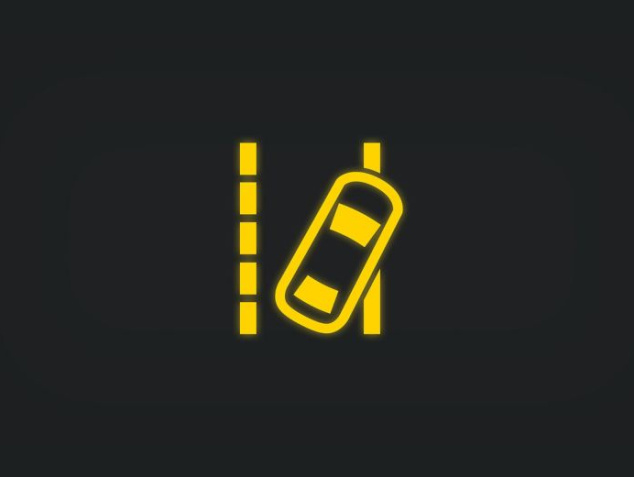 This warning indicates when your vehicle has detected that you are unintentionally crossing a road line or leaving a lane. Modern vehicles have sensors and cameras to detect the edges of any given lane and this symbol will illuminate, or show a car flashing, if the vehicle's computer thinks the vehicle is accidentally moving out of the lane.
Lane departure warning lights will not typically show if the turn signal is activated before a lane change or line crossover.

Smart Key Indicator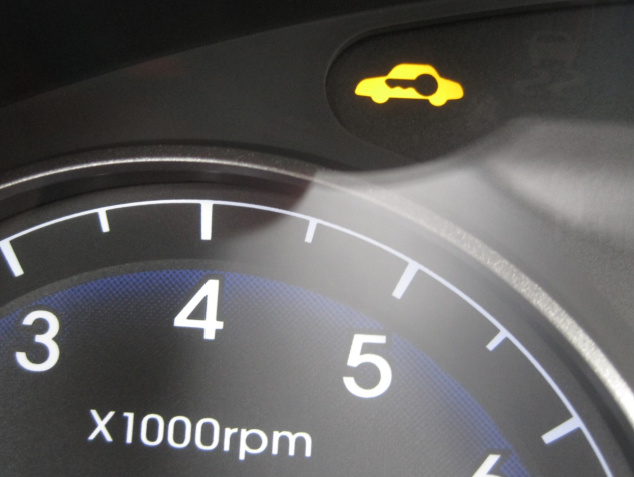 Smart key indicators will appear if you are driving a vehicle equipped with an electronic key. Once the key is within range of the vehicle, this indicator will illuminate to inform the driver they are able to start the engine. If this symbol is not showing, vehicles that have this system equipped will not be able to start the engine.
If you notice that the detection area of the smart key is smaller than what it used to be, this most likely means that the battery of the smart key is depleting and will need to be replaced. You should do this sooner rather than later, and avoid the electronic key system not working.

Tire Pressure Sensor Warning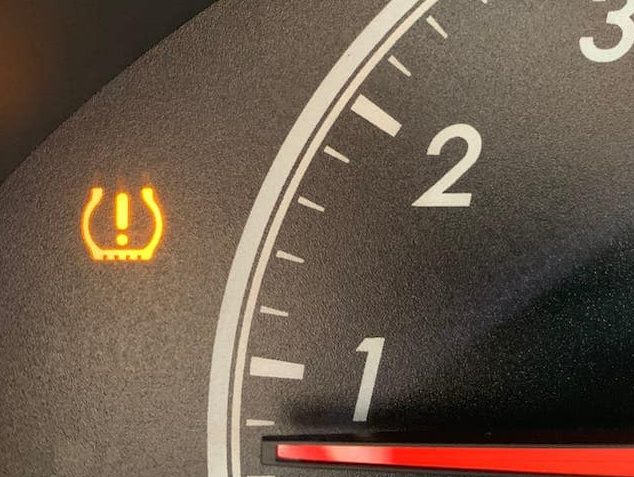 The tire pressure sensor, which is also referred to as the tire pressure monitoring system (TPMS), will illuminate if one or more tires have low inflation pressure due to normal use, a puncture, or a fully flat tire. Although the rest of this article is highlighting features available in newer cars, TPMS technology was mandated for all light motor vehicles sold after September 1st, 2007 in North America. This means that any new vehicle sold here in the last 15 years should have a TPMS.
If this symbol is flashing it typically means that there is a malfunction in the system and it should be checked out by a certified mechanic.
–
This concludes our three-part Drivers Guide series on Dashboard Lights and Symbols. If you missed the first two, or need a refresher, we've already covered six of the most common lights and symbols and taken a look at the variations of lights and symbols that can be found on vehicle dashboards!