One of the things that gets us through the winter months is daydreaming about getting our bikes out of storage and going for the first spring ride. To help us get through these times of seasonal anguish, there's a shimmering beacon of hope that lights the proverbial darkness: the Vancouver Motorcycle Show.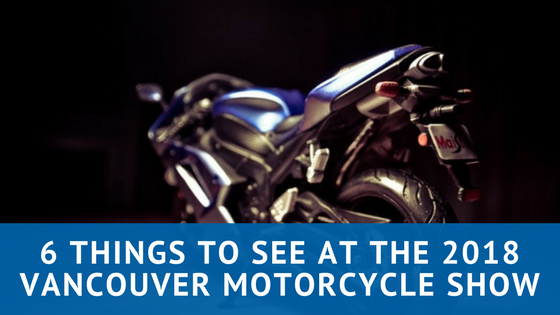 For 2018, The Motorcycle Show is bigger and better than ever - encompassing not only our favourite 2-wheeled rides, but scooters, ATVs and side-by-sides, and new-aged vehicles that emulate the feeling of the wind in your hair on the open road.
Taking place from January 19th to 21st at Tradex in Abbotsford, the Vancouver Motorcycle Show is BC's ultimate power sport showcase. All of the latest and greatest makes and models of motorcycles, as well as tech, accessories, and products to compliment the two-wheeled lifestyle will be on display.
In this post, we're outlining some of the things that you will not want to miss.
1. She Rides Night
More than ever before, women are getting into the motorcycle lifestyle and celebrating the freedom, excitement and fun that motorcycles have to offer. To celebrate our sisters who ride, She Rides Night is back this year on the Friday night of the show, offering women half price admission after 5pm. Of particular note, there's a ladies only draw for a brand new Kawasaki Versys-X 300 ABS, courtesy of Canadian Kawasaki.
2. Flat Track Canada Demo
The fine folks over at Flat Track Canada are scheduled to demonstrate what flat-track racing is all about, outside of Tradex. While some specifics differ from region to region, flat track racing is a form of motorcycle racing that takes place on an unpaved oval track. Teams or individuals race and are awarded points for their sliding prowess. Flat track racers primarily ride modified dirt bikes, and races can even take place on grass or ice tracks for some added skill and excitement.
3. Canadian Motorcycle Hall of Fame Booth
One of the most prevalent things our parents teach us as youngsters is to respect our elders - we agree - especially when it comes to the rich history of motorcycles in Canada. We always recommend visiting the Canadian Motorcycle Hall of Fame booth to those with a penchant for motor-sport history, and for those who have a deep love of vintage bikes.
Founded in 1999, the group preserves and promotes the history of motorcycling in Canada, now featuring over 120 esteemed riders and inducted organizations.
4. Van City Stunters
Situated at the outdoor feature area all weekend long, visitors can come be witness to some of the truly awe-inspiring stunt-riding techniques of the Van City Stunters. These professional riders have experience performing incredible slides, wheelies, and braking stunts on motorcycles and ATVs that are sure to have you picking your jaw up off the pavement.

5. Yamaha's How-To Riding Sessions
The younger generation of riders has always been important to the Vancouver Motorcycle Show, and that's why children aged 6-12 are invited to gear up in the latest motocross apparel and learn how to ride the newest Yamaha TT-R off-road motorcycle. This is done in a safe and secure riding environment with the help and support of professional, certified riding instructors. A particular favourite of Valley Driving School, the Yamaha Riding Academy and the adult-centric How-to Ride sessions are all about providing riders with the skills they need to stay safe while riding.
6. Can Am Booth
The Can Am booth at the Vancouver Motorcycle show is always an eye-opener for the advancements these machines have brought to the world of motorcycling, and open road cruising. Further, they've allowed many riders who are unable to continue riding their heavy 2-wheeled cruiser, the opportunity to stay on the road and enjoy the lifestyle with their friends and family. That's what this show is all about: broadening the motorcycling community to include more and more people for as long as possible. For that, Can Am excels, and is certainly worth your patronage.

-----
Together we can make it through the cold months while awaiting our triumphant 2-wheeled (or 3-wheeled) return to the roads of beautiful British Columbia. These suggestions are just the tip of the iceberg at the 2018 Vancouver Motorcycle Show, with hundreds more booths of exciting products and people to meet. Enjoy!