---

⛔ Effective July 1, 2021, due to ICBC's lack of availability for Class 1 road tests, we will only be accepting Class 1 students for MELT training ⛔
Check out our Class 1 MELT Program, available soon!
---
---
truck training
class 1 individual lessons
Valley Driving School 's individual Class 1 lessons offer the flexibility to tailor training sessions to a students' needs – pre-trip inspection, driving, reversing, uncoupling/coupling. Take as many or as few as you'd like!
Individual Lessons are an effective way to brush-up on skills prior to an ICBC road test and are available to students not taking a full truck driving course. An assessment lesson can be used to gauge which program a student should enroll in or how many more lessons they should take before scheduling an ICBC road test.
Any commercial one-on-one sessions from Valley Driving School offer the flexibility of 4-hour, and 6-hour sessions. 4-hour lessons are available and recommended for new drivers looking to build skill and knowledge, without risking exhaustion.

Longer sessions are beneficial for more skilled students who want to venture out of the city and experience mountain driving, to prepare for life on the road as a long-haul truck driver.
Individual Lessons - $140/hour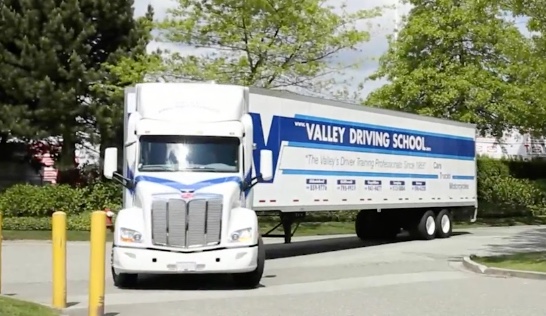 *ICBC fees are not included in Truck Training pricing
**Manuals and handouts are included with tuition